Indian Spirit 5 days OA Festival 2010 - Timetable Online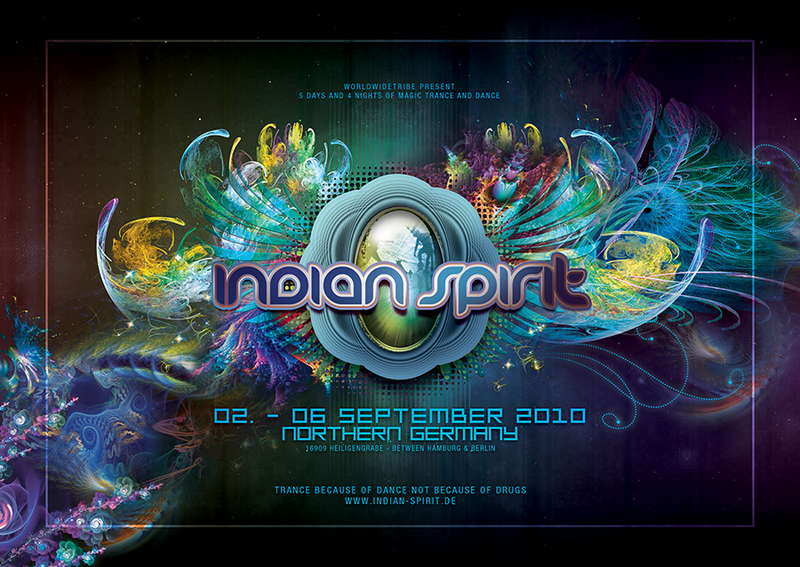 Info
Standanmeldung: Ihr könnt eure Stände bis zum 24. August bei uns registrieren lassen. Alle Anfragen die nach dem 24. August bei uns eintreffen werden nicht mehr bearbeitet !
Stall registrations are exclusively possible till 24th of August.
Mail to Stephan:
office@worldwidetribe.de
.TRANCE BECAUSE OF DANCE NOT BECAUSE OF DRUGS....
please,don´t forget a hammock !! there are preparations to put it in.
weather prooved dancefloor, showers, free camping, water, amazing nature and FREE LOVE !!!
------
------
------
Shuttle to Indian Spirit 2010
HBU-Busreisen
[dopfiweb.de]
Feierreisen.de
[feierreisen.de]
------
------
------
Deutsche Bahn : Heiligengrabe Bahnhof
[bahn.de]
train station : Heiligengrabe Bahnhof
[bahn.de]
Shuttle Service ( Frank ) : +49(0) 173 8190286
taxi schmidt central
+49(0) 3394712321
------
------
------
Arrival by plane
nearest Airports:
/ Berlin Tegel (TXL)
/ Berlin-Schoenefeld(SXF)
/ Berlin-Tempelhof(THF)
other Airports:
/ Hamburg(HAM)
/ Rostock-Laage(RLG)
/ Hannover(HAJ)
/ Leipzig-Halle(LEJ)
/ Lübeck(LBC)
/ Köln-Bonn(CGN)
/ Frankfurt-Main(FRA)
/ Frankfurt-Hahn(HHN)
/ Munich(MUC)
After arriving to one of these airports you need to go by train to come to Heiligengrabe Bahnhof.
Arrival Train Station: Heiligengrabe Bahnhof
Use the Deutsch Bahn to get to your arrival trainstation Heiligengrabe Bahnhof". The train tickets to Heiligengrabe Bahnhof are not bookable online. You can only purchase your ticket at the conductor in the train. A ticket from Berlin Schoenefeld to Heiligengrabe Bahnhof for example should cost a maximum of 10- Euros (one way).
From trainstation Heiligengrabe Bahnhof we will offer a shuttle service to the festivalarea.
Shuttle Service Indian Spirit Festival 2010
driving Service for: shops, guests, rides to the festival and back to the trainstation, Heiligengrabe Bahnhof
Shuttle Service ( Frank ) : +49(0) 173 8190286
taxi schmidt central
+49(0) 3394712321
------
------
------
Indian Spirit Festival 2010
Alljährlich am ersten Septemberwochenende lässt sich der erstaunliche Beweis dafür beobachten, dass moderne Festivalkultur und die urtümlichen Stammestreffen der Indianer erstaunlich viele Gemeinsamkeiten aufzuweisen haben: Damals wie heute reisen die Stammesangehörigen selbst aus entlegenen Gegenden an, um an den rituellen Versammlungen teilzunehmen. Dadurch sind es damals wie heute ziemlich bunte Treffen. Damals wie heute wird zum hypnotischen Klang von perkussiven Rhythmen ekstatisch getanzt. Und damals wie heute entwickelt sich bei diesen Zusammenkünften ein mystisches, ja geradezu magisches Moment: Der viel besagte Spirit.
Einerseits bildet das Indian Spirit Festival den Abschluss der Open Air Saison, andererseits kann es aus verschiedenen Gründen durchaus als Höhepunkt der sommerlichen Freiluftvergnügung angesehen werden. So ist sein musikalisches Programm von Jahr zu Jahr ein echter Hingucker, und das für alle Lager der Trance Szene gleichermaßen. Ob sonnendurchfluteter Progressive, berauschende Psychedelic und Full On Klänge, energiegeladener Dark oder schnittiger Nu School Progressive- Hier ist wirklich alles vertreten. Und das nicht irgendwie: Mit Namen wie California Sunshine, 40%, Domestic, Star Sound Orchestra, Liquid Soul, Midimal, Emok, Gaudium oder Dj Feio aus Brasilien steht jeweils die Creme de la Creme an den Reglern, wobei diese Aufzählung noch weit fortgesetzt werden könnte. Die treibenden Sounds dieser Künstler werden aus dem hochwertigen 8-Punkt Soundsystem erschallen, das dem einen oder der anderen noch aus dem Jahre 2007 bekannt sein dürfte. Das sehr positive Feedback bezüglich des Dark Floors aus dem letzten Jahr wurde übrigens aufgegriffen und dieser Festivalbereich erweitert. Ein neues Dekorationskonzept bildet den gebührenden Rahmen, um vor der Wintersaison noch einmal die gesamte Stammesfamilie zu treffen und des Nachts verwandelt sich das Gelände in ein surreales Meer aus Licht, Farben und Laserstrahlen.
Auch bezüglich der Infrastruktur des Festivals wird es einige Verbesserungen geben. So werden Duschcontainer mit Warmwasserversorgung bereit stehen. Und was die Müllentsorgung angeht, so hat man sich für eine Trennung auf dem Gelände entschieden und auch der bewährte Müllpfand wird beibehalten.
Um das ganz besondere Flair der Indian Spirit ganz entspannt genießen und unter dem freiem Spätsommerhimmel noch mal so richtig Gas geben zu können, stehen den Besuchern und Besucherinnen übrigens ganze 5 Tage zur Verfügung!
Ancient Indian tribe gatherings and modern Trance culture do have a huge amount of common grounds. This astonishing fact can be watched every year at the first weekend in September on an acre in North- East Germany: Now and then the members of the tribe travel even from remote areas to join these ritual meetings. And so now and then it become pretty colourful gatherings. Now and then the party attendants dance ecstatically to percussive rhythms. And now and then a mystic, yes magic moment evolves during these gatherings: The legendary Spirit.
On the one hand, Indian Spirit Festival marks the ending of the North- European outdoor season, on the other there are quite some reasons why it could be described as it's climax. The musical program is an absolute highlight from year to year, for all the different corners of nowadays Trance scene: If sunlit Progressive, intoxicating Psychedelic or Full On sounds, energy- loaded Dark or streamlined Nu School Progressive- just every style is featured. And not just somehow: Names like California Sunshine, 40%, Domestic, Star Sound Orchestra, Liquid Soul, Midimal, Emok, Gaudium or Dj Feio from brasil represent the current musical crème de la crème and this is just an extract from the huge line up. The pushing sounds from these artists can be heard out of a sophisticated 8-point sound system, which the one or the other might remember from 2007. Last year's very positive feedback about the Dark floor will be put to practice, by the way, so that this area will be extended. A new decoration concept offers the appropriate scenery to meet the whole tribe again before the winter season starts, during the nights the site will be transform into a surreal ocean of lights, colours and laser beams.
Also the infrastructure of the festival has been improved. There will be shower containers provided with warm water. And concerning the rubbish, a separation of it will be introduced on the ground and also the tried and tested trash deposit will be kept.
To enjoy the very special atmosphere of Indian Spirit in a relaxed mood and being able to step on the gas and party extensively together with the sun, the moon and the stars one more time, the festival will be held for full five days!
Indian Spirit @ Facebook:
[facebook.com]
Facebook Eventpage:
[facebook.com]
---------------------------------------------------------------
The camping area will be open on wendsday 1st of September 2010.
---------------------------------------------------------------
Timetable:
Tent Floor Indian Spirit 2010
Thursday:
19:00h Thor DJ
21:00h Trang DJ
23:00h Melburn DJ
Friday:
01:00h Kiba DJ
03:00h Chriss DJ
05:00h Nigel DJ
07:00h Gandalf DJ
09:00h Tenka Live
10:00h Espark DJ
11:00h Kularis Live
12:00h Kimie & Aliye DJ
14:00h Aquafeel Live
15.00h -BREAK-
---------------------------------------------------------------
2nd Floor Indian Spirit 2010
Friday:
15:00h V.Falabella DJ
17:00h Benni & Marco Moon DJ
19:00h Aerospace Live
20:00h Audiomatic DJ
22:00h Gaudium Live
23:00h Markyan/ Animatronica DJ/Live
Saturday:
01:00h A-Team Live
02:00h Timmi DJ
04:00h Painkiller Live
05:00h Wedanta DJ
07:00h Mekkanikka Live
08:00h Djoanna DJ
10:00h Osho DJ
12:00h -BREAK-
21:00h Kiddo & Kossi DJ
23:00h James Monroe Live
Sunday:
00:00h Akustik DJ
02:00h Sally Dolally DJ
04:00h Lish Live
05:00h Sascha Flux DJ
07:00h Dovla DJ
10:00h -BREAK-
---------------------------------------------------------------
Main Floor Indian Spirit 2010
Saturday:
12:00h R'deem DJ
14:00h Liquid Soul Live
15:00h Hamish DJ
17:00h Day Din Live
18:00h Midimal Live
19:00h NOK Live
20:00h -Break- // Fire Performance
21:00h Star Sound Orchestra Live
22:30h Feio DJ
Sunday:
01:00h 40 % Live
02:00h John Phantasm DJ
04:00h Domestic Live
05:00h K-Isuma DJ
07:00h California Sunshine Live
08:00h Natron DJ
10:00h Slackjoint Live
11:00h Antaro DJ
13:00h Sven Snug Live
14:00h Audiomatic Live
15:00h Montagu & Golkonda & Fabio DJ
17:00h Symphonix Live
18:00h Vaishiyas Live
19:00h Emok DJ
21:00h Zosma & Intellifex DJ
Monday:
01:00h Syncron DJ
03:00h Protonica Live
04:00h Starsky DJ
06:00h Maelstrom Live
07:00h Kaempfer & Dietze DJ
09:00h Vice Live
10:00h Montagu & Fabio DJ
12:00h End
---------------------------------------------------------------
Chill Floor / Tent Floor Indian Spirit 2010
Friday:
17:00h Miller DJ
19:00h Nigel DJ
22:30h Movie Doku
Saturday:
00:00h Marcel Lichtram DJ
04:00h Franco Funghi DJ
08:00h Movie Anime
10:00h Terra DJ
14:00h Leel Live
15:30h Lotus Panasiem Live
17:00h Vladiswar Nadishana Live
18:30h Sunfish Live
20:00h Miller DJ
Sunday:
24:00h Firechili Fireperformance
00:00h Konstantin DJ
04:00h Chilling Algiz DJ
08:00h Movie Anime
09:00h Das Kraftfuttermischwerk DJ
12:00h Dovla DJ
14:00h Das Kraftfuttermischwerk Live
16:00h Snapinho DJ
20:00h Tomeye & Maspy DJ
00:00h End
---------------------------------------------------------------
Darkfloor Indian Spirit 2010
Friday:
22:00h Alpha DJ
Saturday:
00:00h Canibal Crow DJ
02:00h Cosmo Live
04:00h Endernation Projekt Live
06:00h Dark Whisper Live
08:00h Corious DJ
10:00h Xabbu Live
12:00h Iken DJ
14:00h Woos DJ
16:00h Ant vs Eco DJ
18:00h Mitra DJ
20:00h -Z- (Alpha & Antagon) Live
22:00h CTC Drope Live
Sunday:
00:00h Irgum Burgum Live
02:00h Sushupti Live
04:00h Megalopsy Live
06:00h Frantic Noise Live
08:00h Halunke DJ
10:00h Kill Bill DJ
12:00h Marok DJ
14:00h End
Location
Location
16909 Heiligengrabe
Wegbeschreibung: Autobahn A24 Hamburg / Berlin, Ausfahrt Heiligengrabe, dann Richtung Heiligengrabe / Pritzwalk, in Heiligengrabe durchfahren und den Zeichen folgen.

16909 Heiligengrabe
location: highway A24 Hamburg / Berlin - Exit Heiligengrabe - go straight through Heiligengrabe. continue direction Heiligengrabe / Pritzwalk. Heiligengrabe, follow the signs
Eintritt
Vorverkauf:
[worldwidetribe.de]
01.03. - 21.05.2010 / 40,- euro ( + 5 euro Müllpfand vor Ort )
22.05. - 28.08.2010 / 45,- euro ( + 5 euro Müllpfand vor Ort )
VVK: bis zum 22. August !!
Hardticktes will be available @ ''Cafe Nuklear'' Food Shop at Fullmoon, Vuuv, Ozora and Spiritual Healing Festival.
E- Tickets & Hardtickets
Auf jedem Ticket ist ein einmaliger Barcode aufgedruckt, welcher an der Kasse mit einem Scanner eingelesen wird. Nur dieser Barcode ist als Einlassbedingung ausschlaggebend.
Die Bestell- & Kundennummer sowie der Name des Ticketbestellers werden mit auf das Ticket gedruckt, um im Missbrauchsfall umgehend einen Ansprechpartner lokalisieren zu können.
Jeder Barcode ist nur einmalig in unserer Datenbank vorhanden:
Vervielfältigungen sind zwecklos, da diese am Eingang sofort auffallen.
Deshalb ist es wichtig:
Tickets bitte nur an autorisierten VVK-Stellen oder unter
[ticket-dealer.eu]
kaufen.
Abendkasse 55 euro ( + 5 euro Müllpfand )
Presale:
[worldwidetribe.de]
01.03. - 21.05.2010 / 40,- euro ( + 5 euro garbage deposit, locally )
22.05. - 28.08.2010 / 45,- euro ( + 5 euro garbage deposit, locally )
presale: till August 22.th!!
E-Tickets & Hard Tickets
Each ticket includes an unique bar code which will be scanned at the gates of the festival. It is only this bar code which is relevant for entry authorization.
The order and customer numbers as well as the name of the person who ordered the tickets will also be printed on the ticket to make an instant contact available in case of abuse.
Every bar code is included only once in our database: Multiplication is useless because it will become apparent at the gates of the festival.
Because of this, please remind: Buy your tickets only at authorized advanced ticked offices or online at
[ticket-dealer.eu]
price at the gate 55 euro ( + 5 euro garbage deposit )
Veranstalter
Veranstalter
W.W.T. Event
Eingetragen vor

10j 8m

· Aktualisiert vor

9j 8m

· 108 Partys ·

/ 1428