Backend
CANARY CONNECTION - ATLANTIS TRIBE+ DREAMS PROYECT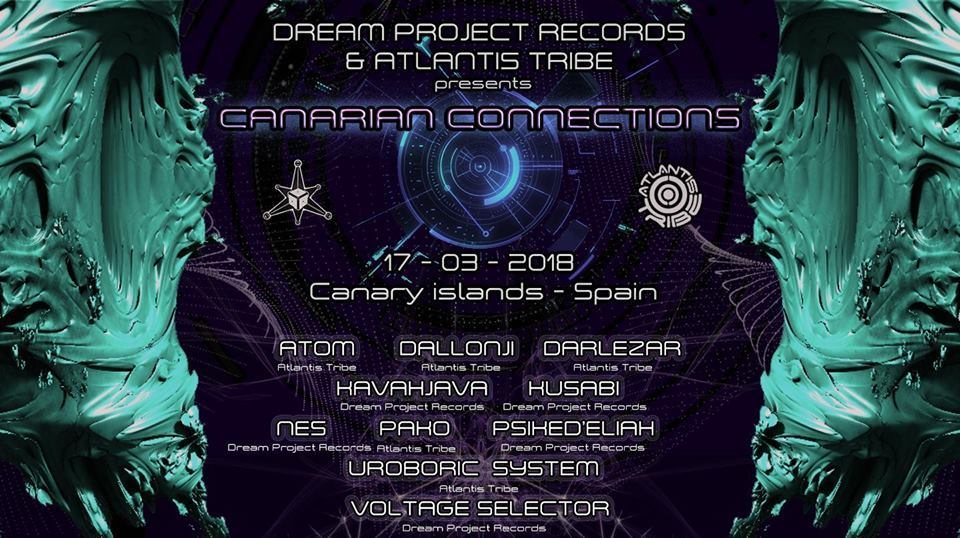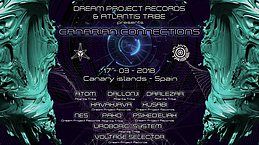 Line Up
Line Up 17 Marzo-CANARIAN CONNECTION BY ATLANTIS TRIBE Y DREAM PROYECT

3 LIVE ACTS !! KUSABI ,PSIKED-ELIAH ,KAVAHJAVA , - DREAM PROYECT

9 DJS SETS!!

.................................................................TIMETABLE.........................................................................

TAMBORADA WITH FIRE 22.00 - 23.30

FA-B-IA 23.30 01.00
Atlantis Tribe

DARLEZAR 01.00 02.00
Atlantis Tribe

KUSABI 02.00 03.00
Dreams Proyect- LIVE ACT.

UROBORIC SYSTEM 03.00 04.00
Atlantis Tribe

PSIKED ELIAH 04.00 05.00
Dreams Proyect- LIVE ACT.

ATOM 05.00 06.00
Atlantis Tribe

N.E.S. 06.00 07.00
Dreams Proyect

KAVAHJAVA 07.00 08.00
Dreams Proyect- LIVE ACT.

PAKO 08.00 09.00
Atlantis Tribe

VOLTAGE SELECTOR 09.00 10.00
Dreams Proyect

DALLONJI 10.00 11.00
Atlantis Tribe

INDYRA 11.00 12.00
Atlantis Tribe
Deco
Deco
DREAMS PROYECT DECORATIONS!!! , ATLANTIS TRIBE PROYECTIONS AND MOORE ....
Info
Info
CANARIAN CONNECTION QUIERE SER UN EVENTO DE ARTES PSYCHEDELICA. TENDREMOS EL PLACER DE PODER COMPARTIR ESAS EMOCIONES CON THE DREAM PROYECT , GRAN PIONEROS DE ESE MUNDO.
CUALQUIERA PUEDE PARTICIPAR CON SUS PROPRIAS EXPRESIÓNS PSYCHEDELICA APARTE DE LA MÚSICA (line up full).PUEDEN CONTACTAR CON ATLANTIS TRIBE A TRAVES DE FACEBOOK.
Location
EL TOPO MEDANO - TENERIFE SOUTH
ENGLISH:
TF1 HIGTWAY- EXIT AT SAN ISIDRO EL MEDANO AND GO IN THE SEA DIRECTION.IMMEDIATLY AFTER THE GAS STATION (CEPSA -RED COLOUR) TURN ON THE LEFT AND FORWARD 200 MT AND PARK THE CAR.
ESPAÑOL :
SALIDA TF1 SAN ISIDRO EL MEDANO.COGE CARRETTERA HACIA EL MEDANO JUSTO PASADA GASOLINERA CEPSA (ROJA ) ENTRADA A MANO IZQUIERDA . SEGUIR 200 MT Y APARCAR.
[openstreetmap.org]
Entry
Entry
DONATIVO- DONATIVE (not need booking) , LA ENTRADA ES GRATUITA AUNQUE PEDIREMOS UN DONATIVO PARA RECUPERAR LOS GASTOS, SE AGRADECE VUESTRA COLABORACIÓN ;)
Organizer
Organizer
ATLANTIS TRIBE Y DREAMS PROYECT