B-rauchen A-llgemeine S-oziale T-ruppen I-nitiative
Benefitsparty zw. Köln und… ·
Germany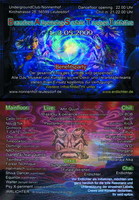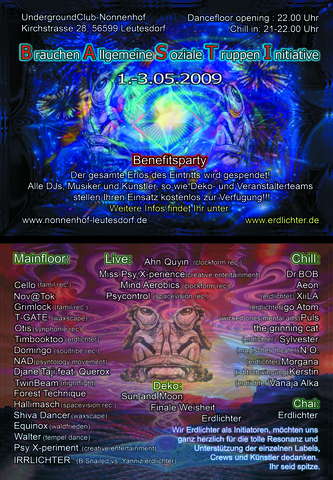 Line Up
Erfreuliche Nachrichten!!!---- Heute hab ich Basti getroffen, und hab IHm das Geld übergeben wollen. Basti hat für das Auto nur 1000 € nehmen wollen, der Rest des Geldes soll für nen Kinderfond angelegt werden.
Wir werden das Geld nun anlegen und am ende des Jahres hatten wir für dieses Jahr vor, ein oder mehrere Weisenhäuser mit Weihnachtsgeschenken zu beglücken.
Im nächsten Jahr wird dann eine neue Einrichtung ausgesucht, wo wir helfen können. Die Fotos und so werden noch folgen.
____________________________________________________________________
Spacebaby (synphonie rec.)
**********
Miss Psy-X-perience (creativ entertainment)
**********
Psycontrol (spacevision rec)
**********
MindAerobics (clockform rec)
future parties:
party
**********
Forest Technique
**********

ShivaDancer (waxscape)
**********

Psy X-periment (creativ entertainment)
**********

Grimlock (tamil rec)
**********

T-Gate (waxscape)
**********

Otis (synphonie rec)
**********

Timbooktoo (erdlichter)
**********

Domingo (soultribe rec.)
**********

NAD (psyntology movement)
**********

TwinBeam (nightflight)
**********

HighQ (pi-raten/soundcheck schicker Ia)
**********

Equinox (waldfrieden)
**********

Hallimasch (spacevision rec)
**********

Cello (tamil rec)
**********

Nov@Tok
**********

Walter (tempel dance)
**********

IRRLICHTER (B.Snailed vs. Yanniz - erdlichter)
**********

Djane taiji feat. Querox
**********
go Atom (erdlichter)
**********

Puls (wicked ones/mental arts)
**********

Sylvester (erdlichter)
**********

N.O. (magisches theater)
**********

Morgana (erdlichter)
**********

Kerstin (lichtschwingung)
**********

Dr. Bob
**********

XiiLA (erdlichter)
**********

Vanaja Alka (erdlichter)
**********

Aeon
**********

the grinning cat
**********


Und mit Freakwear und sontigem steht diesmal yogeeebear für euch bereit.

**********
Sun and Moon wird für uns den Mainfloor dekorieren.
**********

Erdlichter werden den Mittelteil der Location in die Hand nehmen.
**********

Finale Weisheit übernimmt den oberen chillbereich.
**********

Für den chai shop sorgen da sich niemand gemeldet hat, dann wohl wieder wir Erdlichter.
**********


So hier sind alle Dienstpläne, und an denen wir nicht mehr gerüttelt!!!!!

Chaischichtbesetzung BASTI:

Zeit Besetzung:
------------------------------------------------------------------------------------------


22.00 - 02.00 Morgana / AlexundKalli

02.00 - 06.00 Tom / Nana

06.00 - 10.00 Mara / Andrea

10.00 - 14.00 Petra / Tamara

14.00 - 18.00 Moni / Kerstin

18.00 - 22.00 Yanniz / Verena

22.00 - 02.00 Tino / Gaby

02.00 - 06.00 Alexa / Petra

06.00 - 10.00 Tino /

10.00 - 14.00


Kassenschichten BASTI:



Zeit Schichtbesetzung
------------------------------------------------------------------


21.00 - 02.00 Jessy / Schnecke

02.00 - 06.00 Yanniz / Tim

06.00 - 10.00 Sylvester / Hanjörg

10.00 - 14.00 Ilonka / Lothar

14.00 - 18.00 Schnecke /

18.00 - 22.00 Tim / Sylvester

22.00 - 02.00 Jessy / Ilonka

02.00 - 06.00 Lothar / Hanjörg
Info
Dies ist eine Benefitsveranstaltung, alle Künstler und Teams haben sich unentgeldlich verpflichtet mitzuhelfen, diese Veranstaltung durchzuführen.
Danke schon mal dafür!!!!


Native Radio, ist den meisten Leuten, die sich schon länger in der Szene bewegen, ein Begriff.
Die von Euch die Basti kennen, wissen dass Basti unter einer schweren Krankheit leidet, dass soll aber eigentlich nicht das Thema an sich sein, aber auf Grund dieser Krankheit, hat er sich sehr zurück gezogen, und kommt nicht mehr viel vor die Tür.
Jetzt hat er aber auch ein Kind was er versucht so oft wie möglich zu sehen, das geht allerdings nur mit Auto, und hier ist der Hund begraben!!!
Bastis Auto ist leider zu Schrott gegangen, und es fehlt im Vorne und Hinten an Geld für ein neues zu kaufen. So dass er jetzt erst recht zuhause fest sitzt und noch nicht mal sein Kind sehen kann.

Das wollen wir ändern, und hier kommt Ihr ins Spiel, wir rufen Euch alle auf, Euch für eine Benefitsparty stark zu machen, wir brauchen am besten DJs, LiveActs, Chill DJ..s, Chai-Stand,Dekoleute, Flyersponsoren usw., die bereit sind Ihre Arbeit und Anfahrt ohne Entgeld für diesen Zweck einzubringen.

Eine Location die uns nichts kostet haben wir schon, die Getränkepreise sind mit End of Summerpreisen vergleichbar(Einnahmen sind dem Besitzer), wir Erdlichter werden uns einbringen, und im Vorfeld das Ganze managen.

Der gesamte Erlöß des Eintritts(10€) wollen wir Basti und Alice(dem kleinen Mädchen für das die Delphintherapie sein soll)dann zur Verfügung stellen!!!

Love and Light
Eure Erdlichter i.A. Schnecke
Location
Wir feiern in einem netten, schönen Gewölbekeller auf 3 Ebenen, dem Nonnenhof.
Liegt zwischen Köln und Koblenz.
Parkplätze sind unter beiden Seiten der Überführung und unten am Rhein.
Der Bahnhof ist nur etwa 800 meter vom "Nonnenhof" entfernt, also leicht zuerreichen.
Die genaue Wegbeschreibung findet Ihr auf der Seite des Nonnenhofs, unter
[nonnenhof-leutesdorf.de]
Entry fee
Entry fee
10 Euro pro Person

100% der Einnahmen werden als Benefit für Basti gespendet, sollten wirklich viele fraggles kommen, würden wir gerne das Geld aufteilen, da in T-Gates Bekanntenkreis es noch jemanden gibt, für dessen Kind, Alice, wir für eine Delphintherapie sammeln wollen.
Organizer
Erdlichter and friends:

---Synphonie rec.

---Sun and Moon

---Waxscape

---Spacevision

---Nightflight

---psyntology movement

---Finale Weisheit

---....
Added

14y

· Update

7m 11d

·

/ 137