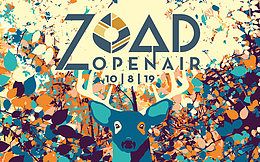 Line Up
*WICHTIG* ZOAD Openair ist keine reine Goaparty, Tagsüber sind Konzerte! Erst um 22:30 spielt der erst DJ (kein goa!) *WICHTIG*
Live in Concert:
Dachs
[dachsmusic.ch]
Zander
Lukas Räuftlin
[facebook.com]
John Henry
[facebook.com]
Blackline
[facebook.com]
DJs:
Okular (KF Records) // Progressive Psytrance
soundcloud
Eskilat (Psytravel rec.) // Psyprog
soundcloud
Joxx & die Marke (Zoad) // Techno
Djane Nordlicht // From old to New (für die breite Masse)
Miami Dolphins (Zoad) // Progressive Psytrance
soundcloud
Russel Bundy (Sundaze Re-Chords) // Psyprog to Fullon
Das Lineup ist komplett, bitte keine weiteren Anfragen / Lineup complete, please no more requests!
TIMETABLE WIRD KURZ VOR DEM EVENT BEKANNT GEGEBEN
Info
Info
Liebe Leute
Auch dieses Jahr laden wir wieder zum Tanz im Ziefner Chrüzholz! Livemusik wird noch mehr im Fokus stehen als letztes Jahr, aber auch FreundInnen elektronischer Klänge werden ab 22:30 Uhr auf ihre Kosten kommen!

Wann: Sa 10.08.2019 15:00 – So 11.08.2019 08:00
Wo: Chrüzholz Ziefen BL, gratis Shuttle ab Ziefen Gemeindehaus (bis ca. 01:00)

Bar & Foodcorner (keine eigenen Getränke erlaubt), gratis Wasser!

Natürlich gibt es auch wieder reichlich Platz, um Zelte aufzuschlagen. Caravans o.ä. sind nicht erlaubt!
Location
Location
Auch dieses Jahr feiern wir wieder auf der wunderschönen Waldlichtung im Chrüzholz in Ziefen (Baselland).
Anreise Öv:
Ab Liestal Bhf Bus Nr. 70 Richtung Reigoldswil. Ausstieg bei Haltestelle «Ziefen Zentrum». Ab da immer den Pfeilen nach, entweder zum Gemeindehaus (Shuttle) oder zu Fuss zum Openair (ca. 20 min.) Wer lange Wartezeiten beim Shuttle vermeiden möchte, soll doch den Fussweg durch den schönen Ziefner Rebberg nehmen!
Anreise Auto:
Da keine direkte Zufahrt möglich ist, raten wir Euch mit den ÖV anzureisen. Wer trotzdem mit dem Auto kommt, kann dieses beim Gemeindehaus parkieren und den Shuttlebus nehmen, oder bis zum Schützenhaus fahren und von da aus hochlaufen (ca. 15 min.). Beide Parkmöglichkeiten sind ausgeschildert! Bitte bildet Fahrgemeinschaften!
Fussweg, Shuttlehaltestell & Parkplätze sieht man hier :
[admin.ch]