Backend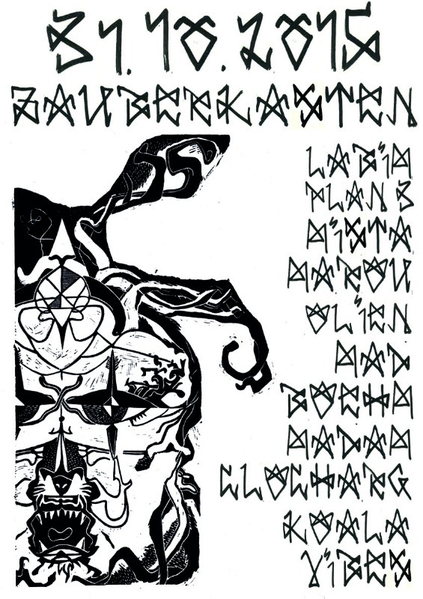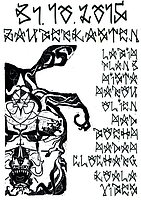 Line Up
Es ist endlich wieder so weit :o) :o) der Zauberkasten lädt zum verzaubern ins La Bim ein
=----= Bis 0.00 Eintritt Frei =-----=
Erlebnisfabrik presents:
[facebook.com]
NATURE CONSCIOUSNESS MUSIC FROM THE WORLD
be the change you want to see in the world
------------------ FIRST FLOOR ---------------------
=--= Fusionsounds =--= Worldmusic =--= Reggae =--= Dub =--= BassmusiK =--= Hip Hop =--= Breakbeat =--= Dancehall =--= Trap =--=
KOLIBRATION SOUNDSYSTEM
======= Koalá Vibez =======
[click here]
======= Mista Marou =======
[facebook.com]
[facebook.com]
[facebook.com]
=----= LIVE djembe percussion player =---=
=--= special projectiondesign =--=
=--= Live singing =--=
Events / Projects /Fotos :
[facebook.com]
--------------- SECOND FLOOR -------------------
=--= ELECTRO BEATS =--= GOA MUSIC =--= PSY TRANCE =--= FULL ON =--= MELODIC =--= MYSTIC SOUNDS =--= DARK TRANCE =--= INDUSTRIAL =--=
====== Mad Boehm ======
Mad Boehm ist seit 1996 als Dj unterwegs. Das Auflegen lernte er zu einer Zeit, als dies nur mit Vinyl möglich war.
Schon nach kurzer Zeit gehörte Mad Boehm zu den angesagtesten lokalen Dj's der Stadt Halle/Saale. Überregionale Termine folgten. Mad spielte bereits auf unzähligen Veranstaltungen, Festivals und war in verschiedenen Radiosendungen zu hören.
Schon vor vielen Jahren war Mad Boehm neben Mixmaster Andrew meiner Meinung nach einer der besten lokalen DJs. Alte Schule (Vinyl) gepaart mit einer super Trackwahl und einem Gespür die Meute zum Tanzen zu bewegen - so haben sich so manche Nächte im Gedächtnis eingebrannt. Erinnert sich noch jemand an die Partys im ZK? :)
soundcloud
[facebook.com]
====== Madam Clocharg (Freedom Lion) ======
Clocharg" is an Arabian word for "wild child". This and "freedom lion" is how she describes herself: a lion living for freedom, happiness, but also the mysteries of darkness. She feels her roots in Mother Nature and wants to draw people closer to her. Psytrance is the music that excites and inspires her, and fills her with power. Djane Clocharg kicks you through a psychedelic trance layer with big darkness and strong, colorful lights with psychedelic trance, dark trance, industrial, full-on, melodic...
[ningura.com]
======= LIVEact Olien ========
These sound and light are spiritual homeopathy and mind-altering drug agents. They are dark and light, lead you to hell and heaven. Shake it up and fall asleep, detoxify you, and awaken new passions. Give clear eye-opening effects and confused beyond measure. They answer and draw hundreds of new questions about themselves. They bring old worlds to waver and the last remains of ancient life building to collapse. They will pull the ground under his feet and continued his prayer mat on the bottom. They raise the dust of the dark ages and helps to overcome the dualistic mind-lasting behavior
[universambla.net]
=------= Eintritt ab 0.00 = 7 Euro =------=
Deco
Erlebnisfabrik, Kolibration
Info
Info
Der Zauberkasten

Ganz tief in den Bergen lebt ein kleines Völkchen. Um zu ihnen zu gelangen, muss man einen weiten Weg auf sich nehmen, der geprägt ist von zauberhaften Erlebnissen. Man wundert sich, was ist hier anderes, man fühlt eine bestimmte Energie, die man nicht in Worte fassen kann. Schritt für
Schritt kommt man näher und geht durch einen schönen Waldgarten wo Lebewesen einfach für einander da sind und sich schätzen. Bäume, Sträucher, Pilze, Kräuter, Insekten und
unterschiedlichste Waldbewohner tummeln sich. Das Wasser plätschert wie Musik und versorgt alle Lebewesen mit Energie. Ein Gefühl von Gemeinschaft, Liebe, Vertrauen und Respekt durchströmt Geist und Seele. Man sieht winzige Erdbewohner und Elfen die ihren Zauber
versprühen und fühlt mystische Wesen die tief in der Erde in Höhlen leben. Die Bewohner tanzen um das Feuer, trommeln und singen über Liebe, Visionen, Gleichheit und Gerechtigkeit. Sie kosten von spirituellen Früchten der Natur und tanzen sich in einen Rausch der sie verzaubert
Location
Töpferplan 3 06108 Halle (Saale) ,Germany
Added

7y 28d

· Update

6y 11m

· 8 Parties ·

/ 3