Backend
Yatzee - one night of full power darkpsy, forrest, hitech,psycore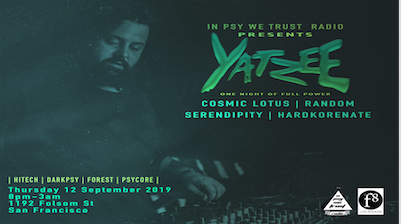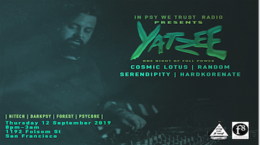 Line Up
Line Up
Random 8-10
Serendipity 10-11
Yatzee 11-1
Cosmic lotus 1-2
Hardkorenate 2-3
Location
f8 night club 1192 folsom street
Entry
Entry
Donations at the door free led jewelry gift to people who donate 10$ or more
Organizer
Organizer
In psy we trust radio
Web
*Officially first Hitech Booking to hit San Francisco!*
Free Entry with Eventbrite RSVP
Donations at the door!
In Psy We Trust Radio Presents:
YATZEE One night of full power @ F8In Psy We Trust Radio invites you to join us for a night of full power stomping as we welcome our very special guest a revolutionary Hitech producer from Italy YATZEE (Freak Records, Italy) his first time in California!
Timetable
Random 8-10 pm
Serendipity 10-11 pm
Yatzee 11-1 am
Cosmic Lotus 1-2 am
Hardkornate 2-3 am
Yatzee (Freak Records, Italy)
Yatzee is an Italian Hitech producer/ Mixing and mastering Engineer who has played around the world in Europe, South America, USA including Russia, Mexico, Brazil, Australia to name a few, and festivals like Masters of Puppets Czech Republic, Psyfi Festival, Hitech revolution. He is known for his unique style and sound, with full power basslines and freeflowing melodies, his performance is composed of all original productions. He has collaborated with artists such Loose connection, Inner coma, Apollyon and many more. His releases reaching over 333k plays on soundcloud. You may have heard his most popular track "Alien Army" a hitech anthem. His success and expertise has lead Yatzee to not only be a producer and live act but also a mentor and teacher to his students.
[facebook.com]
[instagram.com]
soundcloud
[facebook.com]
Cosmic Lotus ( In Psy We Trust Radio, Union Hoffman Records, Hitech Clan)
Cosmic lotus has heavily influenced the growth of Hitech,into California, You may recall Lotus playing Hitech in the mojave desert or bringing Masters of Puppets Festival Preparty to the Bay Area, she is the founder of In Psy We Trust Radio, a podcast based on Global Entheon music featuring psychedelic artists from all over the world, all forms of Psytrance, Dark psy, Forrest, Hitech, are shared and loved. Her mission is to spread our love of Entheogenic sounds. Dj Cosmic Lotus has played in Europe, USA, South America playing genres ranging from full on psytrance, to dark and Hitech , and also travels around the world to collect music, network gain inspiration, from the source. IPWTR is always hunting for talented producers and Djs to feature.
soundcloud
[facebook.com]
web.stagram.com/inpsywetrustradio
@inpsy-wetrust
web.stagram.com/cosmic_lotus_
Random (Zero 1 Records, Geomagnetic )
Random's flawless mixing and audio wizardry has zapped dance floors since 1996 as a pioneer artist, dj, and event organizer. With many tours under his belt across North and Central America, Europe and Japan, Ross has performed at festivals such as Boom, Burning Man, Ultra Music Fest, SF Love Fest, and countless indoors and outdoor events. Having written and produced more than 200 songs throughout his career, there are four Random albums on the market so far including, Implicate Order (2005) Random Robot - Sonic Life (2008) Visitors (2012) Adventures 2CD Compendium (2012) as well as many more singles and compilation tracks spanning the full range of labels from across the planet and many new productions to come. His live and DJ sets kidnap the listener's mind and sends it spiraling beyond space and time; with its intelligent, crunchy, groovy and mind-expanding vibe.
[bandcamp.com]
[facebook.com]
[facebook.com]
soundcloud
Serendipity 10 pm-11pm (Star Camp Shasta)
Rosie's sets weave a story with big atmospheres, driving basslines, and a touch of playfulness. Her particular flavor of music combines the dark and futuristic with the organic sounds of forest and primitive landscapessoundcloud.com/djserendipity
mixcloud.com/DJSerendipity
Hardkornate 2 am- 3 am (Goamoon)
Hardkornate has a unique and diverse range of styles to showcase, for the evening he will be gracing us with psycore frenchcore fusion.
[facebook.com]
soundcloud
We will have a range of Dark Psy, Forrest, Hitech, Psycore music throughout the evening.
Rsvp on Eventbrite Entry is donation based, all donations welcome, we will give away led jewelry to patrons until supplies last.
Give us a like or follow on Facebook or Instagram
@ In Psy We Trust Ra