Backend
XTRA VIBES pres. SAFI CONNECTION & HUJABOY @ UNDERWORLD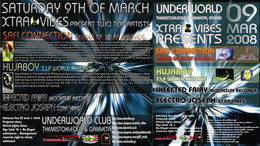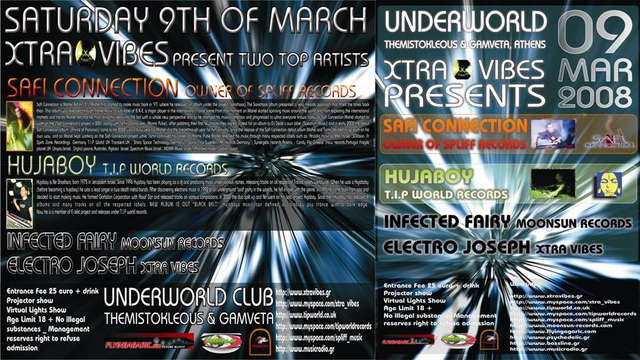 Live
Line Up
>> SAFI CONNECTION * LIVE ACT * (Owner of Spliff Records)
BIO:Safi Connection is Mishel Bitton (31) Mishel first started to make music back in '97, where he released an album under the project{Sonichaos}.The Sonichaos album presented a very melodic approach that fitted the times back than. This album was released through Planet Music, a sub-label of B.N.E, a major player in the international Trance scene.From that moment on Mishel started spinning music around the world and from exploring the international markets and trends Mishel felt that he must bring his ideas into life but with a whole new perspective and so he changed his musical direction and progressed to what everyone knows today as Safi Connection.Mishel started to work on the {Safi Connection} project in 2001,along with Tamir Ozana(aka . Atomic Pulse), after polishing their first few tracks they signed a deal for an album to DJ Dede's own label {Spectrum Music} and in early 2002 the debut Safi Connection album, {Prince of Paranoia} came to life.2002 was a busy year for Mishel, it is the breakthrough year for him actually, since the release of the Safi Connection debut album Mishel and Tamir decided to go each on his own way, and so Mishel kept working on the Safi Connection project while Tamir continued his career as Atomic Pulse.Mishel released his music through many respected labels such as: Arcadia music.Jp BNE .Israel ,3DVision .Fr Spirit Zone Recordings .Germany T.I.P World UK Transient.UK , Shiva Space Technology.Germany , Spiral Trax.Sweden ,AP records.Germany , Synergetic records.Austria , Candy Flip.Greece ,Flow records.Portugal Fragile planet.UK ,Utopia.Israel , Digital psionic.Australia ,Agitato .Israel ,Spectrum Music.Israel , MDMA Music.Israel , Phonokol.Israel , Zodiac.Japan
Moon Spirits.France.
_
[spliff-music.com]
_
[myspace.com]
>> HUJABOY (Ejekt) * (T.I.P World.rec) *
BIO: Hujaboy is Nir Shoshani, born 1975 in Jerusalem Israel. Since 1996 Hujaboy has been playing as a dj and producing music under various names, releasing tracks on all respected Trance labels worldwide. When he was a Hujababy (before becoming a hujaboy) he was a lead singer in two death metal bands. After discovering electronic music in 1992 at an underground "acid' party in the woods, he fell in love with the genre. In 1996 he came back from goa and decided to start making music. He formed Gorlation Corporation with Assaf Dor and released tracks on various compilations. In 2000 the duo spilt up and Nir went on his solo project Hujaboy. Since then Hujaboy has released 4 albums and many tracks on all the respected labels. NEW ALBUM IS OUT "BLACK BELT". Hujaboys music can defined as groovey psy trance with a dark edge.Now he is a member of E-Jekt project and releases under T.I.P world records.
_
[myspace.com]
>> Electro Joseph * DJ SET * (Xtra Vibes) - Resident DJ / Remixer
BIO: "Electro Joseph" is Joseph Modafferi, started like all DJ's and Producers of Electronic Music travelling all over his country and visiting events and parties related to the music he was interested in.At the early 2000 as loyal fan of the Cyber Funk and Sunrise Zone team he was collecting ideas about his dreams for psy-trance music .As psytrance transformed into Full On,Joseph created a studio with equipment like (Class A amplifiers , Prescision Speakers , Console , Stereo Preamp Mixers , Midi Keyboard ,and a Pc offcourse ).So three years later was his first appearance in a huge event that took place at SILO Club (one of the biggest Venues in Attica).Since then he has performed as a DJ/REMIXER in various number of clubs in Athens like (Loft ,Lobby ,An ,Energy ,Chroma ,Lavabore ,MAD ,Arena) with succesfull artists from Europe and Israel like (GMS , X-Dream , DNA ,The Delta , Gataka , Safi Connection , Dynamic) for organizers like (Cyber Funk , Natural High , Novus Ordo , Elliens , Plasma Dance , Moonsun).Now he is a member of XTRA VIBES team which organizes events in Athens.
_
[myspace.com]
>> INFECTED FAIRY * DJ SET * (Moonsun-rec)
_
[myspace.com]
Location
Underworld Club - Themistokleous & Gamveta , Exarchia
Entry fee
Entry fee
25 euro + drink
Added

14y 10m

· Update

3m 26d

·

/ 2