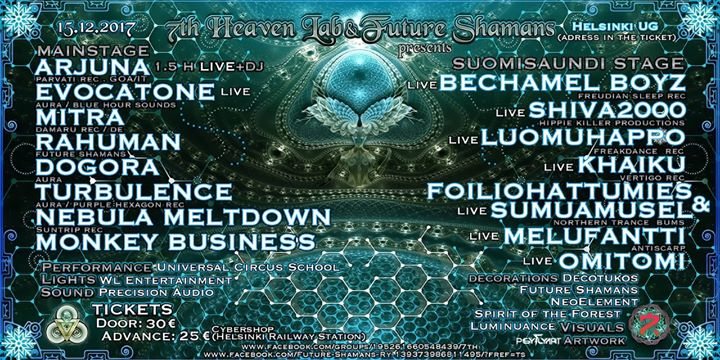 Line Up
K-18
BYOB
----------------------------------------------------------------------------------------
7th HEAVEN LAB and FUTURE SHAMANS JOIN THEIR FORCES FOR AN ULTIMATE X'MAS ROAST
Decorated according to our northern psychedelic standarts we will make you trip to the edge of the galaxy an ultimate visual experience.
We also qurantee that after this journey you will ready for a quiet and peaceful X'mas holiday.
7th Heaven Lab and Future Shamans proud to presents :
MAIN STAGE:
ARJUNA (Parvati Records,)GOA/ IT) – 1,5 H LIVE +DJ
soundcloud
[parvati-records.com]
EVOCATONE (AURA / Blue Hour Sounds) – LIVE
soundcloud
[facebook.com]
MITRA (Damaru Records, Germ)
soundcloud
[facebook.com]
RAHUMAN (Future Shamans)
soundcloud
[facebook.com]
NEBULA MELTDOWN (Suntrip Records)
soundcloud
[facebook.com]
DOGORA (AURA)
soundcloud
[facebook.com]
TURBULENCE ( AURA, Purple Hexagon Records)
soundcloud
[facebook.com]
MONKEY BUSINESS
[facebook.com]
SUOMISAUNDI STAGE:
Bechamel boyz (Freudian Slip Records) - LIVE
soundcloud
Shiva2000 (Hippie Killer Productions) - LIVE
soundcloud
LuomuHappo (Freakdance Records) - LIVE
soundcloud
Khaiku (Vertigo Records) - LIVE
soundcloud
Foiliohattumies & Sumuamusel (Northern Trance Bums) - LIVE
soundcloud
Omitomi - LIVE
soundcloud
Melufantti - LIVE
soundcloud
--------------------------------------------------------------------------
DECORATIONS:
Decotukos
[facebook.com]
Future Shamans
[facebook.com]
NeoElement
[facebook.com]
Spirit Of TheForest
[facebook.com]
---------------------------------------------------------------------------------------
PERFORMANCE :
Universal Circus School
----------------------------------------------------------------------------------------
LIGHTS:
WL Entertainment
----------------------------------------------------------------------------------------
SOUND:
Precision Audio
----------------------------------------------------------------------------------------
VISUALS:
Luminuance
[facebook.com]
----------------------------------------------------------------------------------------
FLYER: PsyflyArt
[facebook.com]
TICKETS / LIPUT:
Early bird: 20€
Advance: 25€ Cybershop ( Helsinki Railway station)
Door: 30€
Event is BYOB, so take with you your own drinks !!!
CONTACTS:
Futureshamansry@outlook.com
,
7thheavenlab@gmail.com
[facebook.com]
[facebook.com]
[facebook.com]
This is private event for attending/interested/ invitation only
More info t.b.a.
BIOGRAPHY
ARJUNA (Parvati Records, COA/IT)
Arjuna was born in the Himalayas in India in 1982. Ever since, he has had a unique and interesting journey through life. He grew up in Goa, the mecca of psy trance, where he saw the birth and evolution of this mystical genre. Arjuna started collecting psytrance DATs and mini disks at a very early age. At the age of 19, he got his first shot behind the decks and there was no looking back.
Meeting with Giuseppe Parvati and Teo Discovalley gave Arjunas music taste a new direction deep and purely psychedelic and it was only a matter of time before the inevitable happened and Arjuna started experimenting with his own sounds with a Playstation game called Music 2000.
He first observed friends working at the prestigious Discovalley studio (Chapora, Goa) and then sank into more serious programming and knob tweaking on cubase.
After proving his metal as a dj in Goa, Arjuna was signed by Parvati records to represent their sound as a label DJ. By this time he had also started to perform at partys and small festivals in and around Europe. His Dj sets are a mix of organic sounding groovy dancefloor shaking bombs produced by some of his favorite artists and friends Atriohm, Farebi Jalebi, Jahbo, Syntax Error, Dronebixie, Onkel Dunkel, Gidra, Encephalopaticys. Since Goa was installed very early in Arjunas system, he always had a natural instinct to cast his spell and get people moving on the dance floors. In order to improve his own sounds, Arjuna took up an electronic music production course at S.A.E. and soon after, broke through with his very first release on Parvati records.
Now his sound is intense and groovy , a balanced combination of power and emotion. He incorporates tight percussive rythms, hypnotic atmospheres and colorful scapes to create deep stories that emit a raw energy to shake the forest and all the creatures living in it. Watching dancefloors errupt since an early age, has given Arjuna the dominion to make people close their eyes, forget the world and just dance till their knees wobble. The mystical vibe of goa flows through his creations, warmly touches the soul and leaves people their hands up asking for more and more.
MITRA (Damaru Records, Germ) –FIRST TIME IN FINLAND
Mitra was born in Hamburg and has been a Psychedelic Trance DJ since 1999. He also organized several partys in and around Hamburg. 2006 he became a part of the Ketuh Records family, before he established 2010 his label Damaru Records together with DJ Ignis. His style belongs to Darkpsy and psychedelic Hitech.
EVOCATONE
Evocatone is a co-operation of Viktor Storm & A.Sarvela, two avid explorers of nightly psychedelic soundscapes. The project is characterized by phat cunning basslines, abstract sound design, evocative sounds to excite the ear ,body & brain. We aim to keep the project deep & surreal yet maintain a strong level of positively psychedelic dancefloor-action.
TURBULENCE
n 1996 a new kind of music reached the ears of Turo Markkanen and caused major turbulence within. Although hailing from far in the north close to the Russian border, where finding good music was a major issue he managed to obtain the necessary technology and sounds to satisfy his increasingly curious mind. His move to Helsinki found him in the middle of underground rave parties which inspired him to start spinning the decks himself, starting out on vinyl and techno vibes. After a year of bedroom- beatmatching it was time to showcase his skills to a live audience.
In 2008 Turo found psychedelic trance and there was no going back. The full audiovisual experience at underground pay parties combined with the sense of unity and belonging had him focus his attention there. It was time to leave the vinyl crates behind in favor of lighter cd's along with a genre change to psytrance.
DJ Turbulence has played many venues and events all over Finland, and internationally at Systo, Yaga Gathering, Transylvania Calling, Totally Resurraction and smaller parties in Goa, Thailand, Russia, Romania, Cambodia, Slovakia and Lithuania.
His sound can be described night and twisted full-on trance flavored with shamanistic, totemic aspects and deep and grooving rhythms. When needed his sets can be transformed in to a floating morning progressive trance as well as so called uplifting day full-on.
Turbu is known also from his legendary party organization Bermuda which concentrates mainly organizing parties in his East Finland Slavic Ranch in beautiful summer of Finland next to great lake Saimaa. He is also one of the main character and founding member of the Aura crew where he is working as a label manager, organisator and as a resident dj. In the beginning of 2013 Turbulence was signed as a label DJ for PURPLE HEXAGON RECORDS.
DOGORA
DJ Dogora is a music project created by Sebastian Sandberg, born and raised in Finland. He is known for his dark organic soundscapes. He has a unique skill to provide intense atmospheres which bend your body and mind.
His passion for Psytrance started around 2004 when he got to know the enthusiastic Finnish scene. After some years on the dance floor he felt ready to take over the stage, in 2011 he played his first gig at a club in Helsinki. Since that magical experience, he has been committing himself to the cause more and more. He has been performing in Psytrance festivals around Europe and has even joined the Finnish Aura Crew as a party organizer.
KHAIKU
Khaiku is a psychedelic trance project of Juha Korpelainen. A manifestation of musical vision that takes the listener all across the sonic map. This project has been around since 2013 but before that there has been over 10 years of dance floor deep probe exploration, electronic music production and playing live and dj in numerous parties in different countries. Khaiku sound is the result, conclusion and fusion of all the best elements and building blocks to create the most enjoyable trance dance experience.
Until now Khaiku has played gigs in Finland, Sweden, Estonia, Russia, Lithuania, Belgium and Goa with an up-to-date modified trance former machine and is keen to keep on moving further to the future with full power. One other project actively in production besides Khaiku is HuuHaa. It is more downtempo and experimental stuff to keep music production process in balance and inspiration flowing.
Khaiku sound is electrifying and sweeping full power psytrance with goa and forest vibes. Main function is to keep the life energy flowing with a mystical, oriental edginess in to it and it takes the listener back to the roots of tribalistic gathering with drums, fire and completes the overall healing process. It suits the best for dancing and partying. It can cause positive disco action moves and happy feelings. The sound highly promotes peace, love, unity and respect.
NEBULA MELTDOWN
Nebula Meltdown is Kristian Aro, a versatile artist/dj from Helsinki, Finland. He has a long musical background, listening to classical music since he was very young and playing the piano for many years. He got interested in electronic music when he was 12 years old, finding his way into psychedelic trance and various psychedelic downtempo after going through many styles of electronic music. After dreaming of composing for a few years he started to make his own tunes in 2000 and is still on the same road. He has created many different styles of music from soaring UK-style psytrance to oldschool-influenced Goatrance to soothing downtempo and psybient. He is very precise in having a red line to follow throughout his tracks an Dj-sets, taking the listener into places and is always fine-tuning his music with careful precision. During the years he has put up some memorable trance events in Finland and travelled around Europe and Russia, performing over 250 gigs so far. One of the pinnacles of his career has been the performance at Boom Festival 2014. Since 2009 he has been a label dj for the famous Belgian goa-trance label Suntrip Records. 2017 will bring new releases, collaborations and many more gigs. Riding the globally expanding and increasingly popular wave of psychedelic trance he is always perfecting his sound and skills as a Dj, combining various styles together in the furnace of the Universal Consciousness.
More t.b.a.
Info
Info
we are selling food, coffee, tea and water in the party but no alcohol. you can bring you own drinks.
Location
Location
Tiivistämö Kaasutehtaankatu 1 Rakennus 5 Suvilahti 00540 Helsinki
Entry fee
Entry fee
Pre-sale 25€ Available in cybershop at Helsinki Railway Station(limited 200 tickets). Door Price 30€. Also you need to pay 4 euros cloakroom fee when you enter the venue.
Organizer
Organizer
7th Heaven Lab & Future Shamans Ry