WoodTech Promo Party • Vortex: chapter 3 - PSY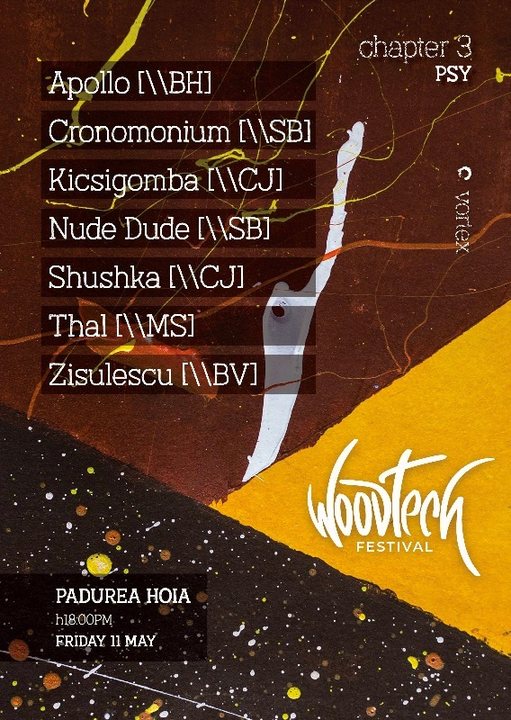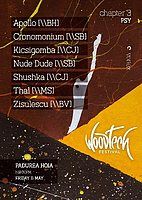 Line Up
❧❦ Let's express this purification state together, through dance and mystic rythmhs, in the journey guided by the innovative Djs:
❧⇝⇝⇝ Apollo [//Oradea] - I have started mixing at a new year party in Tureni in 2015. I like to mix darkpsy with classic sounds and hitech vibes. Last year we made the Anarchy Sound System and we started to organize parties. I played music at Moszkva Caffe, Solar Seeds festival, some gigs in Cluj and Anarchy Sound System parties.
soundcloud
❧⇝⇝⇝ Cronomonium [//Sibiu] - The space, the time and the network on which we are structured, slowly begins to slowly be more extensive and explicit with us. Our creation, which we have called Time at the moment, is divided into numbers that are hours, days, months, years, decades, centuries, and millennia in principle, but this time, although infinitely apparent, we never have enought of it. So the time that was given to us, let's color it with fluorescent shades and high-pitched sounds and the figures turn them into powerful and vibrant Bass beats that fill the space around us. We let our bodies float on the music and to vibrate with her, to vibrate all together. We are transforming space and time into music. Transform the music into an infinite. But the infinite is ALL of US .
[youtube.com]
❧⇝⇝⇝ Kicsigomba [//Cluj-Napoca]
soundcloud
[click here]
❧⇝⇝⇝ Nude Dude [\Sibiu] - He has the first contact with goa and psy trance in 2000, among his favourite artists that time being MFG, Talamasca, Infected Mushroom, Shiva Shidapu, Etnica, Electric Universe, Mystica, Astral Projection, Man With No Name etc. This kind of music had a big influence on him from that time on. During the following years, he also listened to other music genres like Hardcore, Drum & Bass, Acid Techno, Detroit Techno, Happy Hardcore/Rave, Electro-Industrial, Trance, Space-synth, Eurodance, Italo-Disco, Hard Trance, Trip-Hop, Neofolk, Aggrotech, Nitzhonot, Darkpsy, Suomisaundi, Synth-pop, Progressive Psytrance, Ambient, New Age etc. He started to play music at parties in 2007 in a local club in Sibiu. Usually he plays goa trance, psybient, darkpsy, progressive psytrance seldom nitzhonot considering himself just a music listener instead of a DJ. Sometimes he innovates by inserting religious chants, folkloric fairytales and children songs among his sets to fullfil a musical story.
soundcloud
❧⇝⇝⇝ Shushka [//Cluj-Napoca] - acknowledges music as a pure human phenomenon and enjoys the finesse of all sounds through organic rhythms. She delivers energy and vibrations through the psytrance - full-on influences of the music she plays.
[click here]
soundcloud
❧⇝⇝⇝ Thal [//Targu Mures] - Talan Zsolt, started at early ages playing all kinds of music , until the year 2000 when he met psytrance and fell in love with it. Since then he played at many parties, festivals in Europe like Solar United Natives (S.U.N. Festival), Ozora Festival, Solar Seeds, Burning Mountain, Transylvania Calling, Welcome to Goa and many more. When in 2010 made a trip to India, he had the chance to play at a few parties in Goa, and started learning and experimenting with producing. He is playing pumping progressive trance during daytime, twisting psytrance, twilight and dark during night time, and chill-out.
soundcloud
[click here]
❧⇝⇝⇝ Zisulescu [//Brasov] - I am a soul which arrived on this beautiful planet with the purpose of re-balancing the frequencies. My goal is to shine bright upon every living creature which roams this planet, sharing love and giving the feeling of unity.
[click here]
soundcloud
Info
z❦ As the name of the PSY stage from WoodTech Festival VORTEX will be a night shaped by wonderful sounds, promoting the gathering that will take place in the Hoia-Baciu Forest, this summer.
❧❦ The eternal essence of living will become the music that gives a soul to the universe, bringing spirits and people together. The combined vibes emerged from the hands of the artists will take you on a journey of harmony discovery.
Visuals: floatLab (MM)
[facebook.com]
Sound & Lights: SOUND 36 (CJ)
[facebook.com]
Bar: SKA Events (MM)
[facebook.com]
Location
Location
Hoia-Baciu Forest • Cluj-Napoca, Romania