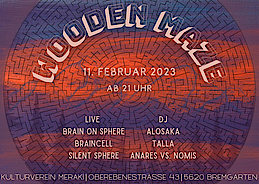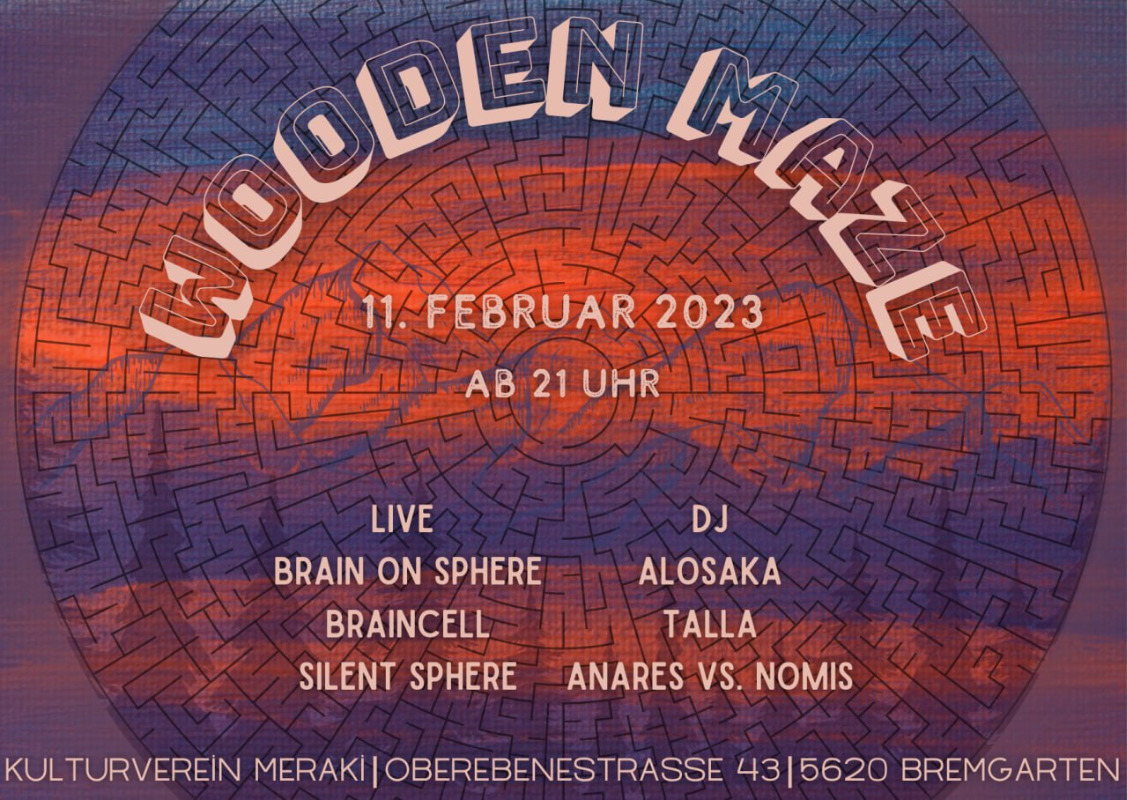 Line Up
Line Up
Brain on Sphere Live in Concert
Braincell Live
Silent Sphere Live
Alosaka DJ
Talla DJ
Anares vs Nomis DJ
Info
Die Crew des Kulturverein Meraki heisst euch herzlich willkommen im Wooden Maze. Der Eingang ist leicht gefunden, doch der Ausgang bleibt verborgen. Die durchdringenden Klangerzeugnisse lassen uns finden, was wir wirklich suchen. Nicht der Ausgang ist das Ziel, sondern der gemeinsame Tanz zu einem Lineup der Superlative.
+++Live In Concert+++
►Brain on Sphere◄
Ist ein gemeinsames Projekt von Ralph (Braincell) und Simon (Silent Sphere). Ralph, bekannt als modular Synth Virtuose, bringt sein Können mit modularen Synthesizers zu uns auf die Bühne. Simon sitzt am E-Drum und untermauert die modularen Geräusche mit groovigen Beats. Vereint stossen sie das Pendel, dass auch das letzte Tanzbein schwingen lässt.
+++Live+++
►Braincell◄
(Nano Records)
soundcloud
►Silent Sphere◄
(Iboga Records)
soundcloud
+++DJ+++
►Alosaka◄
(Journey to Gaia)
►Talla◄
(Journey to Gaia)
soundcloud
►Anares vs Nomis◄
(Journey to Gaia)
soundcloud
+++Dekoration+++
►Journey to Gaia◄
[facebook.com]
+++Location+++
Kulturverein Meraki
Oberebenestrasse 43, 5620 Bremgarten
Anfahrt: Bis zu Haltestelle Bremgarten West, danach 10min Fussweg. Keine Parkplätze vorhanden!
+++Tickets+++
Vorverkauf Tickets via Eventfrog 20 Fr.-
Abendkasse 25.-
Limitiert auf 180 Tickets!
Ab 18 Jahren! Bitte haltet eure ID bereit.
Wir freuen uns sehr mit euch allen durch die Nacht zu Tanzen.
Herzlich Grüsst die Meraki-Crew
Location
Kulturverein Meraki
Oberebenestrasse 43
56620 Bremgarten
Entry fee
Entry fee
Vorverkauf 20.-
Abendkasse 25.-
Organizer
Organizer
Kulturverein Meraki