Backend
Witch Projekt - Tales of Walpurga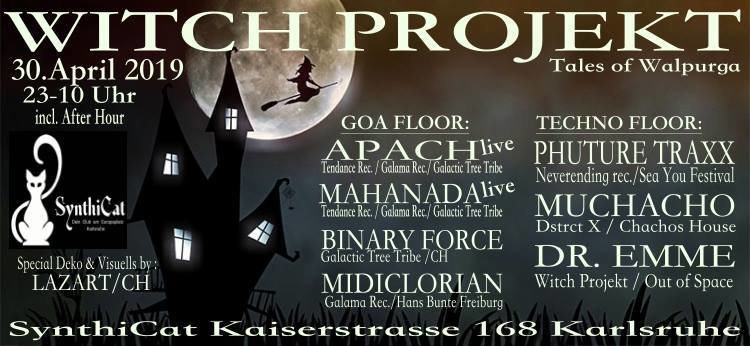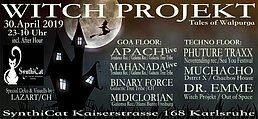 Line Up
✦ Apach ✦
soundcloud
[facebook.com]
Musik Style! Psytech ,Psyprog & Psytrance
Bisher gab es diverse Veröffentlichungen auf Tendance Music, Galama Records, Bit, Earthshake Records, Visionary Shamanics Records - Sunna Records etc .. Wir feiern den Release seiner neuen Ep "ONE OF A KIND" die in zusammenarbeit mit seinem Bro DR.EMME bei Galama Records erschienen ist!
Sein eigenständiger Stil begeistert immer wieder aufs neue.
◤◢◣◥◤◢◣◥◤◢◣◥◤◢◣◥◤◢◣◥◤◢◣◥◤◢◣◥◤◢◣◥◤◢◣◥◤◢◣◥◤◢◣◥◤◢◣◥◤◢◣◥◤◢◣◥◤◢◣◥
✦ Binary Force ✦
galactic tree tribe / Schweiz
soundcloud
soundcloud
Mahana Mauri and Laz.
Togethere they are Binary Force.
Driven by the groovy parts of Laz and smashed
by the powerfull bases from mahana.
◤◢◣◥◤◢◣◥◤◢◣◥◤◢◣◥◤◢◣◥◤◢◣◥◤◢◣◥◤◢◣◥◤◢◣◥◤◢◣◥◤◢◣◥◤◢◣◥◤◢◣◥◤◢◣◥◤◢◣◥
✦ Mahanada ✦
soundcloud.com/simon78-2
soundcloud
Mahanada is a progressive-psytrance project from Offenburg/Germany. He always plays live !
◤◢◣◥◤◢◣◥◤◢◣◥◤◢◣◥◤◢◣◥◤◢◣◥◤◢◣◥◤◢◣◥◤◢◣◥◤◢◣◥◤◢◣◥◤◢◣◥◤◢◣◥◤◢◣◥◤◢◣◥
✦ Midiclorian ✦
soundcloud.com/djmidiclorian
[facebook.com]
In 1998 he got infected by the Psy Scene. After travelling around the globe and hanging out on epic Parties his dream of life becomes bigger and bigger...he wanna make music.
The Midiclorian project was born...
Since 2012 he is presenting his powerful Dj Sets around South Germany, France, Austria and Switzerland. He already played alongside the biggest Artists, so he knows how to push the crowd to the highest level. His styles vary from spheric Progressive Trance till pulsating Night Full - On.
◤◢◣◥◤◢◣◥◤◢◣◥◤◢◣◥◤◢◣◥◤◢◣◥◤◢◣◥◤◢◣◥◤◢◣◥◤◢◣◥◤◢◣◥◤◢◣◥◤◢◣◥◤◢◣◥◤◢◣◥
✦✦✦Techno/Techhouse✦✦✦
✦✦◤◢◣◥◤◢◣◥◤◢◣◥◤◢◣◥◤◢◣◥◤◢◣◥◤✦✦
✦ Phuture Traxx ✦
[click here]
[facebook.com]
Phuture Traxx ist bereits seit vielen Jahren ein fester Bestandteil der elektronischen Musikszene. Auf die Plattenteller kommt, was ihm Spaß macht und zur kollektiven Hüftwackelei und Stimmung beiträgt. Fernab irgendwelcher Beatport-Hypes oder sonstiger vermeintlich trendiger Charts versucht er, seine eigene Interpretation von "guter Musik" in die Welt hinauszutragen. Aufgegessen wird sein tanzbarer Mix aus funky Minimal Techno, groovigem Techhouse und trippigem Electro von einer immer größer werdenden Anhängerschaft.
Seine DJ-Gigs führten Ihn bereits in Länder wie z.B. nach Indonesien, Russland, Japan, Brasilien, Katar, Bulgarien, Kroatien, England, Tschechien, Spanien, Belgien, Österreich, in die Slowakei, Schweiz, Frankreich und natürlich quer durch ganz Deutschland.
Als tatkräftiger Produzent, Remixer und Labelmanager (Neverending Records) lebt er seine Vision von elektronischer Musik erfolgreich aus. Gemeinsam mit Citizen Kain releaste Phuture Traxx bereits auf angesagten Recordlabels wie BluFin, Trapez Ltd., Italo Business, Agile Records, Neverending Rec., Phobiq, Elektrax Music u.a..
Zudem ist Phuture Traxx auch Promoter und (Mit-)Veranstalter der angesagten Events "SEA YOU Festival", "Big Bang" und "Electronic Sensation", welche zu den erfolgreichsten und größten Events im Dreiländereck Deutschland – Frankreich - Schweiz gehören.
So get ready to swing to the rhythm!
◤◢◣◥◤◢◣◥◤◢◣◥◤◢◣◥◤◢◣◥◤◢◣◥◤◢◣◥◤◢◣◥◤◢◣◥◤◢◣◥◤◢◣◥◤◢◣◥◤◢◣◥◤◢◣◥◤◢◣◥
✦ Muchacho ✦
Dstrct X / Chacho´s House / Karlsruhe
soundcloud
[facebook.com]
Isa Coskun ( Muchacho ) is raised and born in Karlsruhe, Germany. As a teenager, he started listening to a lot of Hip Hop and Rap. But he quickly realized that his interest was something else, electronic music. After several years of intense celebration and inspiration, he started teaching the djing himself. After a short time he got his first gig at an afterhour in Karlsruhe, Germany. Quickly became aware of the people here goes even more. In 2012 he became a resident at Club Culteum in Karlsruhe. After a year as a resident, he quickly made a name for himself in his hometown and beyond. So he moved the club and became a resident of Gotec Club in 2013. After being resident there for a year, Muchacho decided in 2014 to start his own series of events. Dstrct X ! Meanwhile, Dstrct X is one of the best and highest quality Techno Event labels in Germany. He has played at festivals such as Sea You Festival, Grenzenlos Festival, Rheingrün Open Air, Sommertag Festival and many more. Among the clubs in Germany where Muchacho was already counting, Elektroküche, Ms Connexion, Hans-Bunte-Areal, Toy, Gotec, MTW and many more. Internationally became known as by gigs in Spain or Portugal. As if that were not enough, Muchacho starts in early 2019 with his second series of events, Chacho's House. As the name suggests, it will only be Tech-House events. Keep your eyes and ears open.
◤◢◣◥◤◢◣◥◤◢◣◥◤◢◣◥◤◢◣◥◤◢◣◥◤◢◣◥◤◢◣◥◤◢◣◥◤◢◣◥◤◢◣◥◤◢◣◥◤◢◣◥◤◢◣◥◤◢◣◥
✦ DR. EMME ✦
soundcloud
[facebook.com]
1993 !!! ....schwappten die ersten Housepartys über Südbaden herein, infiziert von der neuen Musik und Jugendbewegung vorerst nur als Raver unterwegs, entdeckte DR. EMME die Liebe zur Musik! Turntables und einen Mixer waren schnell besorgt. Die Platten wurden bei "Sonar Musik" dem "Loopo" in Freiburg und bei der "Klangforschung" in Lahr besorgt. Die Sammlung vergrößerte sich rasant. Freunde veranstallteten die ersten Partys auf denen das neuerlernte Hobby auch zum Einsatz gebracht werden konnte. Mein allererster offizieller Auftritt war in der damaligen Freiburgbar nahe des Messegeländes 1996. Darauf folgen zahlreiche Gigs in ganz Deutschland. Mittlerweile hat DR. EMME so ziemlich jeden Club in der Umgebung bespielt, sei es als Dj oder auch als Veranstallter von Events. Bis heute ist die Liebe zur Musik geblieben. Und es sieht nicht danach aus als ob sich ein Ende abzeichnet.
DR. EMME" stehts dem Underground verpflichtet. Zusammen mit Mike Soundlight und Apach veranstalltet er erfolgreich Outdoorpartys im Bereich Goa und Techno. Seit 7 Jahren ist DR. EMME am produzieren von eigener Musik. 2018 kam mein erstes Release "Magic Moment" auf Tendance Music raus (zusammen mit APACH)
soundcloud
Watch Out and listen.
◤◢◣◥◤◢◣◥◤◢◣◥◤◢◣◥◤◢◣◥◤◢◣◥◤◢◣◥◤◢◣◥◤◢◣◥◤◢◣◥◤◢◣◥◤◢◣◥◤◢◣◥◤◢◣◥◤◢◣◥
Deko ✦ Visuals ✦
Wunderbares für das Auge kommt von unseren europaweit agierenden Profis was Deco und Visuells angeht.
Sie sind ein eingespieltes Team das jeden Club in ein neues Gewandt steckt. Wir freuen uns auf Euch !