WinterSUN in Tenerife 2018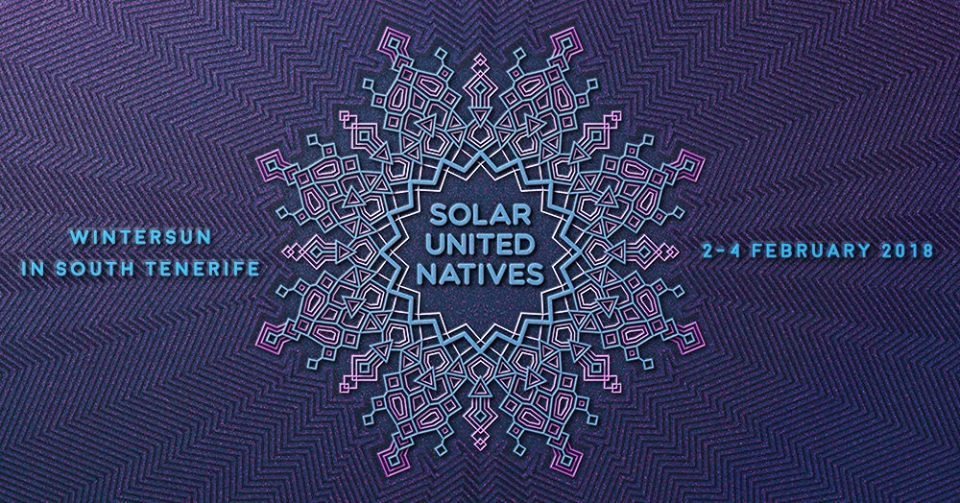 Line Up
Snag The Sunshepherd [HU] Solar.United.Natives (Live act + DJ set)
mixcloud
Kory [HU] Solar.United.Natives
mixcloud
Djane Cheeky [HU] Solar.United.Natives
mixcloud
Pálmester [HU] Kids Of The Sun / Solar.United.Natives
Dark Psyrate [HU] Kids Of The Sun
Balkan Traveller [HU] Kids Of The Sun
Atlantic Dub [HU] Kids Of The Sun
mixcloud
Ananda Shanti [DE] Ovnimoon Records (Live act + DJ set)
soundcloud
Machinarium [HU] Kids Of The Sun
soundcloud
Mimosa [HU] independent
Atom [IT] Atlantis Tribe
[facebook.com]
Djane Indyra [ES] Atlantis Tribe
[facebook.com]
Fa-B-La [ES] Atlantis Tribe
[facebook.com]
FullMoonHunter [ES] independent
mixcloud
Djane AnnaChaotica [DE] independent
Ajatasattu [DE] independent
Schatzy [HU] independent
Bence [HU] independent
====================================
CHILL OUT CAVE for 3 days:
Ramon (JamR) [HU] Kids Of The Sun
[facebook.com]
Csángálló [HU] (Live)
[facebook.com]
Pálmester [HU] Kids Of The Sun
Kory [HU] Solar.United.Natives
Deco
Deco
Kids Of The Sun & VesSo & Black Hole Design & volunteers
Info
[ENGLISH]
3 days - 3 nights long psychedelic gathering and celebration in the nature with some of the S.U.N. Festival DJs
Rainbow-based, free psychedelic party (celebration). We will not making bar. Please don't bring alcohol for sell! Bring your foods and drinks. Don't forget your drinking water.
Atresania (handcraft things), bodypaint, uv shop are welcome.
We will make food, coffe, tee for donation.
Helping hand and minds are welcome!
Please, take away your rubbish!
Location: Tenerife South, 4km from San Isidro
Cueves de la Ricasa, Barranco del Ifara (Granadilla de Abona)
TF-1 highway exit: Zona Industrial de Granadilla, Accesso 'B', turn back at the roundabout and go to direction San Isidro (back). Some meters before you reach the highway, turn right to the dirt road, on the higher side of the highway. Find your parking place and follow the signs on foot (2 minutes). With bus 111/711 use San Isidro bus-stop, and follow the highway to direction to Santa Cruz, on the higher side of the highway. The party is next to the highway, 30-40 minutes walk from San Isidro (bring lamp!)
Parking place GPS: 28.0840475, -16.5198296
[google.es]
Party place GPS: 28.082006, -16.524666
[google.es]
[ESPANOL]
3 días - 3 noches de reunión psicodélica y celebración en la naturaleza con algunos de los DJs de S.U.N. Festival
Fiesta psicodélica gratuita basada en el arco iris (celebración). No haremos bar. Por favor, no traigas alcohol para vender! Trae tus alimentos y bebidas. No olvides tu agua potable.
Atresania, bodypaint, uv shop son bienvenidos.
Haremos comida, café, té para donación.
¡Ayudando a las manos y las mentes son bienvenidas!
Por favor, quita tu basura!
Ubicación: Tenerife Sur, a 4 km de San Isidro
Cuevas de la Ricasa, Barranco del Ifara (Granadilla de Abona)
Salida de la autopista TF-1: Zona Industrial de Granadilla, Accesso 'B', gire en la rotonda e ir en dirección a San Isidro (atrás). Algunos metros antes de llegar a la autopista, gire a la derecha hacia el camino de tierra, en el lado más alto de la carretera. Encuentre su lugar de estacionamiento y siga las señales a pie (2 minutos). Con el autobús 111/711 use la parada de autobús de San Isidro, y siga la carretera en dirección a Santa Cruz, en el lado más alto de la carretera. La fiesta está al lado de la carretera, a 30-40 minutos a pie de San Isidro (¡trae la lámpara!)
Aparcamiento GPS: 28.0840475, -16.5198296
[google.es]
Fiesta GPS: 28.082006, -16.524666
[google.es]
FREE / GRATUITA
See you at SUN Festival 2018! >>
[facebook.com]
Facebook event for this event:
[facebook.com]
Solar.United.Natives:
[facebook.com]
[solarunitednatives.org]
mixcloud
soundcloud
[instagram.com]
[twitter.com]
Flyer graphic by Gábor Varga
Location
Location
Tenerife South, Barranco del Ifara, Cuevas de la Ricasa
TF-1 Highway 52 exit
Parking place / Aparcamiento GPS: 28.0840475, -16.5198296
[google.es]
Party place / Fiesa GPS: 28.082006, -16.524666
[google.es]
Entry fee
Entry fee
FREE / GRATUITA
Organizer
Organizer
Kids Of The Sun & Solar.United.Natives