Backend
WICCA MASALA - female PsyTrance meets spicy Techno & Acid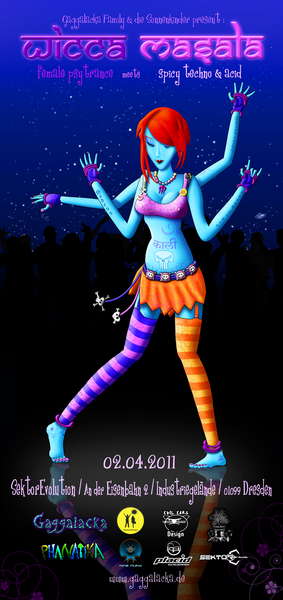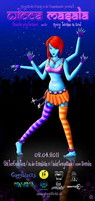 Line Up
* Female PsyTrance:
KYA - paganoize * Leipzig
*
[myspace.com]
* 2nd Floor - Spicy Techno & Acid:
ANALOGUE AUDIO ASSOCIATON - placid records / electromat.de * DD
*
[placid-records.de]
* Female PsyTrance:
DJane ADA - biomechanix records / mindfunk music * Caracas / Venezuela
*
[myspace.com]
DJane MISS VERSTÄNDNIS - polyeidos * Düsseldorf
*
[facebook.com]
DJane LOALITA - planet b.e.n. records * Frankfurt/Main
*
[myspace.com]
DJane KATJUSCHA - gaggalacka * DD
*
katjuscha
+ male AfterHour with:
MERRY:) - mindfunk music / mind expansion * DD
*
[facebook.com]
OGRIM aka. GOAPHOBIA - goapunxx * DD
*
[myspace.com]
* 2nd Floor - Spicy Techno & Acid:
SLIDE - plastic phreak * DD (oldschool acid set)
*
[myspace.com]
JAKOB MOOR - schwarzweiss musik / zeitgeist.kollektiv * DD
*
[myspace.com]
HANS DUNKELKAMMER - zeitgeist.kollektiv * B / DD
*
soundcloud
ZETTPUNKT - fishmobbing * DD
*
[fishmobbing.de]
MR. SOUNDSO - phanatika * DD
*
[myspace.com]
MEISTER EDER - desystematik * DD (oldschool trance set)
*
[myspace.com]
Outdoor Chill with SunFood & MoonChai by NATURAL-SOUL-SPACE-CREW + ABSINTHBAR
with Music by:
AMINO live & dj - aminosound * DD
*
[aminosound.de]
SUBSTAN live & dj - subraum records * Bautzen
*
[substan.de]
UNKRAUT DELUXE - insulin productions * DD
*
[unkraut-deluxe.de]
DIE BEHÜTETEN - zappelkiste * DD
LSDJ25 - Ireland
... and more :)
* Phantastic Visuals:
Live Visuals by VJane LUCY SKY * Düsseldorf
*
[myspace.com]
Flouro Art by ARKASHA * München
*
[arkasha.info]
Live Painting by NINGURA * Leipzig
*
[ningura.com]
Creative Worx by SHAPORY * Dresden
*
[myspace.com]
Support by HEIMLICHT + GOAPUNXX * Dresden
Info
Der Frühling ist nun endlich angebrochen. So wird es Zeit, mit einer besonderen Party die Frühlingsgefühle raus zu locken. Die perfekte Mischung dafür ist, die Weiblichkeit mit der Würze aus zeitloser elektronischer Musik aus alten und neuen Zeiten zu kombinieren.
Gefeiert wird zu erstklassischen LineUp auf 2 Dancefloors. Von psychedelischen, rockigen PsyTrance, akkustisch und visuell gestaltet ausschließlich von weiblicher Energie, bis hin zu einer würzigen Mischung aus Techno und Acid, wird für jeden was dabei sein.
Der PsyTrance-Floor wird im Zeichen der holden Weiblichkeit stehen – Hexenpower! Dies ist die Gelegenheit, euch zu zeigen, dass Frauen nicht nur aus Süßholz geschnitzt sind. In dieser Nacht werden vier DJanes und ein weiblicher Liveact in das weite Spektrum des PsyTrance einladen: scharfer "verspulter" Nacht-Sound in der Nacht bis hin zu süßen fluffigen Progressive Trance am Morgen.
Besonders stolz kann ich verkünden, dass DJane Ada aus Caracas nach Dresden kommt. Sie gilt als Pionierin der Goa-Szene in Venezuela. Sie hat mit allen Kräften gekämpft, um die Partyszene dort aufzubauen, was in diesem Land nicht so einfach ist. Dafür hat sie sogar auch mal ihre Freiheit riskiert. Umso mehr freut sich Ada, Euch mit ihrer Latino Mentalität einzuheizen und mit uns frei zu feiern! Dies wird der einziger Gig während ihres Europa-Trips sein.
Der zweite Dancefloor wird eine delikate Zeitreise in die Dresdner Geschichte der elektronischen Musik. Aus alten Zeiten werden DJ Slide vom Plastic Phreak und der Liveact Analogue Audio Association analogen Acid-Sound zum besten geben, so wie früher. In die Welt des modernen, digitalen Techno-, Electro- Sounds bis hin in die des darkem Psygressive Trance werden die DJ´s Jakob Moor und Hans Dunkelkammer vom Zeitgeist.Kollektiv eintauchen.
Bei schönem Wetter wird es einen Chill-Out im Außenbereich geben, wo einige Liveacts mit dubby, minimal, gebrochenen und verträumten Sounds Euch in andere Welten beamen werden.
Alles in allem wird dieses Partypaket geschnürrt in fantastische Dekoration, mit Herzblut gezaubert von zahlreichen Deko-Crews aus Düsseldorf, München, Leipzig und Dresden. Außerdem wird es eine Live-Performance geben, bei der Ihr beim Tanzen zusehen könnt, wie ein schwarzlichtaktives Kunstwerk entsteht.
Ach ja, Essen und Trinken gibt´s übrigens auch: Food und Chai von der Natural-Soul-Space-Crew - natürlich gewürzt mit Masala. Drinks gibt´s natürlich an der Sektor-Bar zu sozialen Preisen. Und für den Kopf wird die Grüne Fee frei gelassen, an der Absinthbar.
Also, für alle Sinne ist gesorgt!
***
* aus Wikkipedia:
WICCA [ˈwɪkə] ist eine neureligiöse Bewegung und versteht sich als eine wiederbelebte Naturreligion und als Mysterienreligion. Wicca sieht sich auch als die "Religion der Hexen" und die meisten Anhänger bezeichnen sich selbst als Hexen. Wicca glauben daran, dass alles im Grunde eine Einheit und miteinander verbunden ist (Holismus). Sie verehren die Natur als heilig, da sie eins ist mit dem göttlichen Urgrund und dem Menschen in körperlicher und geistiger Hinsicht Kraft spendet.
MASALAs (devanagari: मसाला, masālā) sind verschiedene indische Gewürzzubereitungen zur Zubereitung von Currys. Sie werden in jeder Region, jedem Ort, ja jedem Haushalt anders zusammengestellt – von süßlich über mild bis scharf.
Unter den Zutaten findet man oft Chili, Koriander, Minze, Knoblauch, Ingwer, Kurkuma uvm. In den nördlicheren Teilen Indiens gibt es die Masalas oft in einer lang haltbaren Pulverform, während man sie im Süden oft als Pasten herstellt.
Das Garam masala ist die bekannteste der Mischungen.
* * * und hier schon mal der Ausblick auf die Gaggalacka OA:
party
:)
Location
SEKTO(R)EVOLUTION
An der Eisenbahn 2
Industriegelände Nord
01099 Dresden

Tram 7 / 8 - Industriegelände

Navi Code: 51.091104, 13767124