WeltTraum Wiegenfest - Wir feiern 1 Jahr WeltTraum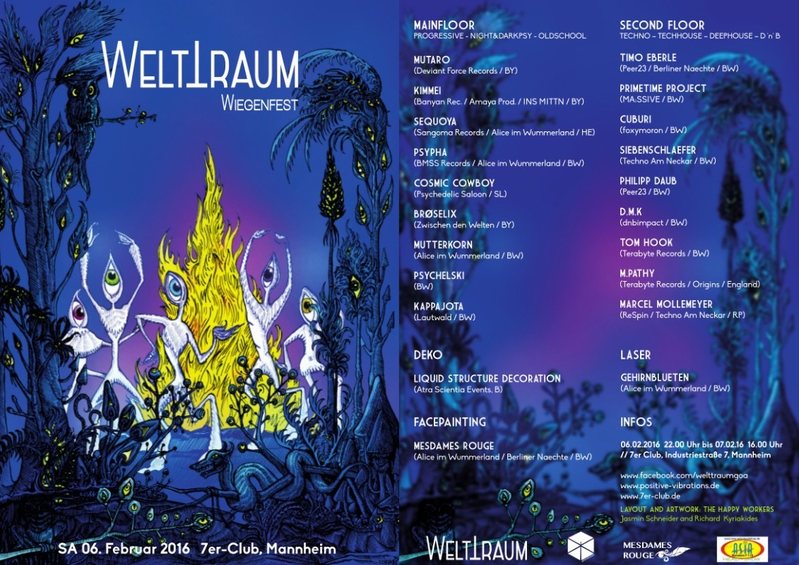 Line Up
▼ LINEUP MAINFLOOR ▼
MUTARO (Deviant Force Records / Bayern)
soundcloud
KIMMEI (Banyan Rec. / Amaya Prod. / INS MITTN / Bayern)
soundcloud
SEQUOYA (Sangoma Records / Wummerland / Hessen)
soundcloud
PSYPHA (BMSS Records / Wummerland / Baden-Württemberg)
soundcloud
COSMIC COWBOY (Psychedelic Saloon / Saarland)
soundcloud
MUTTERKORN (Wummerland / Baden-Württemberg)
mixcloud
BRØSELIX (Zwischen den Welten / Bayern)
mixcloud
PSYCHELSKI (Baden-Württemberg)
soundcloud
KAPPAJOTA (Lautwald / Baden-Württemberg)
soundcloud
▼ LINEUP SECOND FLOOR ▼
TECHNO – TECHHOUSE – DEEPHOUSE – DRUM & BASS
TIMO EBERLE (Peer23 / Berliner Naechte / Baden-Württemberg)
soundcloud
PRIMETIME PROJECT (MA:SSIVE / Baden-Württemberg)
soundcloud
CUBURI (foxymoron / Baden-Württemberg)
soundcloud
SIEBENSCHLAEFER (Techno Am Neckar / Baden-Württemberg)
soundcloud
PHILIPP DAUB (Peer23 / Baden-Württemberg)
soundcloud
D.M.K (dnbimpact / Baden-Württemberg)
soundcloud
TOM HOOK (Terabyte Records / Baden-Württemberg)
soundcloud
M.PATHY (Terabyte Records / Origins / England)
soundcloud
MARCEL MOLLEMEYER (ReSpin / Techno Am Neckar / Rheinland-Pfalz)
soundcloud
Info
WELTTRAUM WIEGENFEST – Wir feiern 1 Jahr WELTTRAUM

Hallo ihr Lieben,

Mit unserer IV. Veranstaltung feiern wir Geburtstag und zu diesem Fest haben wir einige Überraschungen für euch parat!

Wir haben auf Hochtouren eine neue Location gesucht, in der wir alle Platz zum Tanzen und Raum zur freien Entfaltung haben.
WELTTRAUM zieht um in den 7er!
Wir haben dort 2 Floors und werden zusätzlich noch einen gemütlichen Chilli einrichten.

Den werdet ihr auch brauchen, denn zu unserem Wiegenfest gibt es 18 Stunden feinste Musik auf die Ohren! Wir öffnen unsere Türen für euch um 22 Uhr und feiern mit euch bis 16 Uhr eine sinnesverzwirbelnde, bunte, leuchtende und unvergessliche Fete.
Mit ganz viel Spaß & Liebe & Freude natürlich!

Musikalisch führt die Reise auf dem Mainflooor vom Progressive Psytrance schnell in dunklere Gefilde des Psytrance, wo wir mit euch die Nacht verbringen möchten. Nightpsy, Forest und Darkpsy - treibende schnelle Bässe und Klänge aus anderen Welten, lassen uns die Nacht durch bis zur Mittagszeit stampfen.
Dann holen wir euch langsam wieder auf den Boden der Ursprünge zurück. Die Party wird mit Oldschool Goa zu einem gemütlichen Ende finden. Und mit Oldschool meinen wir auch wirklich Oldschool – Vinyl ONLY!

Auf dem zweiten Floor wollen wir all unseren Freunden eine große Freude bereiten und halten für jeden Geschmack etwas bereit.
Von Techno über Techhouse & Deephouse bis hin zu Drum & Bass ist für alle was geboten.


Für eure Verpflegung werden wir selbstverständlich sorgen und auch die ein oder andere Überraschung wird es sicher noch geben.

Also seid gespannt und bleibt dabei! Wir freuen uns auf euch!


Beide Floors werden mit einem Funktion One Soundsystem ausgestattet sein und euch mit bestem Sound beschallen.


▼ KEIN VANDALISMUS, BITTE ▼
Es werden viele Gegenstände auf dem Gelände stehen, die von Firmen für unsere Party geliefert werden (Soundsystem, Deko usw.). Bitte zerstört oder entwendet nichts. Das sind alles Kosten, die unnötigerweise entstehen.

▼ KEINE TIERE ▼
Wenn ihr ein Tier wärt....wäre eine Party der Ort, an dem ihr euch am wohlsten fühlen würdet, zwischen all den tanzenden Menschen, der lauten Musik....? Nein, purer Stress ist die Folge für das Tier, das mit auf die Party genommen wird. Also, lasst bitte eure Lieben zuhause und kümmert euch darum, dass jemand für sie da ist, wenn ihr weg seid.

▼ RESPECT YOUR PEOPLE ▼
Wir möchten, dass es eine schöne Party für alle wird.
Unnötigen Stress und so weiter, darauf können wir alle verzichten.

Achtet aufeinander und nehmt Rücksicht.

☞ Zu beachten gilt natürlich:
Sexismus, Rassismus und Homophobie werden nicht geduldet. Wer diesbezüglich auffällt, fliegt raus.


--------------------------------------------------------------


Dear Friends,

We celebrate WELTTRAUM's first birthday with our Party number IV. We really do have some surprises in store for you!

We have been hastily looking for a new location, where we all can be free to roam and dance, and an area to freely develop oneself.
WELTTRAUM moves to the 7er Club!
We will have two floors and there will be a cosy chill area prepared for you.

And you are sure going to need it, as we play 18 hours of the finest music. Doors will be open from 10pm until 4pm. We will be celebrating a mindtwisting, colourful, glowing and unforgettable party. As promised - lots of Fun & Love & Joy!

This musical journey advances speedily from Progressive Psytrance to the darker sides of the Psychedelic Trance spectrum. With Nightpsy, Forest and Darkpsy – propelling fast basslines and sounds from other worlds, which helps us to stomp through the night until noon the next day.
After which, we will gently return you to Earth. To conclude this party in a relaxed atmosphere, we will finish off with Oldschool Goa, and when we say Oldschool, we REALLY mean it! - Vinyls ONLY!

The second floor will be a gift to all our lovely party guests where music for all tastes are offered, from Techno to Techhouse & Deephouse to Drum 'n Bass.

Both floors will be equipped with Funktion One Sound!

And finally we haven't forgotten to take care of your catering needs, there are sure to be surprises that you will all enjoy.

Stay tuned and be ready! We are really looking forward to seeing you soon!
Location
-STRAßENBAHN-
LINIE 2
Mit der Linie 2 Richtung Neckarstadt West fahren und an der Endhaltestelle aussteigen. Danach an der Ampelkreuzung die Untermühlaustraße überqueren und geradeaus unter der Bahnbrücke bis zur Industriestraße. Hier rechts in diese einbiegen und bis zur Hausnummer 7 auf der linken Seite laufen.
LINIEN 1 UND 3
Von Mannheim Hbf mit der Linie 1 (Richtung Schönau) oder 3 (Richtung Sandhofen) bis zur Haltestelle "Neuer Messplatz" fahren. Von dort aus zu Fuß die Zeppelinstraße richtung Westen. Dann die Untermühlaustraße über die Ampelkreuzung überqueren und rechts davon in die Pyramidenstraße einbiegen. Am Ende links in die Industriestraße einbiegen und bis zur Hausnummer 7 auf der rechten Seite laufen.
-BUS-
Zwischen 01.00 und 06.00 Uhr gibt es ein Nachtbusangebot im 1-Stunden-Takt, welches Haltestellen in unmittelbarem Umfeld zum Club beinhaltet. Der Bus verkehrt zwischen Mannheim Hbf und Grenadierstraße.
-INFOS-
Fahrpläne
[bit.ly]
Fahrtstrecke Clubs Industriestraße
[bit.ly]
-BAHN-
Nächster Bahnhof: Mannheim Neckarstadt
Den Bahnhof über das Treppenhaus verlassen und unten nach links die Straße entlang bis zum Ende laufen. Danach rechts in die Industriestraße einbiegen und bis zur Hausnummer 7 auf der linken Seite laufen.
-PARKEN-
Auch wenn wir euch bitten, das Auto stehen zu lassen und sicher mit den öffentlichen Verkehrsmitteln an- und abzureisen, ist im Bereich der Industriestraße das normale öffentliche kostenfreie Parken möglich.
Entry fee
Entry fee
WIR RATEN DRINGEN DAZU, DEN VORVERKAUF ZU NUTZEN !!!
Vorverkauf unter:
[bit.ly]
Organizer
Organizer
WeltTraum GbR

Holzweg 100
67098 Bad Dürkheim