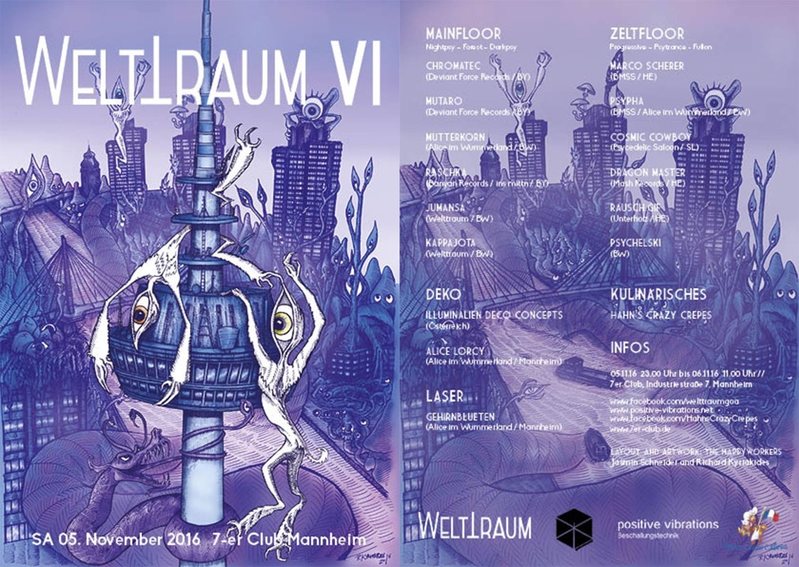 Line Up
▼ MAINFLOOR ▼
Chromatec (Deviant Force Records / Bayern)
[bit.ly]
Mutaro (Deviant Force Records / Bayern)
[bit.ly]
Mutterkorn (Alice im Wummerland / Baden-Württemberg)
[bit.ly]
Raschka (Banyan Records / Bayern)
[bit.ly]
Jumansa (Welttraum / Baden-Württemberg)
[bit.ly]
Kappajota (Welttraum / Baden-Württemberg)
[bit.ly]
▼ ZELTFLOOR ▼
Marco Scherer (BMSS Records / Hessen)
[bit.ly]
Psypha (BMSS Records / Alice im Wummerland / Baden-Württemberg
soundcloud
Cosmic Cowboy (Psychedelic Saloon / Saarland)
[bit.ly]
Dragon Master (Mash Records / Hessen)
[bit.ly]
Rausch.gif (Unterholz / Hessen)
[bit.ly]
Psychelski (Baden-Württemberg)
[bit.ly]
▼ CHILLOUT ▼
Doktor Fluffy (Flauschi Productions / Münster)
[bit.ly]
Legasthenics (Alice im Wummerland / Altrip)
[bit.ly]
Phlegma (Alice im Wummerland / Mannheim)
[bit.ly]
Info
___________ENGLISH TEXT VERSION BELOW___________
Hallo liebe WeltträumerInnen!
Am 5. November öffnen für euch die Tore zur WELTTRAUM VI.
Nach diesem ereignisreichen Sommer möchten wir mit euch in die Indoor-Saison starten. Unser Zuhause wird wieder der 7er-Club mit Mainfloor und Zeltfloor sowie Chillout-Bereich sein.
Der Mainfloor legt schon flott los und nimmt dann nochmals ordentlich fahrt auf. Auf dem Zeltfloor darf hingegen zu Progressive & Co gestampft werden.
Wir freuen uns, nun schon zum fünften Mal mit unserem Partner positive vibrations zusammenzuarbeiten. Sie werden wieder einmal dafür sorgen, dass eure Ohren in bester Klangqualität beschallt werden.
Erstmals dürft ihr euch darauf auch im Chillout-Bereich freuen. ;-)
Seid gespannt und bleibt dabei!
Wir freuen uns auf euch!
-------------------------------------------------------------------------------------
Hello Welttraum party people!
On November 5th we will open our doors to WELTTRAUM VI.
After an eventful summer we want to start the indoor season with you. We will be based once again in the 7er-Club which includes a main floor, marquee dance floor and a chill out area.
The main floor will begin fast-paced, and continue picking up steam throughout the party. You'll be able to stomp to Progressive etc. on the marquee floor.
We are looking forward to working together with our partner positive vibrations for the fifth time. They will take care of spoiling your ears with the best quality sound.
And now for the first time ever, you can look forward to music in the chill out area as well.
Be ready and stay tuned!
We look forward to seeing you there!
-------------------------------------------------------------------------------------
▼ WEB ▼
[facebook.com]
[positive-vibrations.net]
[facebook.com]
[7er-club.com]
Location
▼ ANREISE ▼
-STRAßENBAHN-
LINIE 2
Mit der Linie 2 Richtung Neckarstadt West fahren und an der Endhaltestelle aussteigen. Danach an der Ampelkreuzung die Untermühlaustraße überqueren und geradeaus unter der Bahnbrücke bis zur Industriestraße. Hier rechts in diese einbiegen und bis zur Hausnummer 7 auf der linken Seite laufen.
LINIEN 1 UND 3
Von Mannheim Hbf mit der Linie 1 (Richtung Schönau) oder 3 (Richtung Sandhofen) bis zur Haltestelle "Neuer Messplatz" fahren. Von dort aus zu Fuß die Zeppelinstraße richtung Westen. Dann die Untermühlaustraße über die Ampelkreuzung überqueren und rechts davon in die Pyramidenstraße einbiegen. Am Ende links in die Industriestraße einbiegen und bis zur Hausnummer 7 auf der rechten Seite laufen.
-BUS-
Zwischen 01.00 und 06.00 Uhr gibt es ein Nachtbusangebot im 1-Stunden-Takt, welches Haltestellen in unmittelbarem Umfeld zum Club beinhaltet. Der Bus verkehrt zwischen Mannheim Hbf und Grenadierstraße.
-INFOS-
Fahrpläne
[bit.ly]
Fahrtstrecke Clubs Industriestraße
[bit.ly]
-BAHN-
Nächster Bahnhof: Mannheim Neckarstadt
Den Bahnhof über das Treppenhaus verlassen und unten nach links die Straße entlang bis zum Ende laufen. Danach rechts in die Industriestraße einbiegen und bis zur Hausnummer 7 auf der linken Seite laufen.
-PARKEN-
Auch wenn wir euch bitten, das Auto stehen zu lassen und sicher mit den öffentlichen Verkehrsmitteln an- und abzureisen, ist im Bereich der Industriestraße das normale öffentliche kostenfreie Parken möglich.
Entry fee
Entry fee
VVK Early Bird Ticket: 21,00 €
VVK Regular Ticket: 23,50 €
Abendkasse: tba
Link zum Vorverkauf (ab 01.09.16):
[bit.ly]
EINLASS ERST AB 18 JAHREN !!!
Organizer
Organizer
WeltTraum GbR

Holzweg 100
67098 Bad Dürkheim