Weltenbummler's Sommerfest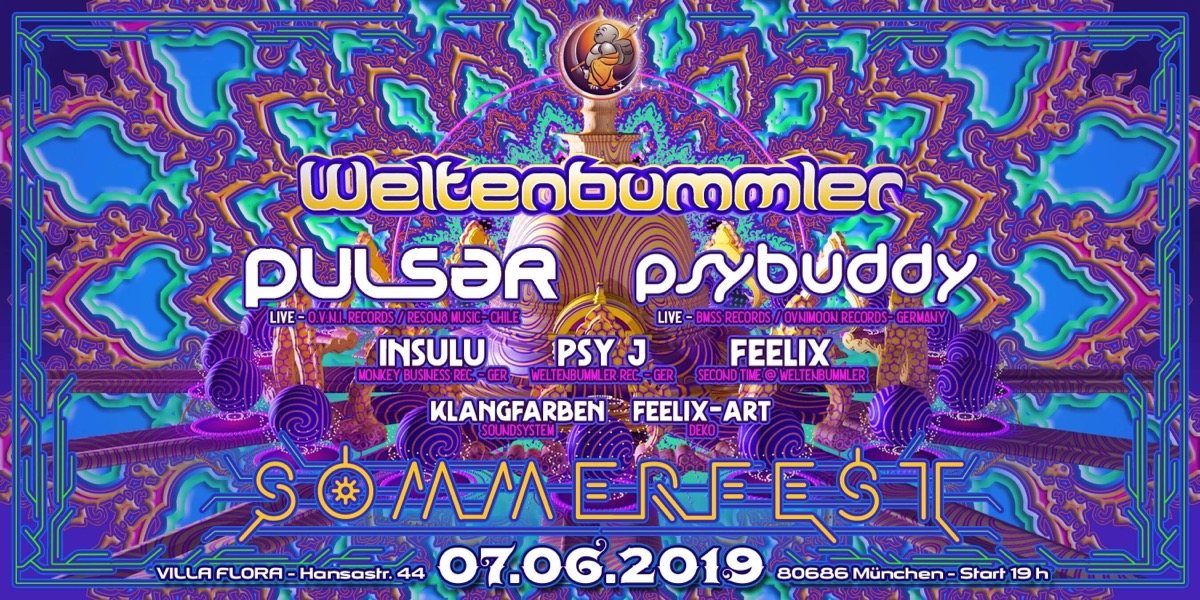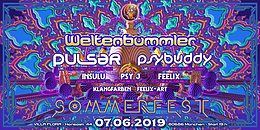 Line Up
ॐ ॐ Weltenbummler's Sommerfest ॐ ॐ
Nachdem viele von Euch so begeistert von dieser absolut genialen Location waren und wir daraufhin sogar mehrfach angeschrieben wurden, dachten wir uns kurzerhand auch unser Sommerfest dort zu starten.
Bei gutem Wetter lässt sich der schöne uns riesige Aussenbereich noch viel besser nutzen und wir können neben chilliger Hintergrund Musik (bis 22 Uhr) auch noch ab 19 Uhr mit einem lässigen Chill and Grill starten, wo wir euch einen Grill zur Verfügung stellen und ihr nach Herzenslust mitbringen könnt, was ihr gerne auf den Grill schmeißen möchtet.
Für Getränke ist natürlich gesorgt und wir überlegen uns noch ein paar sommerliche Getränkespecials. Um für ordentlichen "Psy-Biergarten" -Flair zu sorgen, stellen wir zusätzlich Bierbänke und Tische auf und es wird Augustiner vom Faß geben. (Solange der Vorrat reicht)
👉 Psy-Biergarten mit Augustiner vom Fass (solange der Vorrat reicht)
👉 riesiger und wunderschöner Außenbereich mit Ständen und Shops
👉 Chill and Grill ab 19 Uhr bis keine Kohle mehr da ist 😅
👉 Aussenbeschallung ab 19 Uhr bis 22 Uhr (Hintergrundmusik)
ॐ Line Up:
☞ PULSAR (live) // Chile
(O.V.N.I. Records / Reson8 Music)
soundcloud
☞ PSYBUDDY ( live ) // DE
(BMSS Records / Ovnimoon Records)
soundcloud
☞ INSULU // DE
( Monkey Business Records )
soundcloud
☞ PSYJ // DE
( Weltenbummler Records )
soundcloud
☞ FEELIX // DE
( Second time @ Weltenbummler)
soundcloud
ॐDeko:
FEELIX-ART
[facebook.com]
ॐChai:
☞ CHAIHEXLE
ॐ Shops:
☞ ESSENZ-O
[facebook.com]
☞ MINDART FACTORY
[facebook.com]
☞ tba
☞ tba
☞ tba
stay tuned 😊
ॐ Soundsystem:
☞ KLANGFARBEN MÜNCHEN
[facebook.com]
Eintritt:
+ Abendkasse 15,- inkl. Stoffbändchen und Welcome-Shot
+ Geburtstagskinder vom 07.06. - 08.06. haben freien Eintritt
+ Einlass ausschließlich ab 18 Jahren
+ Ausweis bitte nicht vergessen!
Location
Location
Villa Flora
Hansastraße 44
München