Backend
Weltenbummler with StarLab (live)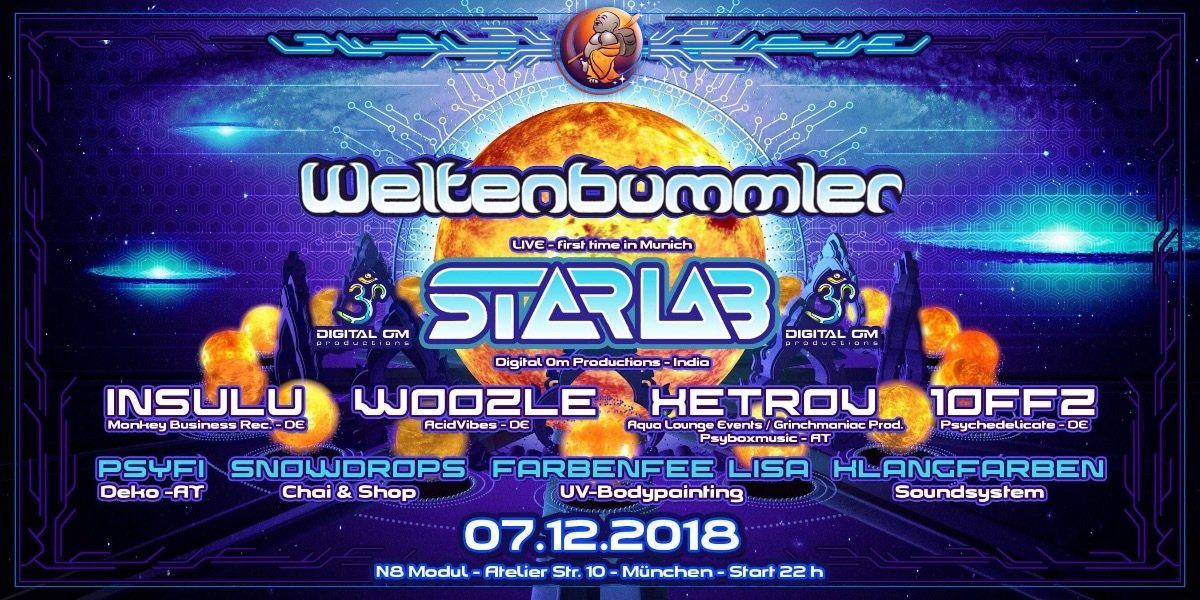 Line Up
ॐ ॐॐ Weltenbummler with StarLab (live) ॐ ॐॐ
with:
☞ StarLab ( live ) // India
+++ first time in Munich +++
( Digital Om Prod.)
soundcloud
[facebook.com]
StarLab is a project initialised by Bharat from New Delhi, India.
Training in Indian Classical Music laid the musical foundations for Bharat at a very early age. Over the years, as a self taught Vocalist, Bass & Guitar player he gathered a wealth of experience touring and recording with his band for over a decade until he encountered the hypnotic sound of Psychedelic Trance Music at a beach party in Goa, India. This strongly affected his musical persona after which he began to teach himself synthesis & music production and project StarLab was born.
In 2011 he went to California USA to study music and quickly became a popular DJ in the California scene and gained a lot of experience playing many local parties and festivals. On returning to India in 2013 he joined ranks with India's premier record label Digital Om Productions as Live Act and since then he has gone on to make countless releases with the most well known record labels and perform in top festivals and venues in India and around the world in USA, Mexico, Brazil, Japan, Portugal, France, Germany, Serbia, Croatia, Switzerland, Spain, Thailand, Nepal. These include Main Stage performances in famous festivals such as Universo Paralello - Brazil, Antaris Project- Germany, Shankra Festival- Switzerland, Exit Festival- Serbia, Electric Daisy Carnival – India, Sunburn Festival – Goa, Universal Religion – Nepal, Experience - Thailand and many more.
StarLab has released music with renowned labels such as Digital Om, IONO Music, Techsafari, TesseracTstudio, Sacred Technology and also selected by ASTRIX for his VA compilation Book of Changes on Future Music Records.
☞ INSULU // DE
( Monkey Business Rec. )
soundcloud
☞ WOOZLE // DE
( AcidVibes )
soundcloud
☞ XETROV // AT
( Aqua Lounge Events / Grinchmaniac Prod./ Psyboxmusic )
soundcloud
☞ 1OFF2 // DE
( Psychedelicate )
soundcloud
ॐDeko:
☞ PSYFI - DEKO // Austria
ॐ Chai & Shop:
☞ SNOWDROPS
[facebook.com]
ॐUV-Bodypainting:
☞ FARBENFEE LISA
ॐ Soundsystem:
☞ KLANGFARBEN MÜNCHEN
[facebook.com]
Eintritt:
+ Abendkasse: 15,- inkl. welcome-shot und
Stoffbändchen!
+ Geburtstagskinder vom 07.12. - 08.12. haben freien Eintritt
+ Einlass ausschließlich ab 18 Jahren
+ Ausweis bitte nicht vergessen!
Location
Location
N8modul
Atellierstr.
81679 München