Backend
Weltenbummler with Pulsar (live)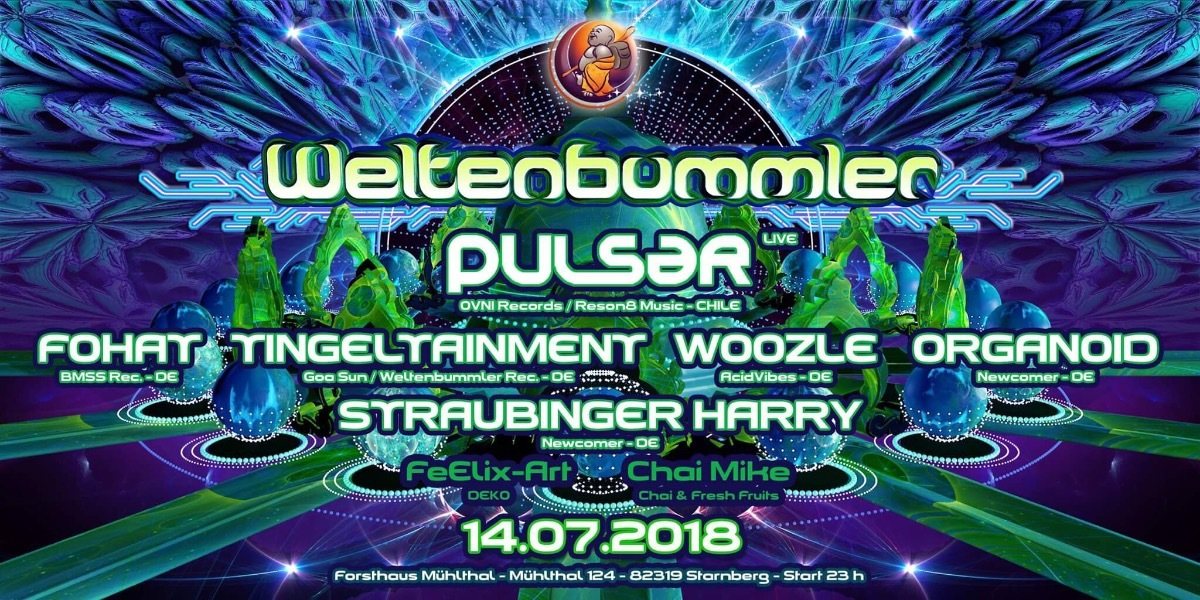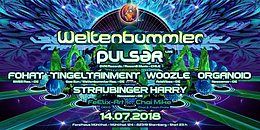 Line Up
ॐ ॐॐ Weltenbummler ॐॐॐ
with:
☞ PULSAR (live) // Chile
( OVNI Records / Reson8 Music )
Manuel Benavente from Santiago de Chile create his project "Pulsar" in 2011,
But that was not enough and he created in the same year together with Mauricio Farias his second project "Pulsar & Thaihanu" focused more in morning and progressive sounds.
Both of the projects has a lot successful and releases on renowned labels around the world and played already on big festivals in countries like: México , Canadá , Perú , Germany , Sweden , Poland , Argentina , Serbia , Grecee and United States.
In the year 2017 he join the O.V.N.I Records label where he will release his upcoming album called "8th Life"
Also together with Elegy they create a new label called "Reson8 Music" releasing music since november 2017.
Soundcloud:
soundcloud
soundcloud
Mixcloud:
[click here]
Fanpage:
[facebook.com]
[facebook.com]
Beatport:
[beatport.com]
[beatport.com]
Label website:
[ovni-records.com]
Reson8 Music releases:
[beatport.com]
Instagram:
[instagram.com]
☞ FOHAT // DE
( BMSS Rec. )
soundcloud
☞ TINGELTAINMENT // DE
( ॐ Goa Sun ॐ / Weltenbummler Rec.)
soundcloud
☞ WOOZLE // DE
( AcidVibes )
soundcloud
☞ ORGANOID // DE
( Newcomer )
soundcloud
☞ STRAUBINGER HARRY // DE
( Newcomer )
ॐDeko:
☞ FeElix-Art
[facebook.com]
ॐChai & Fresh Fruits:
☞ CHAI MIKE
Eintritt:
+ Abendkasse: 15,- inkl. Shuttle-Bus (ab Starnberg Nord), Welcome-Shot und
Stoffbändchen!
+ Geburtstagskinder vom 13.07. - 15.07. haben freien Eintritt
+ Einlass ausschließlich ab 18 Jahren
+ Ausweis bitte nicht vergessen!
Info
+++ Shuttlebus ab Pasing Bhf +++
Nachdem die meisten von Euch für den Shuttle ab Pasing gestimmt haben, wird es dieses Mal 4 Fahrten ( jeweils im 50-Sitzer) im Stundentakt ab Pasing direkt zur Location geben.

+++ Abfahrtszeiten von Pasing Bhf: +++
23.00 Uhr
00.00 Uhr
01.00 Uhr
02.00 Uhr
Jeweils 2,-

+++ Rückfahrt/ Shuttle Starnberg Nord +++
Den Shuttle "Starnberg Nord" wird es trotzdem wie gewohnt im S-Bahn-Takt von München kommend ab 22.45 Uhr, sowie zurück ab 05.00 Uhr ( erste Verbindung Richtung München) im S-Bahn-Takt und nach Bedarf geben.

Shuttle nach Pasing zurück in der früh ist leider seitens des Busunternehmens nicht möglich.
Location
Forsthaus Mühlthal
Mühlthal 124, Starnberg