Weltenbummler pres. Women on the decks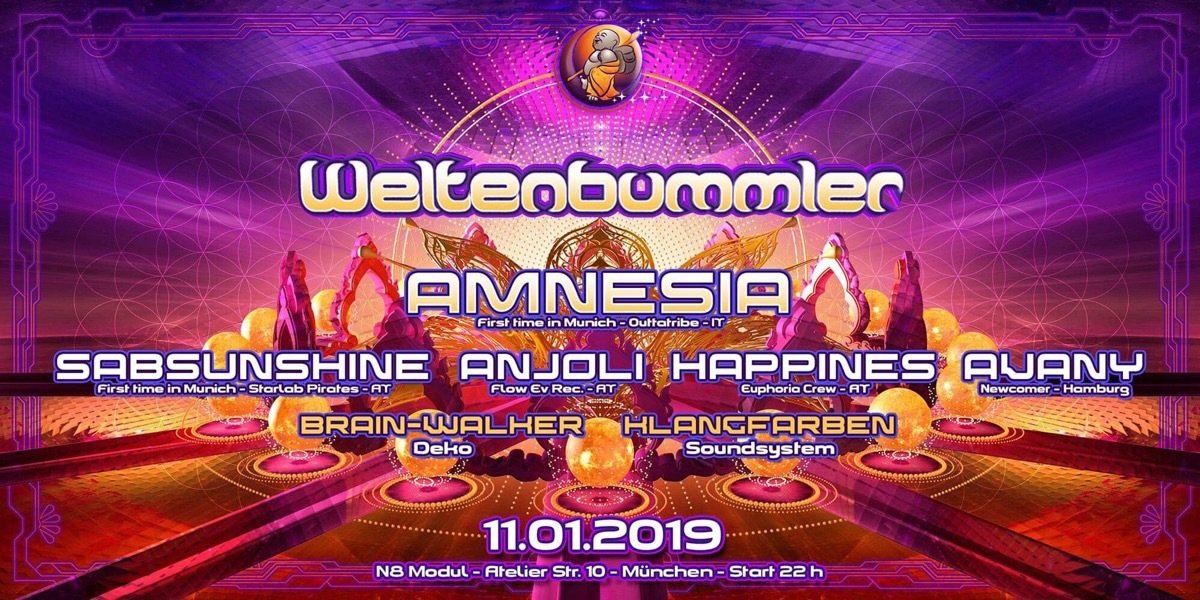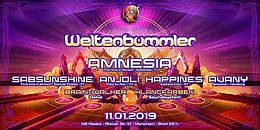 Line Up
ॐ ॐॐ Weltenbummler pres. women on the decks ॐ ॐॐ
Lasst uns gemeinsam das Jahr mit dem Support weiblicher Djane-Acts starten...
Wir freuen uns auf AMNESIA aus Italien, welche bereits auf unzähligen Festivals in Europa nicht mehr wegzudenken ist und das erste mal für Euch in München zu hören sein wird. Des weiteren haben wir ANJOLI und HAPPINES aus Österreich mit an Board, welche sich bereits in die Herzen der Münchner gespielt haben. Ebenfalls aus Österreich und das erste mal in München, wird Euch SABSUNSHINE aus dem Hause Starlab Pirates ordentlich einheizen. Musikalisch abrunden wird das ganze die Newcomerin des Abends, AVANY aus Hamburg.
ॐ Line-Up:
☞ AMNESIA // IT
>>> first time in Munich <<<
( Outtatribe )
[facebook.com]
soundcloud
Amnesia in 2012 joined the psytrance world and started in 2014 djing.
She's rocking festival and events with her powerfull sets in Italy and all around Europe since then.
Amnesia spreads powerfull vibes around while she's playing some of her beloved tracks which have a 138/145 bpm range usually.
Her music style can be described as powerfull and melodic at same time and her technical skills are something you can rarely have chance to see in a dj.
The crowd is usually teleported in another mindblowing level of reality during her sets which are the result of the deep passion she has for the music.
Trancers from Free Earth Festival, Connection Festival, Transition Festival and many others events had already a chance to feel what Amnesia on stage means .
She doesn't take care how big or how famous is the event where she has to play and just follows her feeling with no matter of a big mainstream event with thousands attenders or of an intimate party with closely friends.
Music is her passion and she just loves to play where and when she feels the right vibes to do so.
☞ SABSUNSHINE // AT
>>> first time in Munich <<<
( Starlab Pirates )
soundcloud
☞ ANJOLI // AT
( Flow Ev Rec. )
soundcloud
☞ HAPPINES // AT
( Euphoria Crew )
soundcloud
☞ AVANY // Hamburg
( Newcomer )
soundcloud
ॐ Decoration:
☞ BRAIN-WALKER
[facebook.com]
ॐ Chai & Shop
☞ SNOWDROPS
ॐ Bodypainting
☞ FARBENFEE LISA
ॐ Soundsystem:
☞ KLANGFARBEN MÜNCHEN
[facebook.com]
Eintritt:
+ Abendkasse: 15,- inkl. welcome-shot und
Stoffbändchen!
+ Geburtstagskinder vom 10.01. - 12.01. haben freien Eintritt
+ Einlass ausschließlich ab 18 Jahren
+ Ausweis bitte nicht vergessen!
Location
Location
N8modul
(Im werksviertel)