Welcome to the future pleiadian rec night presented by future acoustics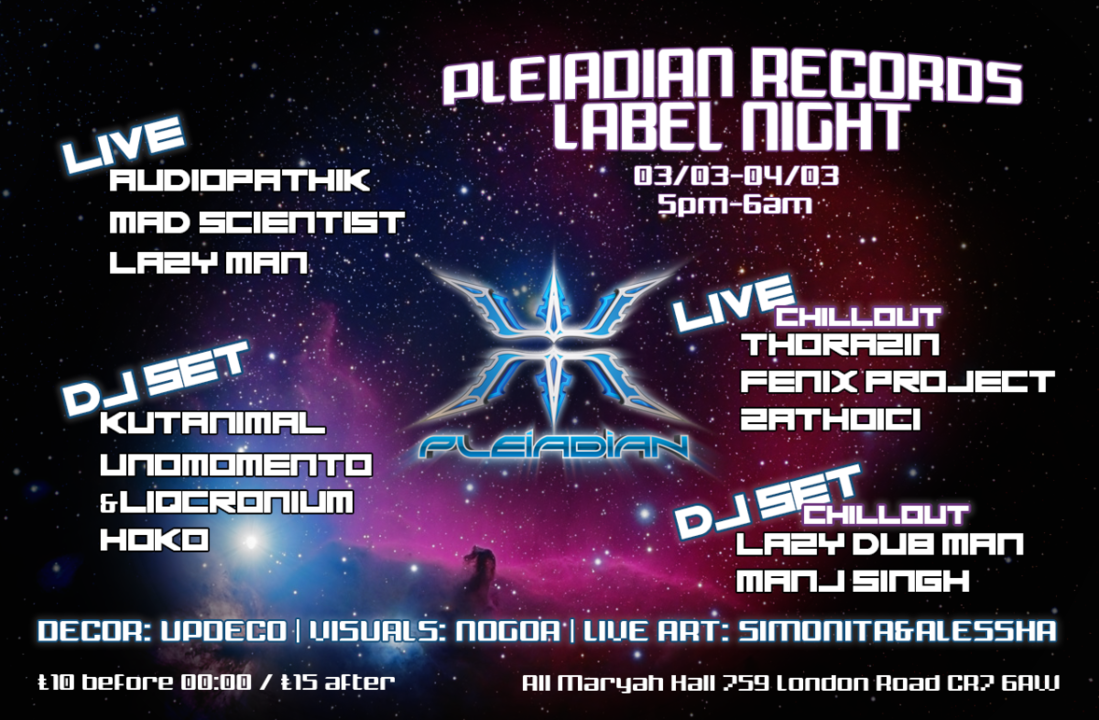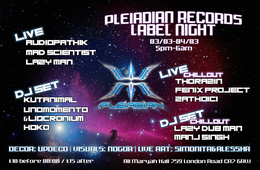 Line Up
Hello London !!!
We are Future Acoustics and we came to present you the FUTURE NOW with our very first event presented in a 100% Legal venue in the heart of south London...
This event will be one of a kind a new era for alternative arts and culture rises in London!
We intend to show case the good quality act of Psychedelic Trance Acts that are spread around the world our aim is directed to the genres of HI-TECH / DARK PSY / FOREST /CHILL IN & OUT as Well as we aim to showcase Art Exhibitions with very talented Visionary artists From around the Globe
The format of this event will be unique too with an chilled afternoon start with amazing alternative music combined with an amazing art display till the moon takes over and gives way to the night to start with some the best psychedelic dance music you can experience at this moment on this planet we call EARTH ...
Proudly we present to you
PLEIADIAN RECORDS LABEL NIGHT
For the lovers of Psytrance this Label need very little introduction based in the desert of Sonora in north west Mexico this label as proven over the years to be consistent with top quality releases loaded with amazing concept crazy artwork and cutting edge music.
with a long list of compilations releases and original albums and EP`S and Pleiadian artists Blasting around the Globe
its time to present it to London Freaks so without any due here`s the line up
LIVE ACTS MAIN FLOOR :
AUDIOPATHIK (MEXICO) 3HOURS LIVE !!!
Pleiadian Records
soundcloud
MAD SCIENTIST (PORTUGAL ) 2HOURS LIVE!!!
Manicpsychopro Records
soundcloud
LAZY MAN ( PT / U.K ) 1HOUR LIVE!!!
Skizodelic Mind
soundcloud
DJ SET`S
Kutanimal ( PT / U.K )
Pleiadian Records
soundcloud
UnoMomento & Liqcronium ( GR / U.K )
Insane Asylum Records
Underground Experience Records
Brain Farm Family
soundcloud
soundcloud
HOKO ( ES / U.K )
Melkart Rec / Skizodelic Mind
soundcloud
LIVE ACTS CHILL STAGE
THORAZIN ( MEXICO ) U.K DEBUT SET
Triple Drop Productions
soundcloud
T.B.C
Shanti Planti Artist
DJ SET
Lazy Dub Man
Skizodelic Mind
soundcloud
more to be confirmed
ART INSTALLATION AND ART EXHIBITION
6 Artists to be confirmed and revealed ASAP
DECOR BY :
UPDECO ( GR / U.K )
[facebook.com]
SOUND SYSTEM BY :
AUDIOENERGY ( U.K Kent )
T.B.C
ViISUALS PROJECTED BY :
NOGOA ( PL / U.K )
youtube
The Venue is a debut for Psychedelic trance parties fully licensed with and amazing space for chilling and a proper dance pit with bars on both floors Plenty of toilets both for Ladies and Gents and a smoking area a friendly security team and a vibrant Staff we are very happy to be able to host our very first event in such a good house with a great Land Lord
admission 10 £ Before Midnight
15£ After
special offers for the first 50 party goers
For this event we will collab with a very well know org in London S.O,S Psytrance Pablo Miranda who will support us and we are grateful of their help
This event is dedicated to 2 very special humans that are part of our universal scene Paula Serrão Birthday Girl and to Andres Bull Tarifa one of the strongest persons in the scene who is currently fighting The monster who is Cancer
THE FUTURE IS NOW
Info
Hello London !!!

We are Future Acoustics and we came to present you the FUTURE NOW with our very first event presented in a 100% Legal venue in the heart of south London...
This event will be one of a kind a new era for alternative arts and culture rises in London!
We intend to show case the good quality act of Psychedelic Trance Acts that are spread around the world our aim is directed to the genres of HI-TECH / DARK PSY / FOREST /CHILL IN & OUT as Well as we aim to showcase Art Exhibitions with very talented Visionary artists From around the Globe
The format of this event will be unique too with an chilled afternoon start with amazing alternative music combined with an amazing art display till the moon takes over and gives way to the night to start with some the best psychedelic dance music you can experience at this moment on this planet we call EARTH ...
The Venue is a debut for Psychedelic trance parties fully licensed with and amazing space for chilling and a proper dance pit with bars on both floors Plenty of toilets both for Ladies and Gents and a smoking area a friendly security team and a vibrant Staff we are very happy to be able to host our very first event in such a good house with a great Land Lord


For this event we will collab with a very well know org in London S.O,S Psytrance Pablo Miranda who will support us and we are grateful of their help

This event is dedicated to 2 very special humans that are part of our universal scene Paula Serrão Birthday Girl and to Andres Bull Tarifa one of the strongest persons in the scene who is currently fighting The monster who is Cancer

THE FUTURE IS NOW


ART INSTALLATION AND ART EXHIBITION
Location
Location
All Maryah Hall 759 London Road CR7 6AW
Entry
Entry
admission 10 £ Before Midnight
15£ After
special offers for the first 50 party goers
Organizer
Organizer
Futura Acoustica
Added

3y 7m

· Update

3y 6m

· 1