WEIHNACHTSKLÄNGE IM MÄRCHENLAND-QUANTUM Album Release Party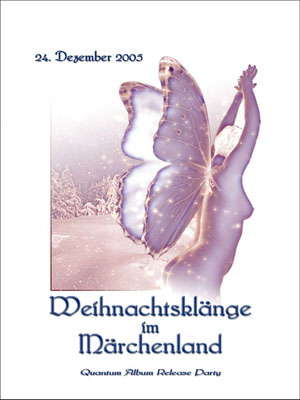 Live
Line Up
QUANTUM (Bne/ YoYo Rec./ Israel)
______________________________
GIDI (Bne/ YoYo Rec./ Israel)


JAN KIAN (klangzirkus)


PHENIX (klangzirkus) & MANOO (digitribe.at)



2200 - 0130 Jan Kian

0130 - 0430 QUANTUM live / Gidi dj set

0430 - 0700 Phenix & Manoo

0700 - 0900 Atma
Deco
Deco
Special Christmas Fluoro Works by Klangzirkus & Fairytales

Christmas Tree Included!
Info
ARTIST INFO:
Quantum is Gidi Snapir, also known as DJ Gidi (Hovek Olam). Gidi lives in Tel-Aviv, where his studio is as well. Gidi comes out of a family of musicians, and studied piano as a kid. As far as he remembers he was always obsessed with collecting music and finding new sounds.
His first encounter with electronic music was with new wave dark Industrial music in the end of the 80s. He discovered trance in 91 and got really hooked while traveling through Goa in 1992. In 1994, after collecting a huge mass of trance music,he became one of the first trance DJs in Israel.
He DJed extensively in almost every possible spot in Israel and all over the world. In 2000 he decided to start fulfilling his dream and make his own music. He first collaborated with few artists as Gorlation Corporation, BLT, Alien Project, PPS Project & others and all the while worked on his own music, until he finally got his own Quantum project going, and signed with BNE.
Along the way, in 1998, Gidi also started Newzeek, the first Israeli electronic music magazine (RIP), he also host with Dana Beker the weekly radio show- Tranceformator- in Kol Hakampus radio station in Tel Aviv since 1998, every Wednesday 20:00 – 22:00,
[co.il]
Gidi compiled three compilations: Voojoo Rituals (Hovek Olam/Cosmophilia, 2000), New Frontiers (USTA, 2001) & Memory Flash (MDMA, 2002). In Jan. 2004 here released together with DNA the Sweet Night 12" in Balloonia, and in Jun. 2004 they followed with the Quantum on DNA EP, also in Balloonia.
In Mar. 2004 he released the Flangerized CDS in BNE to be followed there by his debut album- Outrage- in April the same year.
More tracks of Quantum were published in compilations around the world.
Location
Location
FREIZONE (Altes Theater im Prater)
Prater 5, 1020 Wien


Die Location liegt direkt an der Ausstellungsstrasse neben dem Grillturm auf Höhe der Venediger Au - öffentlich am besten erreichbar mit der Strassenbahn Linie 21 bis Station Venediger Au oder Linie U1 bis Praterstern und dann ca. 5min Fussweg.
Organizer
Organizer
Klangzirkus & Fairytales
Hotline
0699-10285786 oder 0660-6533166