WE DARK ONE - Teaser Party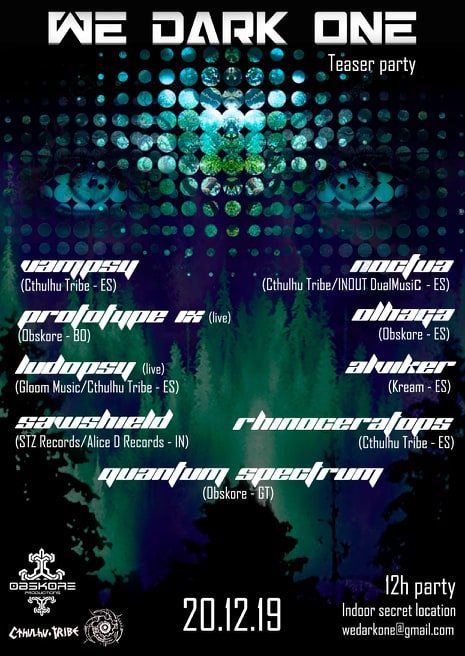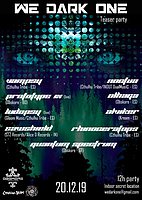 Line Up
LINEUP:
Ludopsy (Gloom Music/Cthulhu Tribe- ES) -
soundcloud
Sawshield (STZ Records/Alice D Records - IN) -
soundcloud
Vampsy (Cthulhu Tribe - ES) -
soundcloud
Prototype IX (Obskore - BO) -
soundcloud
RhinoCeratops (Cthulhu Tribe - ES) -
soundcloud
Suprise Act (STZ Records - AT) - (;
Quantum Spectrum (Obskore - GT) -
soundcloud
Noctua (Cthulhu Tribe/INOUT DualMusic - ES) -
soundcloud
Olhaga (Obskore - ES) -
Alviker (kream - ES) -
soundcloud
Info
---
English below*
---
Estimadas almas psicoactivas:
Ya se están calentando los motores para el festival WE DARK ONE
para el 29 de mayo.
El 20 de Diciembre celebraremos el final de año con nada menos que 12 horas de WE DARK ONE Teaser Party, para mostrar la punta del iceberg que nos espera en mayo.
Este ritual se llevará a cabo en una sala con ubicación secreta cerca de Madrid (Sur), acústicamente acondicionada y con un sistema de sonido de alta calidad junto a todas las instalaciones necesarias para una cómoda sesión.
INSTRUCCIONES PARA UBICACIÓN: Rellena este formulario con tu nombre y correo y te mandaremos la ubicación!
[google.com]
También puedes contactarnos vía email en
wedarkone@gmail.com
Prepararos para una sónica experiencia de psicodelia, y abrazad a la oscuridad.
15€ x 1 copa
20€ x 2 copas
----------------------
English version:
Dear psychoactive souls:
WE DARK ONE festival is being prepared for next may 29th.
On December 20th, we will celebrate the end of this year with none less than 12 hours of WE DARK ONE - Teaser Party, to show but a peek of what the festival has prepared in may!
This ritual will take place in a secret indoor location near Madrid (South), acoustically fitted and with high quality sound system along with all the facilities for a comfortable session.
LOCATION INSTRUCTIONS: Please fill in the following form with your name and contact email; We'll send you the location!
[google.com]
You can also contact us via email on
wedarkone@gmail.com
Get ready for a sonic experience of psychedelia, and embrace the darkness.
15€ x 1 Drink
20€ x 2 Drinks
Entry
Entry
15€ x 1 Drink
20€ x 2 Drinks
Organizer
Organizer
Obskore Productions & Cthulhu Tribe