Backend
We are in Space-9 Green Life Charity festival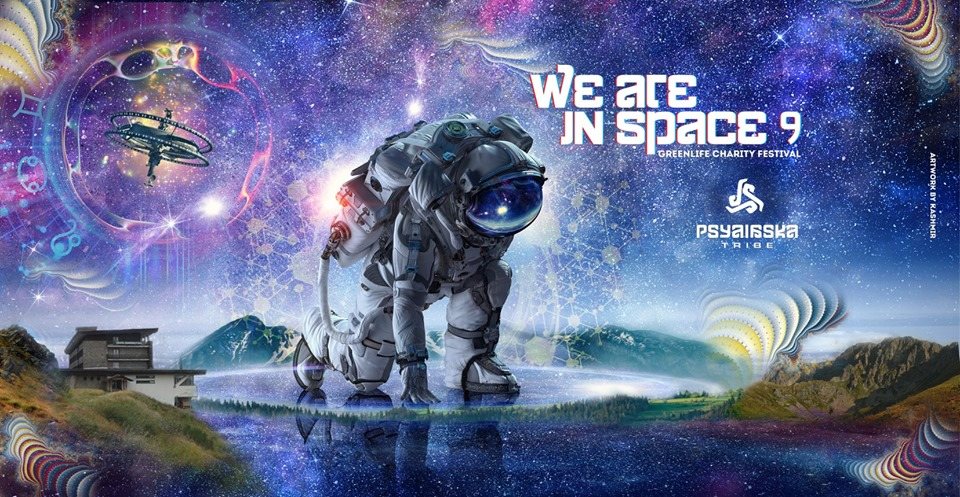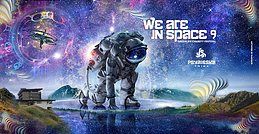 Line Up
●ૐ●• WISHI - World People Production – RUSSIA
soundcloud
WISHI is promising upcoming act on Russian psychedelic trance scene and now days it's a solo project maintained by Alexander Shilets who is based in Moscow.
Originally the project was formed in 2013 and after few years in forest sound direction Alexander has changed his production style into energetic night psytrance, that makes people move and bring some psychedelic experience same time. So next few years were very productive for Alexander aka WISHI he released highly anticipated album on Bhooteshwara Records in 2015 and solo EP on Basic Algorithm Records as well as several appearances on compilations.
Such a progress couldn't remain unnoticed by promoters and Wishi name become must have at almost every serious psychedelic event around Moscow and Russia. His 2nd solo album titled "Overthinking" was released at infamous French label World People Production in 2016 and immediately put WISHI project on international European psychedelic scene with regular gigs abroad.
•●ૐ●• BLACK NOISE – Sangoma Rec – GREECE 1st time in Slovakia
soundcloud
Black Noise is a project that dives into Deep Psychedelic Trance and explores the mysteries of the universe by transforming colors, feelings, memories, scents and sounds into rhythmic bursts of energy...
•●ૐ●•LOOM – Forestdelic Rec – ITALY 1st time in Slovakia
soundcloud
Loom's love for music began in his childhood and in the early days, He had his first musical experiences as a singer, with drums, and other instruments as well. During the middle school, he started to study guitar and the music theory at the "Experience Music Academy" near Padova, where in 2017 summer got his diploma. In 2013/2014, He got in touch with the world of Trance music and after taking part in some parties, he fell in love with it, giving him the opportunity to develop as a person and soul. Now Loom plays around the world and after a European, Mexican & Brazilian Tour, He teaches guitar in his studio and produces Psytrance, ready to shake you with his brand new sound!!
•●ૐ●•BLAST TOURIST - Sangoma Rec – HUNGARY 1st time in Slovakia
soundcloud
Blastourist is the fresh psychedelic trance project of Tom and Gergo. The duo has countless years of experience in psychedelic music. Tom as a producer, aka Spiritcat, Gergo as a DJ, aka Gorgo did their best for the scene. Blastourist arrives with playful basslines to move your body across the night and carefully crafted leads to catch the light in the dark.
•●ૐ●•DR.SPACE - OZORA Festival/Forestdelic Rec – HUNGARY
soundcloud
Miska from Budapest a.k.a. Dr Space learned and played traditional South-African music for years, and played in a psychede-lic/space rock band, combining traditional and electronic percussion instruments; authentic, and shaped tribal drum sounds with twisted effects.
He has begun to play different style DJ sets for friend's entertainment at small parties, before or after their band's concerts, just-for-fun. In 1-2 years, and several promising parties in 2009 he started to play as "Dr Space" mostly UK-full-on style sets, accepting requests from the Hungarian scene. At the first times introduced by a Budapest based underground psychedelic crew (4.49 festival / Psyweekend), at their parties and festivals. By this time he is in charge for the technical-and and artist management at one of this underground festivals, where he met first time the psychedelic culture's wonder.
Thence, more and more possibilities opened up to entertain the party people with his taste of selection at indoor parties, and open-air festivals, in Hungary, neighbour European countries, and far places like Israel. Joined to the label "Starsheep Systems", that started by O.z.o.r.a. festival's promoter in 2012.
•●ૐ●•GORGO – BMSS – HUNGARY 1st time in Slovakia
soundcloud
Gorgo is a well-known member of the Hungarian goa/psytrance scene from the Golden Age till nowadays.
Based in Budapest but having traveled across Europe for his musical education while dj-ing for more than a decade and lately producing his own tunes which soon be released. He has long been a crowd favorite at the Ozora festival which made him ready for any main stage on the planet.
Gorgo has a keen ability to understand the crowd at hand and has the range to come up with the most unexpected musical journeys. No doubt this guy will be one of the acts to look for once the album is released. In the mean time he continues to amaze crowds with his finely tuned sets.
•●ૐ●•EJCZKA – Urban Antidote Rec/UFO Bufo CZECH R.
soundcloud
Artist & stage manager UFO BUFO festival / Urban Antidote Rec. djJan Horyna alias Ejczka has been DJing and organizing gigs since 2009 and in a short time established at Czech psytrance scene. Together with DJ Plech is a member of Polyhedra crew which organizes not only at psy scene well respected multigenre audiovisual parties Der Klang at Cross club in Prague. In 2014 joined Milan Perplex`s team of famous czech Bio festival. As the artist & stage manager become part of UFO BUFO festival team in the same year. In June 2017 joined Urban Antidote Records family. His sets range from hypnotic dark psychedelic up to 160 bpm thru pure psytrance around 146 bpm to down trance line morning psytrance 143 bpm. Always depends on concept of party, but always keeps his sets psychedelic. Sometimes he plays b2b sets with DJ Plech (dark psychedelic) or with DJ Ondrej Psyla (Mystical Waves Records) in morning time.
•●ૐ●•HEEHY – Fenix Festival – CZECH R.
[click here]
I've been involved in djing and party promoting since 2012. In that year I joined djs Cuky and Mako. Together we formed Synaptic Dreams, a crew focused on organizing parties in Prague.
At night I like to play dark and forest psytrance. At dusk or dawn you can hear me playing rather energetic and dynamic forest. From time to time I spin nighttime b2b sets with dj Mako. During the day I play classic psytrance or progressive psytrance with dj Salihlavka.
•●ૐ●• PLUTURNIK + MARASS live violin - Kalimeros/Fullon crew CZECH R
[click here]
•●ૐ●• OCHEN-Lesna Zajka/Medula - POLAND
soundcloud
•●ૐ●• STYROPIAN-Psylesia - POLAND
[psylesia.org]
ૐ●• STAFA Psyalaska Tribe - SLOVAKIA
soundcloud
•●ૐ●• TURO Psyalaska Tribe - SLOVAKIA
soundcloud
•●ૐ●• CUMMIS-Zahadum Sphere - SLOVAKIA
soundcloud
•●ૐ●• MAVERICK Psyalaska Tribe - SLOVAKIA
[facebook.com]
•●ૐ●• D.M.O- Psyalaska Tribe - SLOVAKIA
[facebook.com]
•●ૐ●•HARY - Psyalaska Tribe - SLOVAKIA
[facebook.com]
•●ૐ●•MAGUA Psyalaska Tribe SLOVAKIA
soundcloud
•●ૐ●• ACID STORM-Experimental crew-SK
[click here]
lineup is closed
ALTERNATIVE floor artists INFO SOON !!!!
FREE SLOTS FOR ALTERNATIVE FLOOR
Info email:
psyalaskacrew@gmail.com
ૐ●•٠··٠•●ૐ●•٠··٠•●ૐ●•٠··٠•●ૐ●•٠··٠•●ૐ●•٠··٠•●ૐ
Info
We warmly invite you to join us at mountain Cottage KOSODREVINA (Low Tatras) for the niths nstallment of the successful weekend minifestival WE ARE IN SPACE. You can look forward to two stages with a variety of international and local acts.. Naturally you can also expect a big chillout-alternative floor area with the SHANTEA BAR chai shop.

Other attractions include two bars a canteen with daily specials, lots of stalls, stunning decorations, and gorgeous projections. Accommodation is available on-site at Chalet Kosodrevina in 2,3,4,5,or 6 bed roorms.
Arrive by cable car, or enjoy the short walk with beautiful views of the Low Tatras.

We look forward to your company!

location name of point
Chata Kosodrevina
Bystrá dolina, Chopok Juh
977 01 Bystrá

!!!!! ROOM INFOS and bookings are avalaible from 1.st of AUGUST.!!!!!

THANK YOU
Location
Chata Kosodrevina
Bystrá dolina, Chopok Juh
977 01 Bystrá
Organizer
Organizer
PSYALASKA TRIBE - SLOVAKIA