Backend
Waldfrieden - HAI in den MAI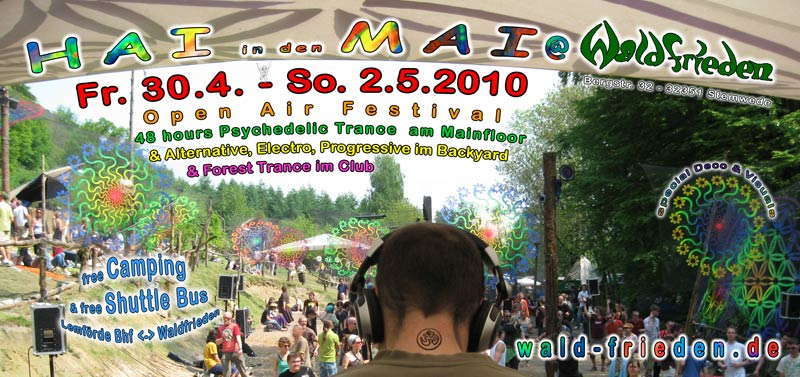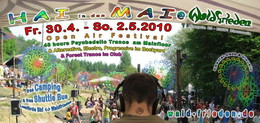 Info
2 Outdoor Floors and 1 Indoor Club
Psychedelic Mainfloor @ Night & Day
Progressive Club @ Nighttime
Alternative Backyard @ Daytime

Free Camping Area
Free Shuttle Bus
Free Parking Area

Organic Food Shops
Clean Toilets
Beautiful Nature
Nice People
and more...

Bitte keine weiteren Bookinganfragen oder Shopbewerbungen senden!!!
No more booking or shop requests plz...

Camping:
Dein Zelt kannst Du am Donnerstag ab 16 Uhr auf dem Campingplatz aufbauen.

KEEP THE NATURE CLEAN AND GREEN
Location
Location
Waldfrieden Wunderland - Bergstr. 32 - 32351 Stemwede - Wehdem

next Train Station Lemförde (between Osnabrück and Bremen)
FREE SHUTTLE BUS (Lemförde -> Waldfrieden)
Schedule will be available here!

nächster Bahnhof Lemförde (zwischen Osnabrück und Bremen)
von dort wird es einen kostenlosen Shuttle Bus zum Waldfrieden geben...
Die Abfahrtszeiten werden hier veröffentlicht!
Entry
Entry
30€ zzgl. 5€ Müllpfand
pro Person an der Abendkasse!

Einlass ab 18 Jahren (nur mit Ausweis)!

NO KIDS / NO DOGS Please!
Organizer
Organizer
Waldfrieden - Events
Bergstr. 32
32351 Stemwede-Wehdem
-Germany-