Backend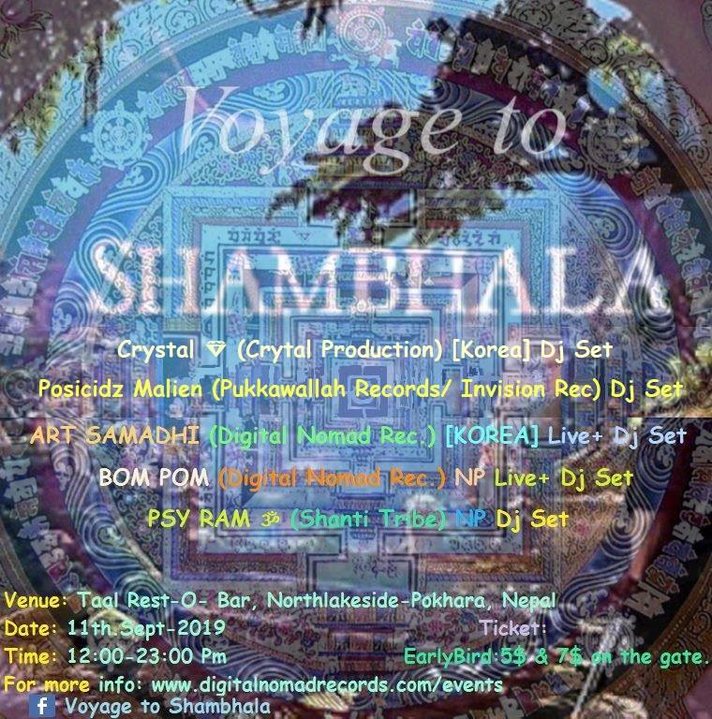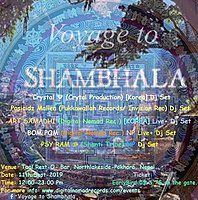 Info
Voyage to Shambala is an 8 hours musical journey where we celebrate 111 days to 2020. With 5 original Live Act + Dj Sets along with astounding Deko as well as Visual Mapping team awaiting, get ready for a magical Voyage to the Shambala.
Affordable Buffet food, Cocktail & mock tails along with great music will be available all along the party time.
Music Genera from Psy Chill, Acid Techno, Prog Psy, Psytrance, Full On Psy, Full On Night, Dark Forest Psy and Hitech-Core will be played
-The party will be hosting:
#Entrance_Zone
#Art_and_Craft_shop
#Buffe_Food_Stall
#Bar_Zone_Untill
#Chill_Area
#Main_Stage
#Dance_Area
#Visual_Mapping
#Four_Artist
#Live_and_DjSet
-Physical Ticket Point:
Taal Rest - O - Bar
-Digital Ticket Point:
[digitalnomadrecords.com]
-The gate will be opened at 12:00 Noon, and the show will begin from 3:00 Pm till 11 Pm.
-Things not allowed:
#Weapons
#Pets
#Food_And_Drinks_From_Outside
#NOTE: We don't promote any brand or company and solely are dependent upon your love, support, mutual understanding and help for the tribe as well as the artist so we hope to see you there along with the ticket.
Hope to See you on the Dance Floor.
Location
North Lakeside, in front of Ragee Bar.
Entry
Entry
Early Bird: 5$
On the Gate: 7$
Organizer
Organizer
Digital Nomad Records