Backend
Voyage to Shambhala (Deep in the Mountains) Promo Party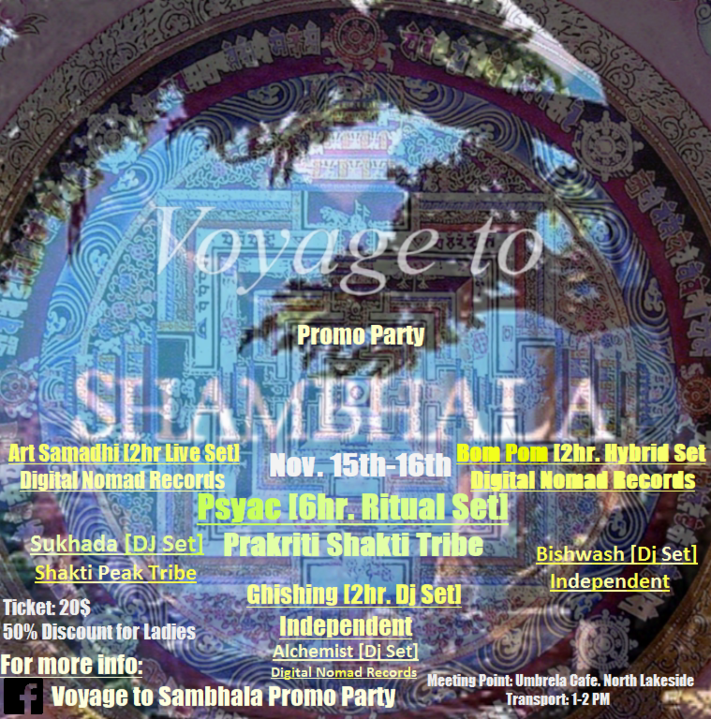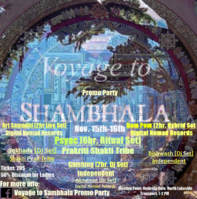 Line Up
Line Up:
Special Guest Artist:
Sukhada Shakti Peak Festival Nepal-Tribe #NPL
[facebook.com]
[bandcamp.com]
***___---___***
Psyac (Prakriti Shakti Tribe) Np [6hr. Ritual set]
soundcloud
Art Samadhi (Digital Nomad Records) S. Korea [2hr. Live]
[facebook.com]
soundcloud
Bom Pom (Digital Nomad Records) Np [2hr. Hybrid Set]
[facebook.com]
soundcloud
Ghising (Independent) Np [2hr. Dj Set]
soundcloud
Alchemist (Digital Nonad Records) [Dj Set]
Bishwash (Independent) Np [Dj. Set]
Line up is full.
Info
Voyage To Sambhala
Deep in the Mountains
Promo Party
Namaste & a warm greetings to everyone.
We are very glad to inform and invite you on the promo party for Voyage to Sambhala(Deep in the Mountains) which will be happening in the deep forest of a mountain in Nepal.
The intention of the festival is to connect with like minded people, sharing knowledge and information, and experience the bliss of the universe by dancing and letting go.
Join us in the magical transformation in beautiful valley of Pokhara for 12 hr of musical madness...
-The Party will be hosting:
.Entrance area.
.Camping Zone.
.Washrooms.
.Bon Fire
.Main Stage.
.Food n' Drink Stall.
.Deko and lights.
.12 Hr+ Music.
-About the Venue:
Situated in pokhara the venue is 30-45 min ride from the center riding bit off road in the orange forest.
-Ticket and transport will be available at:
Umbrella cafe Nepal
-Transport:
1-2Pm.
5$/ 500/- Rs. Per. head (Only: One way.)
-Things to remember:
.Warm Cloths.
.Torch.
,Lots of love.
-Things Not allowed:
.Pets.
.Outside Food & Drinks.
.Any sort of violent materials.
-Although the security will be there, yet the organizers will not responsible for any theft/ loss of any things so please leave your valuables at the safe deposit at your hotel and you are solely responsible for taking care of your own belongings.
-Following is the link for the Main Festival in March.
[digitalnomadrecords.com]
Thank you.
Organizer
Organizer
Digital Nomad Records, Pokhara Nepal