Backend
Visions of Gaggalacka - a psychedelic playground on 3 floors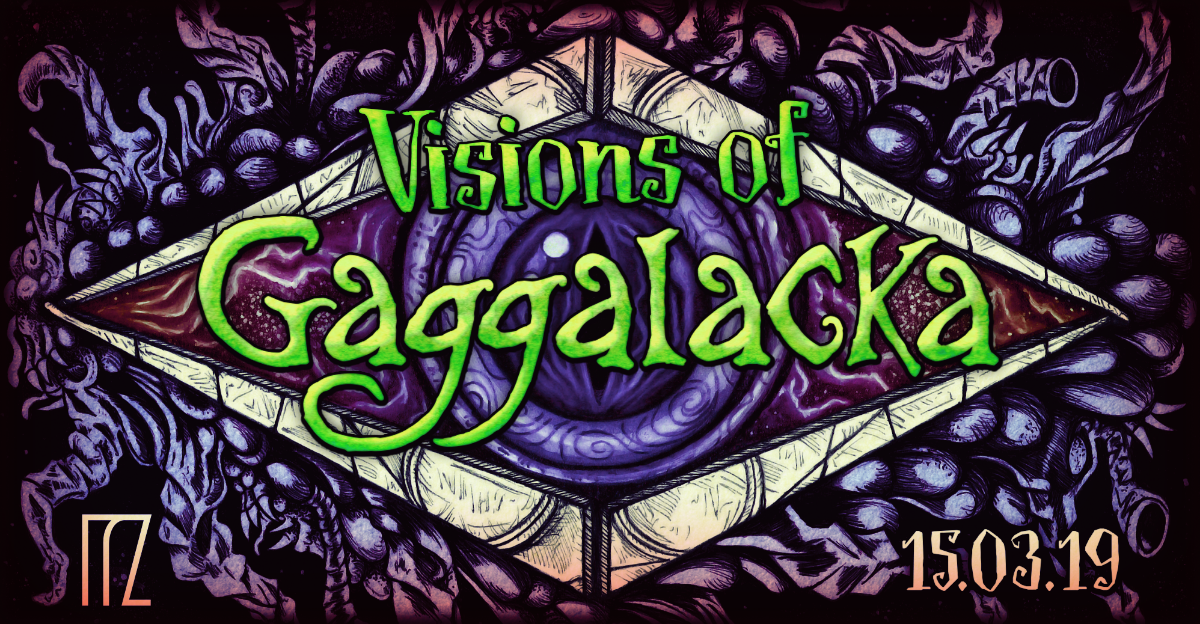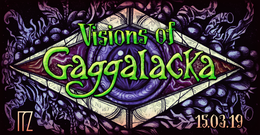 Line Up
#1 // ♪♫♬ FOREST * DARK * PSY ♪♫♬
Abralabim Fractal Nebula Records - Discovalley rec. / Alice D rec.
soundcloud
Matter - Gaggalacka
soundcloud
MerrySmile - Sangoma Records
soundcloud
Caro Sunshine - Gaggalacka
soundcloud
superjuice - Gaggalacka / Busch Beatz
soundcloud
Ogrim - GoapunxX / Gaggalacka
soundcloud
#2 // ♪♫♬ CHILL- * THRILL- * KILL-OUT ♪♫♬
Lars(goldee)Goldammer - Busch Beatz / exlepäng!
soundcloud
Ogrimizer - Sektor Evolution / ThrdEyEPrtctPrct
[click here]
Steffen - Monotonsystem
[click here]
Blood Rave - Sick Krew
#3 // ♪♫♬ ANT-STATION: ZENONESQUE * EXPERIMENTAL * HITECH ♪♫♬
Ants and Friends, Kopfkasperle & Psidelicat
Info
visions of gaggalacka - a psychedelic playground on 3 floors
"Seid nachsichtig, wenn ihr uns vergleicht
Mit denen, die die Vollendung der Ordnung waren.
Wir, die wir überall das Abenteuer suchen,
Sind eure Freunde.
Wir wollen euch weite und seltsame Bereiche eröffnen,
Wo blühendes Wunder auf den wartet, der es
Pflücken will." sinngemäß Apollinaire.
Nach einem abermals detailhaft gelungenem Festival geht die Gaggalacka-Family wieder auf Tour, um Euch mit knallbuntem Programm und psychedelischsten Klängen im Gepäck zu besuchen. Vorvorletzte Station in dieser Saison ist abermals Leipzig, wo sich nach einem grandiosen opening im Nov. nun nochmal die BuschKöppe mit den Gaggalacken zusammentun, um mit Euch eine unvergessliche Nacht auf 3 Floors im IfZ zu verbringen. Diesmal sind zu unser aller Freude auch noch die Ants of Trance audiovisuell mit an Bord. Das wird abgerundet mit einem gaggalacktischem Musik-Spektakel & optisch verpackt durch die Meister der UV-Welten: Free Optics, Exomind Decorations & Klapper Strauss. In Zusammenarbeit mit den neuen Talenten der Gaggalacka Family und abgefahrenen Video-Animationen von Alexander Stephan aka Mischlichter, CE VITAX & Luxn wird das definitiv die totale Gönnung der audiovisuellen Art! Eine gaggalacktische Zusammenkunft der Extraklasse & ein Family-Treffen par excellence. Wir freuen uns schon riesig auf Euch ALLE :) – und gemeinsam, reißen wir die Hütte ab! ♥ denn gemeinsam, sind wir stark ;)
Einlass: 23:55 Uhr ab 18 Jahren
keine Muttizettel, keine Bestechung ;)
Bis dahin, passt weiter aufeinander auf, achtet die Bedürfnisse und Freiheiten Eures Umfelds und...
Vergesst vor allem eines nicht: Spielt miteinander! ♥ ♥ ♥
******************************************************************************
*Wir, also alle Mitarbeiter*innen des IfZ, bitten euch ganz herzlich:
Wenn ihr belästigt oder diskriminiert werdet oder andere seht, die davon betroffen sind, sprecht unser Personal jederzeit an. So haben wir die Möglichkeit einen Raum zu erschaffen, in dem wir uns alle wohl fühlen können - unabhängig von Geschlecht, Sexualität, Herkunft, Hautfarbe oder Schönheitsnormen.
Bitte beachtet unsere No-Photo Policy. Danke!
[gaggalacka.de]
Location
Institut für Zukunft - An den Tierkliniken 38-40, 04103 Leipzig