Backend
Virtuanoise - Supadupa (live)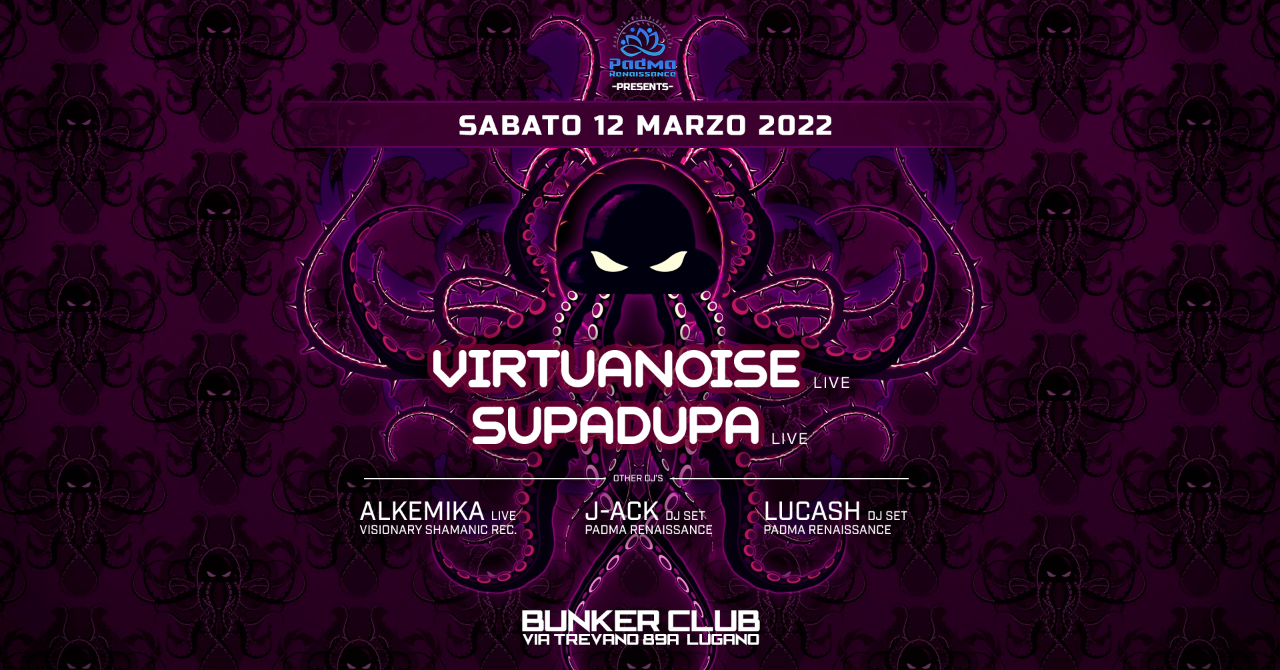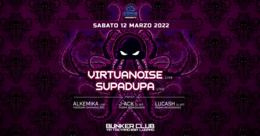 Line Up
✰VIRTUANOISE ✰
🔊
soundcloud
soundcloud
Cristian Vigati aka Virtuanoise is an Italian artist who produce psychedelic hitech music .. At 7 years he start study accordion and keyboard ..he learn from a young age the basics and theory of music. After years of study, on 15 years he start to go to psytrance parties, where he discorver a new music.....At 16 years he start to play music as a DJ and open his knowledge for produce sounds and edit it with Cubase and Ableton ...
Since 2002, Cristian start to make music with his psychedelic ideas, with grooves and loops very fast, hi-tech sounds and fm modulations, creating environmental situations with crazy melodies ...
✰SUPADUPA✰
🔊https://soundcloud.com/supadupapsy
[facebook.com]
Psychedelic Digital Forest music experience made by Cristian Vigati .His love for music began early at the age of 7, learning various instruments like the piano, then drums and also the violin.Playig as a part of many orchestras and winning many titles all over Italy.Then came the passion for psychedelic music , in 2001 attending his first parties at 15 he was drawn into the world of psychedelic sounds,inspired by these grooves and with an already booming love for music hedelved into dj'ing playing at local clubs and parties.But that just was'nt enough, he wanted to share with the world his ideas, his beats, his journey.And so he began producing his own sounds. With the need to always create new and inspired work the seed of Supadupa was sown.Supadupa wants to bring new sounds and psychedelic vibes to the world. With deeper basslines, groovy drums and enveloping atmosphere that will take you to another dimension.
▬▬▬▬▬ OTHERS ARTISTS ▬▬▬▬▬
🔊 J-Ack
(Padma Renaissance Rec. / Creative Jungle Rec.)
♫
soundcloud
🔊 Alkemika
(Visionary Shamanics Rec.)
♫
soundcloud
🔊 Lucash
(Padma Renaissance)
♫https://www.youtube.com/user/LucashDevils
Info
▬▬▬▬▬ Deco ▬▬▬▬▬
Padma Renaissance
▬▬▬▬▬▬▬▬▬▬▬▬▬

⚠🚨 Vi ricordiamo che in Svizzera non vi è più in vigore nessuna restrizione covid...🚨⚠️
😊❤️🤗

▬▬▬▬▬▬▬▬▬▬▬▬▬

✰ Tickets ✰
◘ Alla cassa:
25 CHF/eur incluso drink 🍹

✰ Info ✰
◘ Orario Apertura: 00:00
◘ L'ingresso è vietato ai minori di 18 anni.
◘ Come arrivare dall Italia :
Da Milano-Como-Varese seguire Chiasso poi Mendrisio direzione Lugano uscita Lugano sud direzione stadio di Lugano
Cornaredo, parcheggi nei pressi del cimitero.
Location
Location
Bunker Club
Via Trevano 89A
6900 Lugano
Organizer
Organizer
Padma Renaissance Tribe