Backend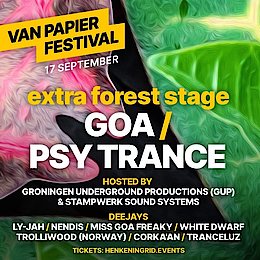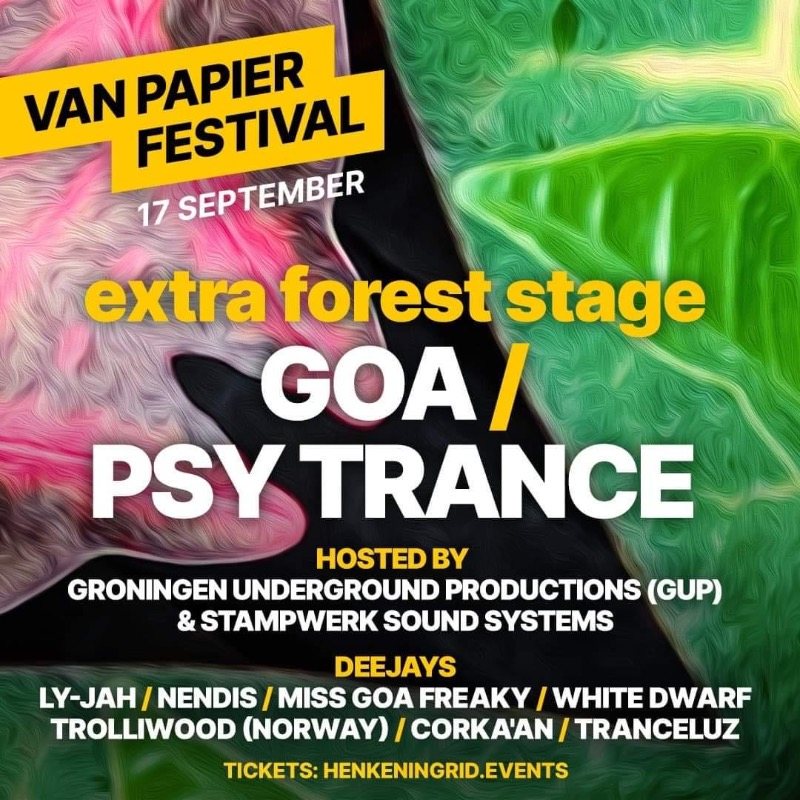 Info
FOR ALL THE PEOPLE THAT GOT A FLIGHT TICKET TO THE NETHERLANDS TO GET FOR THE CANCELLED PSY-FI
WE HAVE AN ALTERNATIVE FOR YOU FOR 1 DAY - THE PAPIER FESTIVAL ON 17 SEPTEMBER
There is a discount code you could use eventually:
order your tickets via:
[henkeningrid.events]
and use discount code: GUPVANPAPIER2022
4 stages with eclectic, organic, melodic, progressive, techno and forest psy trance
- When you use our discount code - GUPVANPAPIER2022 - you will receive a whopping €15 discount on your entrance ticket!!!
But count with us:
- When you stuff 5 friends in a car towards Elp who use our discount code, you together save no less than € 75 on the entrance price and with that your tank of fuel is amply paid for.
- When you use our discount code to buy the tickets you will save no less than €135 on the entrance price and if rent a bus (Van) with 9 friends, which means that the rent of the Van is paid and you can still have a round of beer at the festival.
- When you arrange a coach to the festival location with 62 other friends,......
Well, we don't need to explain further, do we?
Festival camping for tent or camper
Camping price is not included in the ticket price, you have to get it separated, check the page all the info is in there.
Updating:
Unfortunately because the camping spots on our site are fully booked, (perhaps a solution for the additional possibly still expected Psy-Trance people). A deal has been made with camping De Bosrand. You can sleep there for 2 nights for 25,-. There are 4 people allowed in one tent. Transport is possible by shuttle bus to the Festival.
In short, plus € 3 additional per person per overnight stay and you can go back and forth to the festival site via the shuttle bus.
Arrange shuttle bus ticket through the site and the bus will pick them up and bring them back.
The shuttle bus may also run from Beilen station and will drive past campsites, air bnb, holiday parks, etc.
For reservations:
[henkeningrid.events]
There are as well 2 other campings close to the site, both within walking distance.
1.
[puurnatuurlijkcamping.nl]
2.
[campingmiddendrenthe.nl]
Shuttle bus to and from the Beilen station or nearby accommodations is only 15 minutes from Beilen train station and the price is €15.
Parking place available on the site!
Page for full info:
[facebook.com]
Location
Elp
Westerbroeken 1
9442 TM Elp
Added

3m 3h

· Update

2m 29d

·