Backend
Valentrance Moon Mountain 2020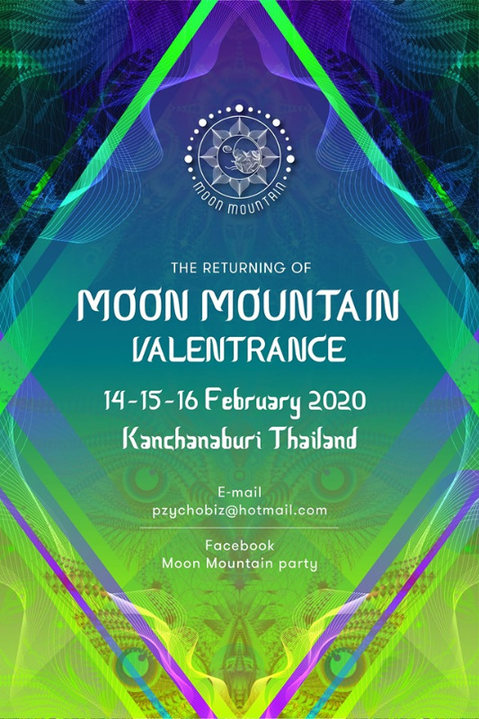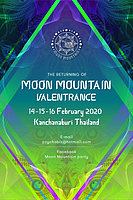 Line Up
Local DJs
-Sabaii Sabaii ( Spirit Zone/TH)
-Ton (BMSS/Full Moon /TH)
Tommy Rocker (TH)
-Blader Hypnotiz (Psyhead/TH)
-Psycodomo (Moon Mountain/TH)
-Pzychobiz (Moon Mountain/BMSS/TH)
-Mannie (Moon Mountain/TH)
-Unknown (Moon Mountain/TH)
-Toshi (Moon Mountain/TH)
-Goa Gummy (Psyhead/TH)
-John Lee (Lost In Paradise/Purple Hexagon/TH)
-Koi (Playground /Magic Phangan/Thailand)


International DJs
-Boom Shankar (BMSS/Solar United Natives/Germany)
-Groovebox (Grasshopper Recs / Reversible Recs/Japan)
-Fugui (Yuanqui//World People Production/China)
-Dongfang (Escapist/China)
-Suddha (Purple Hexagon /Sri Lanka)
-Radzy (Epic Tribe /BMSS/Malaysia)
-Morrieo (Parvati Recs /Japan)
-SsongG (Playground/South Korea)
-Spacesun (Play Festival / S.Korea)
-Moonwave (Outrance/FR)
-Originz (Sangoma /FR)
-Furzy Pan (Free Earth / France)
Info
TRANSPORT
The journey starts on 14th February at 10:00am at the meeting point at Cha Fa Road in Bangkok, just a few steps from Kao Sarn Road. Check the link here:
[goo.gl]
Bus ride from Bangkok to the location takes roughly 5 hours including one stop. Please make sure to be early at the meeting point as we follow the principle of "who comes first gets on board first". Buses will leave the meeting point latest at 11:00am. The buses return to Kao Sarn Road on Febuary 16th at roughly 8pm.
You can come on your own costs to the lake, but please keep in mind to be there on time and be aware that the entrance fee is the same, no matter if you ride with us or by yourself. Meaning, the bus ride is actually free, make use of it!
If you still wanna come on your own, please be at the meeting point in Kanchanaburi at either 12pm or 14pm on 14th February. We offer pick ups from the only one 7/11 Shop in Kanchanaburi, about 5 kilo meters before the entrance of Erawan Waterfall National Park. Meeting point is:
[goo.gl]
If you would like to leave during the party, we can order you a boat taxi and taxi to Kanchanaburi town, but we hope you want to stay the whole time with
MUST BRING ALONG
Make sure you bring enough cash with you as there are no ATMs on the boat and we don't accept credit card.
Though we have mattresses, blankets and pillow for you, you should take your warm clothes along with you as nights can get quite cold.
You may bring your own hammock / sleeping bag or tent with you if you prefer a certain level of privacy.
You can bring your own drinks / food along with you, but it would be great if you could support us by purchasing something from the bar and the kitchen to keep the organizers and DJs alive.
Mosquito replenish, Rolling papers, Lighters, Flashlight, Note book and pen for all your new friend contacts, toilet paper and of course your good vibes!
DRINKS AND FOOD
We offer a fully stocked bar and a fully stocked kitchen where you can enjoy authentic local Thai food and proper drinks. And we offer as well Vegetarian Thai food for all veggie lovers!
SUGGESTIONS
Do not expect a luxury bedroom or toilet. This is a party like in the good old days, we all just live with nature.
Rest well before coming to party as you need to be full power for dancing and swimming.
If you are allergic or need any special care tell us BEFORE you board the bus!
Trust me, bring only the things needed, less is more!
TICKETS
For Thais and foreigner who live in Thailand for ticket please contact us directly,Contact us via email
pzychobiz@hotmail.com
or mobile at 081-5837566
สำหรับคนไทยที่ต้องการซื้อตั๋ว สามารถติดต่อโดยตรงได้ทางอีเมล
pzychobiz@hotmail.com
หรือ โทร 081-5837566
Tickets is 2,800THB, include the party, basic accomodation and the bus rides to and back to BKK.
Here are choices for u to purchase tickets
if you will be in Bangkok,
-from 15 January 2020 until 13 February 2020 ,Everyday from 13pm til 15pm Hotanaka Wattna Papa (just look for the guy with long grey hair) will be at Gecko Bar and you could purchase ticket with him
follow the link to see the map -->
[goo.gl]
-at the night time from 9pm til mid night Hotanaka Wattna Papa will be around Minivan bus bar watching football in soi Rambutri. The bar is 200 metre or less from opposite site of Sawasdee hotel ,keep your eyes for the bar with minivan ,So u can find him there and get your ticket
follow the link to see the map -->
[goo.gl]
online ticket is at
[ticketmelon.com]
Ticket cost 2,800THB
FURTHER INFO
For more Info about tickets or if you need more information please contact us via our Facebook pages or drop us an email to
pzychobiz@hotmail.com
HOT LINE INFO CALL
(+66) 081-5837566 (Jannipa)
(+66) 087-0876463 (Papa)
See you on our magic raft, we are looking forward to enjoy a Psychedelic Valentine day with you!
Location
แพวันวาน กาญจนบุรี
29/5ม.1 ต.ท่ากระดาน อ.ศรีสวัสดิ์ จ.กาญจนบุรี, Amphoe Si Sawat 71250
Organizer
Organizer
Moon Mountain Team