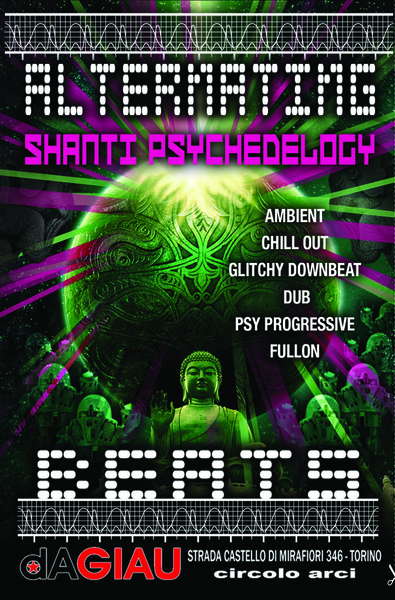 Deco
Deco
•••

PSY OM TRIBE and friends!!
Info
Info
°°°°°°°°°°°°°°°°°°°°°°°°°°°°°°°°°°°°°°
Alternating Beats è un progetto nato per proporre un' alternativa elettronica al giovedì sera da Giau.
Di Giovedì 'n' Giovedì si alterneranno dj set chill out, dub, psy-progressive mixati da Psycholab,Remained Below Project, Psyom Tribe ed altre tribe a dj set electro break beat, electro/ fidget house e d'n'b selezionati da Rumpo, Ale e Naranza ( Beat Pusherz-Torino) and more friendz!
Shake your body to the beatS!!
[myspace.com]
[myspace.com]
[myspace.com]
[myspace.com]
Entry
Entry
INGRESSO LIBERO con " tessera ARCI "
Organizer
Organizer
PSYCHOLAB, REMAINED BELOW PROJECT, PSYOM TRIBE, HONGOS...
...and many more!!