Backend
UPDATE-THE ROBOT REVOLUTION-FREE Psybotik NYE's After Party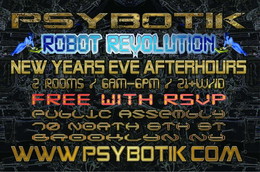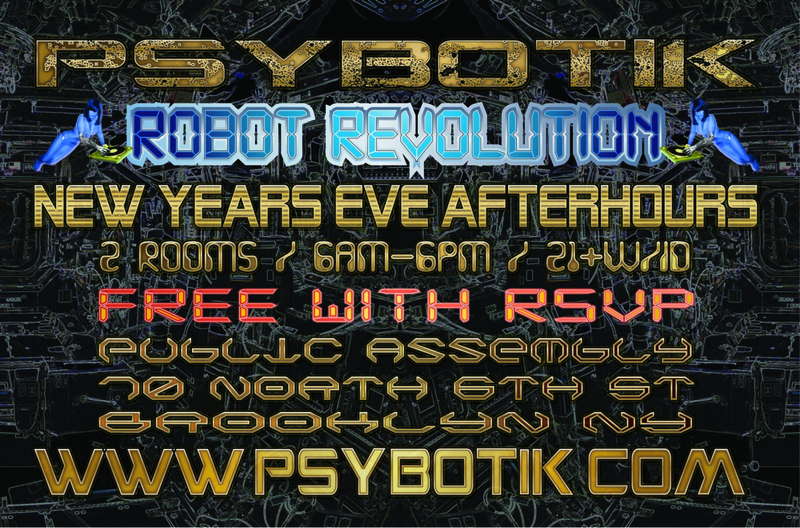 Subversion Stage (Prog, Electro House, Techno, Tribal, Psytek, Full On, Darkpsy):
Dysform (Psybotik)
Gavin (Spectra)
Hypnotoad (Light-o-Matic)
Mayur (Psybotik/Spectra)
Messenger Particle (Psybotik)
Reality Engine *Live*
Steve-O (Spectra)
Plus special guests!

Liberation Loft (Techno, Acid Tribaltek, Electro/Fidget House, Breaks, Minimal, Dubstep, Prog):
Animaltek (Treibstoff / Omnitribe)
Electrik (Psybotik)
dr.iver (Septik Nexus, VRS)
Hisaki Kiyohara (Activate)
Jason Blackkat & Madaro TAG TEAM SET!! (Konundrum Records, 5th Street)
Kife (Omnitribe)
Primate (Chapel of Sacred Mirrors)
Sublex *LIVE* - Japan
Tektite (Vitamin Breaks)
Thugfckr (Moodmusic) - Iceland
Info
***Update*** The line up is complete except for the surprise guests! We've rounded up some of the New York City's best underground DJs of the past, present and future plus a few greats from around the world. RSVPs have opened at psybotik.com so sign up and get ready for this incredible spectacle!
Friday, Jan 1, 2010, 6am-6pm
The Robot Revolution
Psybotik New Year's Eve After Party
Twelve hours! Two rooms!
Welcome to a new age of Techno, Electro House, Breaks, Progressive, Psytrance and Dubstep
Fire and Dance:
Masae (Luminisis)
Erin (Lumnisis)
Victor (Luminisis)
Sound by Light-O-Matic (www.lightomatic.com)
Visuals
nasha_masha (Psybotik)
Plasmo
Cryptic303
Decor by Psybotik
Public Assembly
70 North 6th St.
Brooklyn, NY
Friday, Jan 1, 2010, 6am-6pm
21+ w/ID
FREE with RSVP until 10AM
otherwise only $10
For more details, to RSVP, or to join the email list visit
[psybotik.com]
***Psybotik is an official New York City Ambassador for Boom Festival 2010. Ambassadors first phase for ticket sales starts Dec 16th for 150 Euros. Stay tuned to
[psybotik.com]
for details***
Location
Public Assembly
70 North 6th St.
Brooklyn, NY
Entry fee
Entry fee
FREE with RSVP until 10AM
otherwise only $10
Added

12y 11m

· Update

12y 11m

·