Universo Paralello Festival # 10 Years Anniversary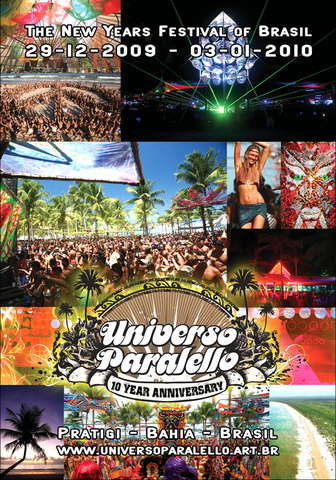 Line Up
:: Main Stage ::
28 Vagalume Records - BR
Absolum 3d Vision - FR
Aerospace Spintwist Records - IL
Ajja Peak Records - CH
AKD Soulectro Music - IL
Alien Mental EchoVortex Records - IND
Analog Drink 4am - BR
Aphid Moon Aphid Records / Nano Records - UK
Atmos Digital Structures - SW
Avalon Nano Records - UK
Baphomet Engine Manic Dragon/2to6 Records - BR
Bitmonx & DJ Fabio Blue Tunes Records - DE
BLT Neurobiotic Records - IL
Brainiac Vagalume Records - DE
Burn in Noise Alchemy Records - BR
Circuit Breakers Nano Records - BR/UK
Cosmosis Holophonic Records - UK
Cosmotech Vagalume Records - BR
Day Din Spintwist Records - DE
Deviant Species Ambivalent Records - ES/UK
Earsugar Iboga Records - SW
Earthling Neurobiotic Records/Spun Records - SP
Ecliptic Nano Records - MEX
E-jekt Bionic Records - IL
Etic Spintwist Records - IL
EVP Wild Thing Records - UK
Flooting Grooves Nano Records - UK
Floating Point Peak Records - CH
Freakulizer Alchemy Rec - CH
Frozen Ghost Disasterpeace Records - SA
Goasia [Soundmute Records - CS
Headroom Nano Records - SA
Hujaboy Tip World - IL
Holophonik Grasshoper Rec / Wyko Inc - JP
Hyperfrequencies Mechanik Records - FR
Kashyyyk Kamino Records - MEX
Kox Box Twisted Records/Solstice Records - SP
Laughing Buddha Nano Records - UK
Liquid Soul Iboga Records - SW
Logica Vagalume Records - BR
Loopus in Fabula Fabula records - IT
Made on Earth Aphid Records - SA/BR
Materia 24/7 Records - DE
Metal Wizard Psy Fi Records - PT
Mental Broadcast 24/7 Records - BR
Mininmal Criminal Cosmic Conspiracy - BR
M-Theory Alchemy Records - UK
Necropsycho Shaman Films Records - BR
Neelix Spintwist Records - DE
One Tasty Morsel Zenon Records - AUS
Oood Phar Psyde Records - UK
Orestis Tantrunn Records - GRE
Patchbay BR
Perfect Stranger Iboga Records - IL
Pragmatix Prisma Records - ARG
Psynema 4am - DE
Quantize Iboga - IL
Reality Grid Wild Thing Records - UK
Sensient Zenon Records - AUS
Shotu Hadra Records - FR
Sonic Species Alchemy Records - UK
Tetrameth Zenon Records - AUS
Time In Motion Iono Records - DK
The First Stone Vagalume Records - BR
Trancemission Iboga Mexico - MEX
Tristan Nano Records - UK
Xibalba Blue Tunes Records - MEX
Xpiral Vagalume Records - BR
Zolarium Uxmal Records - MEX
Back to Mars Wild Thing Records - NL
Beardy Wild Thing Records - UK
Boteon Antimateria Records/Noise Poison - BR
BuzzT Peak Records - DE
Caramaschi Fiction - BR
Ch5 Iono Music - BR
Chicodelico 3d Vision - BR
DaksinaMurti Nexus Media/Shiva Space Technology - DE
Dick Trevor Nano Records - UK
Digoa Alchemy records / Digital Hive - UK/BR
Dimitri Tip World - UK
Dre Carambola - BR
Edoardo Neurobiotic Records - IT
Ekanta Vagalume Records - BR
Fabio Leal Zenon Records - Br
Feio XXXperience - BR
Gaba Free Spirit / Psyinvasion - Br
Gino Sonica Reloaded - IT
Gui Psicotrance Nexus Media - BR
Hatta Grasshopper Rec/Wakyo Inc - JP
Jagna Vagalume Records - BR
Janczur e Paulinha 2to6 Records/Noise Poison - BR
Liquid Ross Liquid Records - UK
Mack Spun Records - BR
Marios Oktava Records - Oktava Records / Mafia Dance Festival 2010 - GR
Martin Blue Tunes Records - CH
Mat Mushroom Mushroom Magazine - DE
Max Grillo Vagalume Records - BR
Nazca Sonomoon - BR
Nem Oxygen Records - CZ
Oczean Flow Records - NL
Pateta Vagalume Records - BR
Pin Planet Ben - BR
Rica XXXperience - BR
Riches Vagalume Records - NL
Rikam Neurobiotic Records - CA
Scotty Vuuv - DE
Sentient Alchemy Records - USA
Shove Alchemy Records - MEX
Spliffnick Auraquake - JP
Sutemi Temple Twisters - BR
Swarup Vagalume Records - BR
Teko Klatu - BR
Texas Faggot Exogenic Records - FIN
Thatha Vagalume Records - BR
Treavor Moontribe - USA
Vinnix Free-Spirit Records / Antu Records / FFT - BR
Xama Vagalume Records - BR
Zen Iono music - NL
Zumbi Vagalume Records - BR

and more to confirm...

And to check the line up of the others stages of the festival check the official webpage!
Info
Welcome to Universo Paralello #10

Like every living organism on this planet we are in constant transformation. We believe that changes are welcome whenever new things come to add and whatever is past us stays in our hearts and minds, like the fertile and caring ground that has made us grow and reach the point we have today.

After six years in the beloved city of Ituberá, where we sowed and harvested knowledge, enterprises and, above all, friends, it is now time to sow different grounds. Since the birth of our project we have been itinerant and our objective is to bring alternative culture, peace and love to all those who wish and know how to live such magic.

The new local government and its new management have made it impossible for us to continue in the same place. To preserve the Festival, taking advantage of the great new alternatives that have appeared, we have decided to move the Festival to a new location.

The new place is just as beautiful as the paradisiacal beach we are used to. It is situated between Morro de São Paulo and the Itaparica Island; about 80km from Bom Despacho (drop off point of the Salvador Ferryboat). The people and the government of Bahia welcome us with open arms once again, as is typical of the baiano charisma.

Garcez Beach, on the d'Ajuda Island (Jaguaripe County) is another fantastic beach of the Dende Coast. The beach is situated between sea and river, surrounded by Atlantic Forest and coconut groves - a stretch of 1000 meters of private beaches where there are no cars. The camping site has many shaded areas and the parking lot is at the entrance gate, practically inside the Festival itself.

There are many fresh water rivers in the vicinity, so you have the option now of bathing either in salt or fresh water. Just to give a final touch to our celebration, we will add one more day to the festival.
On our 10-year-anniversary special edition, Universo Parallelo invites everyone to once again celebrate the New Year on the beach – now in the Garcez beach on the Island d'Ajuda, from December 28, 2009 to January 03, 2010.

We begin the preparations for our 10-year-anniversary party taken by a unique sense of joy. This gathering will synthesize all the magic of a decade of celebration among friends, surrounded by art, alternative culture, nature and whole lotta music.

The UP 10-year-anniversary party sets off in a renovation mood and you are a crucial part of this commemoration. Let us turn this gathering into a great ritual and begin another cycle of joy, brotherhood and learning with our friends and nature. Let the rhythms multiply and the feelings unify into a single frequency.

Soon you will find more detailed info about the preparations and the attractions of this great gathering. For the time being, Universo Paralello, once again, welcomes everyone.

UP Crew
Location
Location
Ilha d'Ajuda / Jaguaripe / Bahia / Brazil
Entry fee
Entry fee
Pre sale info's will be available around September – Stay tuned!
Organizer
Organizer
Universo Paralello & Vagalume Family