Universo Paralello # 8 - The New Years Festival Of Brazil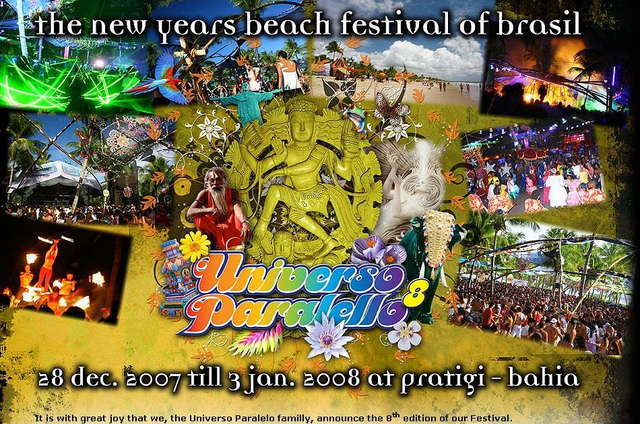 Line Up
..:: Main Floor ::..
28 - BR/MX
Ace Ventura - IL
Aerophobia – NL
Allaby - UK
Arkanoydz - KOR - IT - IL
Antix - AUS
Atmos – SW
Audio X - BR
Baphomet Engine - BR
Bash - BR
Biotouch - PT
Braincell - CH
Burn in noise - BR
Cosmonet - BR
Cosmosis – UK
Cosmotech - BR
Creatrixx - PT
Cromatone – USA
Deedrah – FR
Delysid - MX
Dickster - UK
Ejekt – IL
Emok - DK
Flip Flop - UK
Freakulizer - CH
Gaiatech – IT
Green Nuns of the Revolution - UK
Headroom – SA
Hujaboy - IL
Hydrophonic - SA
Insane Creation - CH
Ital - CHI
Jay and EX – MX
Joti Shidu - UK
JP - BR
Kox Box - DK
Lani - BEL
Laughing Buddha - UK
Life Style - BR
Liquid Soul – CH
M.A.C.K - BR
Menog - PT
Mental Broadcast – BR
Minimal Criminal - BR
M-Theory - UK
Odiseo - MX
Orbital Vision - BR
Orestis – GR
Panick - SA
Pragmatix - ARG
Patch Bay - BR
Penta – RUS
Perfect Stranger - IL
Phony Orphants - DK
Protoculture - SA
Psychaos - UK
Psykovsky - RUS
Rastaliens – CH
Rinkadink – SA
Sensient - AUS
Sensifeel - FR
Shotu - FR
Space Tribe - AUS
Strider – IT
Sinewave - Aus
Sun Control Species - AUS
Temptation – BR
Tetrameth - AUS
The Commercial Hippies – SA
The First Stone - BR
Tristan – UK
Ultramind - BR
Vibra - BR
Whiplash - UK/SA
Wrecked Machines - BR
Xerox Illumination - IL
Xpiral – BR
Yab-Yum - CH
Yagé - BR
Zaraus – PT
Zen Mechanics - NL
Zik - GR
Ace Ventura - IL
Akasha – BR
Amanito – CHI
Anneli - SW
Android – BR
Back to Mars - NL
Bedouin – UK
Bishop – BR
Boteon - BR
Caramaschi – BR
Chicodelico - BR
Cassiano Cruz - BR
Chriss – GER
Dick Trevor – Special Green Nuns of the Revolution Goa Set - UK
Digoa - BR
Dimitri Nakov – UK
Dré - BR
Du Serena - BR
Edoardo - IT
Edu - BR
Efex - BR
Ekanta - BR
Fabio Leal – BR
Faisão - BR
Farah - BR
Gino - IT
Gugha - BR
Gui – BR
Iguana - SW
Irajá – BR
Jagna - BR
Janczur vs Paula – BR
JR - BR
K-isuma - DE
Kimo - BR
Livia - BR
Lucas – UK
Marco - IT
Max Grillo- BR
Mecanimal - BR
Miagui - BR
Nazca – BR
Nirmal - IN
Paul Taylor – UK
Pateta vs Txu - BR
Pedrão - BR
Pin – BR
Psyhead - BR
Psychicom - NL
Raja Ram (Shpongle Set) - UK
Rica Amaral - BR
Riches - NL
Rodrigo CPU – BR
Roosevelt - BR
Sam.Chaishop – DE
Sarto – BR
Sandrix - BR
Sassah - BR
Sentient - USA
Shamamix - BR
Shane Gobi – UK
Slater - CZ
Sutemi - BR
Swarup - BR
Thatha – BR
Thomas - BR
Tom Real – UK
Victor - BR
Vinnix - BR
Vixen - BR
VOR - BR
Zaidan - BR
Zorflux - UK
Zumbi - BR
Lives

Araruna Nujazz - BR
Bamboo Kumbá - BR
Baque in Beat - BR
ChicoCorrea&PocketBand - BR
Chill On - BR
Experimental Sound Project - UK
Fuzzy Project 1.0 e 2.0 - BR
Groove Fall - BR
Nagababa - BR
PhunkDub - BR
Psylent - CHI
Salvinorin - BR
Swe Dagon Chillas - BR
Trotter - BR
Yagé – BR
Yubaba - BR

DJs

Alexes - DE
Alquimix - BR
Aquilez - BR
Babag - CH
Berni_akbal - CHI
Brainkiss - BR
Brij - UK
Chico Correa – BR
Chris - BR
Drika - BR
Ekanta - BR
Electrip Dub – FR
Fino - BR
Flict - BR
Fred - BR
Gitã – BR
High - PT
Iain dub - BR
Jah Ras - AU
Jaramogi – AU
João - BR
Jon Sangita - UK
Josko – UK
Justin Chaos - ES
Kyma - BR
Lotus - BR
Mariohm - BR
Marjo – BR
Minotauro - BR
Mixshell - BR
Murilo Ganesh - BR
Pablo RST - BR
Pesado - BR
Pilar - BR
Punkah - BR
Random 14 - BR
Sallun – BR
San - BR
Shabda - AR
Smurf - BR
Soneca - BR
Tchelo - BR
Thiago Duar - BR
Toari - BR
Turi - BR
Wash - BR


Parallel Stage

Live Bands

Cabruera
ChicoCorrea&ElectronicBand
Digital Dubs
Edgard Scandurra AKA Benzina
Gangsters
Liquidus Ambiento
Mamma Jamma
Na Palma
O(s) Cachorro(s) Das Cahorra(s) x Spectral Noises
O Quarto das Cinzas
Pedra 70
Pedra Branca & Performance Laíz Latenek e Fernanda Bueno
Rinoceronte Live System
Sete Estrelo
Stephan Thomas & o Néctar do Groove
Super Simples
Zion Train
DUBVERSÃO SISTEMA DE SOM
dub*roots*dancehall


Alternative Stage

Lives
Act Sense - BR
Allan Villar - BR
Artech - BR
Claudio Brio – BR
Cosmonet – BR
Delta W - BR
DXTR-Lab – BR
Electrixxx – DE
E-Fact - BR
Felguk - BR
Gaudi - UK
Flutuance – BR
Hamelin – MX
Khainz - CH
Holocaos - PT
Jaz - BR
Jochen Trappe - DE
Jokke - DK
Jorge Savoreti – AR
Mental Broadcast – BR
Mike Frugaletti - USA
Miniduo - BR
Mols vs Rebelix – BR/NL
Phase - DE
Pilula – BR
Rami – BR
Sacoman - BR
StraighFlash - PT
Woogie Boogie - BR
Techsystem - BR
The Treasure Av Show -BR/USA
Ung Bastos - BR
Velcro - BR
Dj Gen vs Vj Alexis AV Show - BR


DJs

Al3 - BR
Aminesia - BR
Breno Ung - BR
Clarys – BR
Cairy - BR
Common Sense - BR
Crash - BR
Dahan - BR
Dan – BR
Dani – BR
Daniboy vs Kamaraum - BR
Dimitri Nakov - UK
Edoardo - IT
Emir Animsa - BR
Fischer - BR
Flow & Zeo - BR
Gabriel – Inimax - BR
Ganjaum - BR
Gen - BR
George Active - BR
Guaxxx - BR
Gui - BR
Guirolle - BR
Hamish - UK
High - PT
Josko - IT
Joti Shidu – UK
Kali – BR
Kaesar – PT
Kitty – BR
Konka – BR
Kore - MX
Larsky – BR
Lee - BR
Logan - BR
Malini - IT
Marko - BR
Matera - BR
Mauro F. - BR
Mutley – BR
Nazuk - BR
Nickel - BR
Nuno - IT
Paix (thiago lenzi) - BR
Projeto Crystal - AR
Rafa K - BR
Renata – BR
Regan - SA
Renato Bastos – BR
Rosa Ventura – BR
Sadao Oshiro - BR
Tati Sanches – BR
Tathy – SP
Teko - BR
Uver – BR
Vivi Seixas - BR
Deco
Deco
Brahma UK - Daime Tribe BR - & UP Crew
Info
Universo Paralello # 8 –Pratigi Beach – Bahia / BRAZIL – from December 28, 2007 to January 03, 2008.
It is with great joy that we, the Universo Paralelo familly, announce the 8th edition of our Festival.
Once again the Festival will take place in the secluded, paradisiacal Pratigi Beach in the mystical and enlightened state of Bahia – a land that has always welcomed our community openly and warm-heartedly.
People from all corners of Brazil, added to the foreign public that have also heeded to the call, have flocked to this land in the most peaceful and orderly fashion showing what freedom and citizenship are all about. This attitude has consolidated the support that local citizens and authorities have deposited on the Festival and partygoers.
This year there will be 3 different stages for music: the Main Dance Floor, the Alternative Dance Floor and the Chillout.There will also be other spaces where new experiences will be proposed.
Great artists, regardless of their fame, selected exclusively for the quality of their musical production, will be there giving the public the very best of electronic, ethnic, experimental and other expressions of Brazilian and International music.
CircuLou – CULTURE PRESERVATION ZONE
To know about the very essence of psychedelic alchemy you can listen to Pink Floyd, Jimi Hendrix or even The Beatles. You can also have an artistic rush before one of Van Gogh's paintings. You can practice zen-budism. Or you can even go back to your biology books. Among the various effects that psy-trance triggers, the electric feeling is only its most apparent one. Behind it there is an entire universe where art, philosophy and science can be contacted through direct experience. It is amidst such a scenario of unique possibilities that an audacious and forward layer of the global youth – the so-called "Freaks" – have decided to indulge.
Eyes to set you free, feelings to quench your desires, words to convince minds ... And an example to drag bodies, individuals. A Festival where we communicate through art, reflecting freedom. One of the most latent traits of contemporary trance culture is the very absence of hiearchies, dogmas, sacred books or religious leaders. Cultural diversity and individual creativity are the foundation upon which this magical meeting is built.
The alien circus has arrived ... Subversive maniacs that lurk the dead of the night. Vandals and barbarians creating new situations that break the shackles of consensual reality. All layed out before you: the invitation, the ritual and the celebration. Welcome to CircuLou.
What will you find at the CircuLou Village
Lectures and Round-tables – Workshops – CircuLinho (children's area) – Multimedia – Cinema – Communal Kitchen – Sanctuary and Healing Zone – Art, Installations and Interventions Gallery – Mayan Calendar and Peace Culture – Alternative Therapies – Shows: Circus, Theater, Dance, Performances, Folk Culture – Solidary Circle (citizenship and social action) – and much more!!
For general info and to submit projects stay tuned to the CircuLou webpage on our site!
MUSIC
The eigth edition of the Festival will offer the public nothing less than five different spaces for musical performance of all styles, from electronic to organic. They are:
Goa Dancefloor
It is with great joy that we bring you this new space: the Goa Dancefloor.
The innitiative came from Mil, organizer of Klatu club in São Paulo and one of the founders of Daime Tribe, a pioneering organizer that has positively influenced the very first steps of the Psytrance movement in Brazil.
What started out as an idea to commemorate the 10th anniversary of this organization, ended up getting bigger and bigger and was deemed the Goa Dancefloor: a fair homage to them.
Our idea is to reproduce, in an unpretentious manner, the environment, the music and the atmosphere present in Goa – all the prime ingredients of Psytrance. We will host a full day of presentations from artists that were in Goa when it all began. Artists that not only lived the experience but were active beings in the conception of what became Goa Trance.
Besides bringing the public the first tunes of Psytrance, this dancefloor will bring a new concept every day and special hosts will bring different atmospheres and ideas that have equally added quality not only to Psytrance, but to the Electronic scene as a whole.
Various styles and trends will host their own exclusive day on this dancefloor so that they can present their concepts in a wholesome and complete way, in all its detail.
Parallel Stage
Full stage where reggae, rock, ethnical and contemporary music bands will perform. This edition, many more bands will be present, including artists that have reached the mainstream for the quality of their work without having sold themselves out.
Alternative Stage
This edition, the Alternative Stage will once again be an exclusively "ELECTRONIC" space. The very best of minimal, house, electro-house, progressive trance and even fullon will have their space on this stage.
Chillout
Keeping with last year's concept, we will once again have a Chillout exclusive to ambient music. Special attention is being given to providing lots of space and shade in this area.
Mainfloor
The cream of global Psytrance, Dark and Progressive. The new position of the mainfloor turns it in fact into the Festival's heart and nervous system. Besides the names that have been posted on the line up, expect many other surprises along the Festival
FACILITIES AND AMMENITIES
Keeping with the alternative spirit that permeates the Festival, all necessary comfort will be offered so that the public can fully enjoy their seven-day stay with safety, good food, a clean environment, transportation, life-guards, bars, fairs and the like.
- Camping site for 8 days on the beach
- 7 days of music
- Artistic and cultural activities – Circulou at UP
- Alternative Fair *
- Restaurants *
- Bars *
- Snack shops *
- 24-hour medical emergency unit
- 24-hour lifeguard
- Security
- Showers with treated water
- Restrooms (24-hour maintenance and cleaning crew)
- Refreshing water sprays at the Main Dance Floor
- Safe parking lot *
- Safety Deposit Box *
- Transportation from Parking Lot to Camping Site *
* charged – not included in the price of the ticket
Check for detailed info about parallel activities, infra-structure, ticket sales, tours and anything else that might be useful to you at our site, that will be updated with the info of the next edition really soon:
[art.br]
. There, you will also find basic info and e-mail contact so that you can get in touch with organizers to search for specific info or to make suggestions.
Once again, welcome to Universo Paralello!
Location
Location
Pratigi Beach / Bahia - Brazil
Entry fee
Since there will be no ticket outlets abroad (except Chile), tickets sales for foreigners will be this way:
All foreigners can buy tickets at promotional prices at the gate.
You only will be required to show your passport.
There are no tickets sales limits for foreigners who wish to purchase their tickets at the gate.
One Price: R$ 260,00 (Brazilian Reais) – About € 96,00 Euros.
If you have a way to buy advanced ticket on the brazilian ticket outlets, please check:
[art.br]
and choose the best option for you.
Organizer
Organizer
Universo Paralello & Vagalume Family