Universe presents: PLANET JUPITER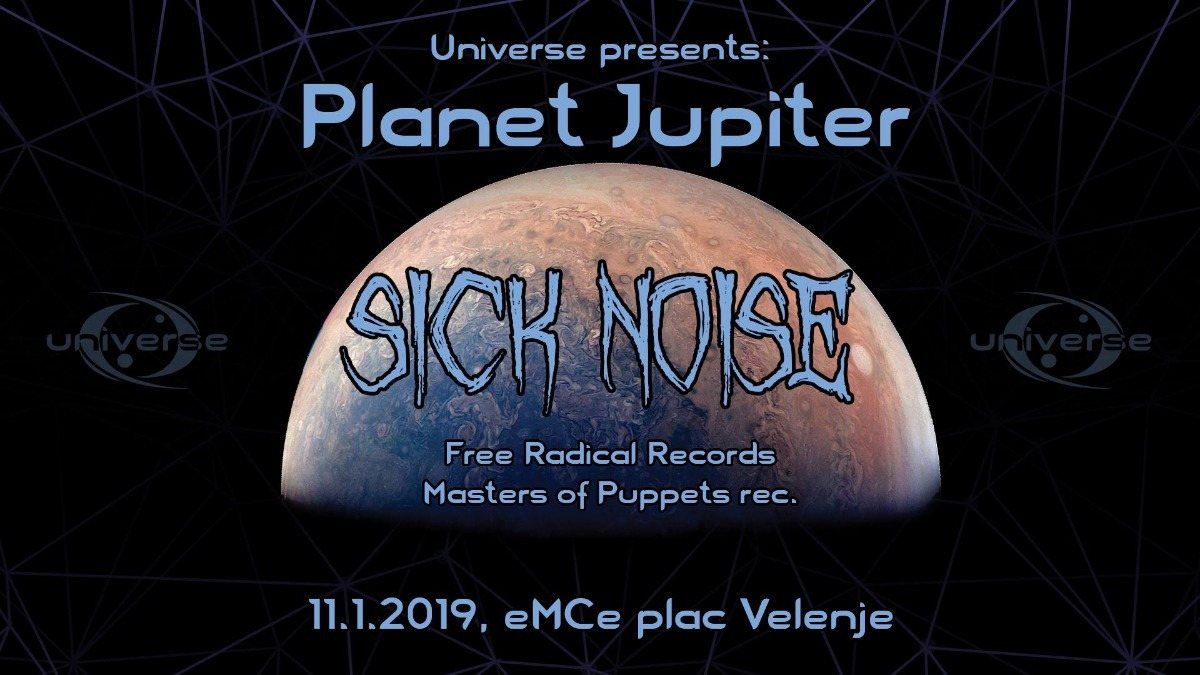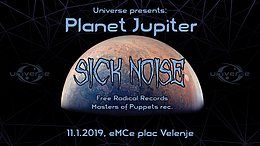 Line Up
We just left planet Mars and our journey continues trough the universe towards Jupiter. The flight across Jupiter is going to be fast and filled with high bpms. Jupiter as a planet has a very specific sound which we can describe as loud, weird and mostly as SICK NOISE.
-SICK NOISE-Free Radical rec/Masters of Puppets rec. (SRB)
The Sick Noise project is from Serbia and has been around more of 10 years on psy trance scene. He has a lot of releases for various well-known labels behind it, at the beginning of his psy career he started with the classic dark psy sound that he later changed to HI TECH gene. Sick Noise performed on various well knonw parties and festivals such as Masters Of Puppets, Odyssee Berlin, PsyBox partys and many others, he collaborated with great projects such as Loose Connection, Jesus Raves, Yatzee, Gotalien.... The present style of Sick Noise is a melodic and groovie fast sound bpm from 170 to 200.
[facebook.com]
soundcloud
-EAARURU-Chagga rec.
EaArurus sound is best described using the words deep, dark, heavy and fast. Known for playing fast psychedelic dance music (darkpsy, psycore, hi-tech), her sets often lean heavily on ambient sounds that create a hypnotic mood on the dancefloor. However she never lacks ingenuity and intelligence as her selection often includes complex music uncommon to most psychedelic dancefloors.
She also successfully strives to manifest all her musical knowhow into a meaningful storyline.
[facebook.com]
[click here]
-MNOGOOK-Universe
Mnogook, known as Matic - first started exploring music on his bass guitar playing with local punk and metal bands. The love for dark and fast grooves with the sweet touch of the unlimited bloomed after visiting OZORA festival and later on when following the productions of Horrordelic records and Lunatic Alien records. His journey of DJ-ing began soon after joining Universe crew and now he is on his way to bring you the kills and thrills upon your feels.
[facebook.com]
soundcloud
[facebook.com]
-NEXETUKU-Mizzart
Always searching, never resting, I discovered the psychedelic music scene somewhere around 2010 and started experimenting with DJing in 2012 when I organised my first party. From then till now I played at countless private parties, club events and outdoor festivals all over Slovenia as well as parties/festivals in Hungary (3 times at Samsara Festival), Croatia and Malta. Together with friends we organised a lot of illegal rave parties in the woods, indoor club events and we are also organising a successful PsyTabor festival each year by the river Krka. Besides my main project (Nexetuku) you can find me playing or making music under different names with a combination of friend(s) : Swarga, 1.45Hz, Hand of Gods, Gustave H, Shepherds of Silence, Quintumnia.
My DJ sets have an eclectic nature with different elements and styles, depending on the situation and energy. I invite the dancer on a journey where I like to build layers of stories intertwining throughout the set, my focus is not on any particular style - I try to create atmospheric dance enviroments with unorthodox patterns with exchanging complexity and always travelling between a more 'positive' and a more 'negative' side with a preferable outcome. You can hear various tracks from well-established artists and a lot of underground, also unreleased, music from different parts of the world from East to West. Where I feel best is between 140 and 150 beats per minute but of course there are no limitations.
[facebook.com]
youtube
soundcloud
Entry
Entry
5€
8€ after midnight
Organizer
Organizer
Društvo Universe