UG Goa presents: Goa 10Y Anniversary w Protonica Live, Kiwa Live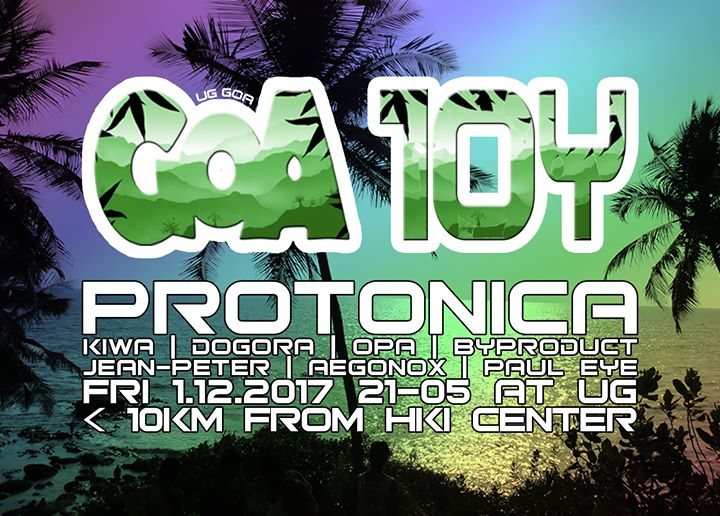 Line Up
Goa klubi täyttää 10 vuotta. Liity joukkoomme viettämään tätä erityistä merkkipäivää yhteen legendaarisimmista UG-bilepaikoista, joka sijaitsee hyvien joukkoliikenneyhteyksien varrella alle 10km päässä Helsingin keskustasta.
Tapahtuman pääesiintyjänä on Protonica, yksi maailman isoimmista progepsyke artisteista. Duo soittaa ensimmäisen keikkansa Suomessa! Protonica on tehnyt yhteisbiisejä/remixejä mm. sellaisten nimien kanssa kuin Liquid Soul, Ovnimoon, Ace Ventura, Atmos, Astrix, Ticon, Zen Mechanics, Mindwave, Captain Hook, Arhetip ja Faders.
Musalinjauksessa on monipuolisesti eri elektronisen musiikin tyylilajeja ja erityisesti psytrancen eri alagenrejä. Lisäksi bileissä julkaistaan Kiwan Satisfiction, uusi genrerajoja rikkova ja pitkään odotettu elektronisen musiikin mestariteos.
Goa klubin UG-bileet on niin harvinaisia että viimeinen vastaava oli vuonna 2011 (UG Goa w. Vibrasphere). Tätä ei siis todellakaan kannata jättää väliin ;)
Line-up:
Protonica Live (DE, Iono Records, PROGRESSIVE PSY)
KIWA album release Live (Adapted, Exogenic , GLITCHSTEP)
Byproduct Live (GAME/DEMOSCENE MUSIC)
Jean-Peter (Alppipuisto Open Air, Konemetsä, UK PSY)
Dj Dogora (AURA, NIGHT PSY)
Opa (Entropy, PSY TECHNO)
Paul Eye (AURA, GOATRANCE)
DJ Aegonox (Goa, FULL-ON)
Decorations:
Vesa Peltonen, Havainto Art
Visuals:
Vj MetaMystik
Soundsystem:
Entropy
More info TBA
Time: 21-05
Place: PK-seutu UG
Kutsuja saa pian 20eur lahjoitusta vastaan Cybershop Asematunnelista. Niitä on rajallinen määrä ja näillä näkymin kutsuja ei saa tapahtuman ovelta, joten hae omasi ajoissa.
Goa klubi on järjestänyt teille mm. Trip To Goa, Aura Of Goa, Techno Goa ja Progressive Goa nimellä tapahtumia ja tuonut mm. seuraavia artisteja: Ott, Vibrasphere, Solar Fields, E-Mantra, Talamasca, Space Buddha, Ticon, Entheogenic, Artifact303, Radioactive Cake, Gappeq, Texas Faggott, jne...
Artistien musiikkia voi kuunnella alta:
Protonica:
soundcloud
[protonica.de]
youtube
youtube
youtube
youtube
Kiwa:
soundcloud
Satisfiction album @ Bandcamp:
[goo.gl]
Satisfiction album @ Beatport:
[goo.gl]
Byproduct:
soundcloud
Dogora:
soundcloud
Opa:
mixcloud
soundcloud
Aegonox:
mixcloud
Protonica:
PROTONICA are Piet Kaempfer and Ralf Dietze from Berlin (Germany). With Piet's intuition for harmonies as a skilled pianist and certified sound designer Ralf's feeling for propulsive grooves, Protonica deliver you their very own positive pulsing sound - a blend of psychedelic and progressive trance. The "Refresh / Northern Storm EP" from 2010 was certainly an important milestone and the breakthrough for the duo. In 2012 Protonica releases the second album "Form Follows Function" another masterpiece after their debut album "Search" from 2007.
With their energetic live sets Protonica have already contributed to making events a sucess all over the world, amongst others Universo Paralello (Brazil), Rainbow Serpent (Australia), Ozora Festival (Hungary), Fusion Festival (Germany), Ilo Festival (Mexico), Groove Attack (Israel) and Boom Festival (Portugal).
Ralf and Piet share extensive experience in DJing for more than a decade, too. Together they have also formed the progressive house/techno side project KAEMPFER & DIETZE.
Organizer
Organizer
UnderGreund Goa