Twisted II Festival - Etnica vs. Pleadians - E-Mantra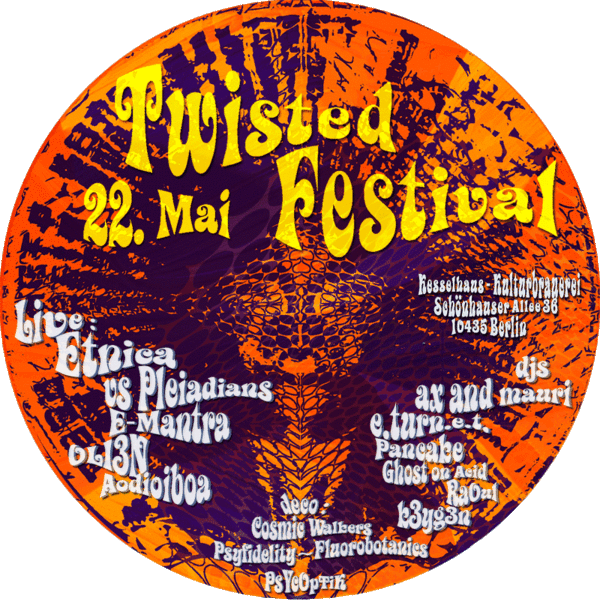 ~ Max and Mauri (etnica) ~ oldschool set ~
~ e.turn.e.t ~ berlin ~
~ Ghost on Acid ~ berlin ~
[myspace.com]
~ k3yg3n ~ berlin ~
[myspace.com]
~ Raoul ~ berlin ~
Chill
~ Chill & Chai by Flupo Sun Crew ~

Es wird ein Free Frühstück & Früchtebuffet etc. geben ; )
Deco
~ Cosmic Walkers ~
[myspace.com]
~ Psyfidelity ~ (Berlin) ~ legendary berlin based deco crew ; )
~ Fluorobotanics (CZ) ~
[myspace.com]
~ Live Visuals ~
~ Digital Jarilo VJ ~ (Berlin/RU)
~ PsYcOpTiK
[myspace.com]
~
Info
~ B U N T C 0 R E ~
~ presents ~
~ t w i s t e d ~ II ~ f e s t i v a l ~
~ gathering for true psychedelic sound experiences ~
Dear friend …feel invited to our gathering @ the heart of berlin. We try to do our best, to bring together old legends and very promising new talents inside one dancefloor in one night & day without any boundaries! Be Prepared for a concentration of twisted, acidic, spiraling and psychedelic madness mixed with fantastic melodies! All together inside a very special location in the middle of berlin.
Wir laden euch Alle ein es mit uns, alten Bekannten und neuen Talenten noch einmal im Mai richtig krachen zu lassen . Passend zum Karneval der Kulturen präsentieren wir euch ~ t w i s t e d II f e s t i v a l ~ . Wir hoffen darauf, mit einer speziellen Location sowie einer einmaligen Deko und optischen Gestaltung, eure Augen genau so zu verwöhnen, wie eure Ohren. Ein Chill-Out sowie ein netter Chai-Shop sind geplant. Als besonderes Geschenk, haben wird uns Etnica vs. Pleiadians dieses Jahr eingeladen. Wir hoffen auf eine Zeitreise mit allem was dazu gehört! Mit E-Mantra und OlI3N und weiteren gibt es aber auch neue Talente, die auf Basis der alten Formel den Sound für 2010 neu definieren.
~ Get ready for ~ t w i s t e d ~ f e s t i v a l ~ II
~ get mad on the floor ... trip out yourself ...
Zur Begrüßung gibt es für die ersten 100 Gäste einen Jägi oder Wodka ~ Please support the Party and tell all of your friends ; )
Wir freuen uns auf euch!
more > official twisted festival website >
[twisted-festival.net]
~ ~ ~
Artist Info :
Etnica vs Pleiadians ~ will perform a full live and additional oldschool dj-set
With over a decade's experience in the production of contemporary dance electronica, ETNICA's works are permeated by a unique, elegant versatility and powerful musical charisma. Recognized for their state-of-the-art live performances and remembered for their singles ('Plastic', 'The Polar EP', 'The Andromeda EP'), their classic albums ('The Juggling Alchemist Under the Blacklight', 'Alien Protein', and 'Equator') as well as unforgettable hits like 'Starship 101', 'Triptonite', 'Vimana', 'The Dominator', 'History', 'Robot Rebellion', 'Nitrox', 'Black Lava' and 'Solaris', ETNICA incessantly renovate their sound revealing a 360-degree perspective on the possible paths to irreversible blast experiences and terminal dancefloor madness.
Pleiadians was/is a side project of the Goa trance band Etnica. The main characteristics of their work are tracks that are unusually fast and very melodic at the same time. Their first album, Identified Flying Object (1997) was very well received by the community and is often cited as the most striking example of music in the genre. Use of the name Pleiadians began when a famous label requested them to do so. Etnica didn't like the idea of them releasing material under another label, as their label at the time wanted the Etnica name to be exclusive. Therefore Etnica recorded under the alias Pleiadians, although the members did not originally plan on using a different name.
OlI3N
southwest.de 1980. Contact with E-Music was with the Cybertribe where We went to Tech-Trance-Events 1995 From there on We slided to the complete Transformation of Global Trance. I begun with Cubase and Rebirth on a 4400Mac and decided to create the most beautifull-euphoric and the most twisted-Calamity Soundtrack for Meditation and dimensional shifttransforming Multimindmotion on many rythmic Conzepts but no Mainstream. Worldwide Samples esp. the Shamanic Voice of SWA multi layered weaving out of different binaural fades with the result of compressed-time-info Hallucinogen Effect. Liveact is different to single released Songs. regular Multistyle or aligned to the accordant Levels and Timespace.
OlI3N performed live now all over the world and released over 160 free tracks to the internet but also have releases on wellknown labels like Trishula Ajana Triplag Moon Koradji Zaikadelic. We are happy to have his deep and twisted sound for our festival in berlin.
E-Mantra
proves that Goa-Trance still opens new horizons in 2010 with his first album "Arcana" on Suntrip Records. Start making music since 1999 under the name Mystic Mantra, making techno, acid, and trance. In 2000 project E-Mantra has born,and start making goa tunes. E-Mantra, Emmanuel Carpus from Romania, proves that Goa-Trance opens new horizons still in 2009. This prodigious artist with a unique style, who already appeared on at least 10 compilations, including one last month, gave suntrip records the priviledge to release his full length album called "Arcana". Prepare for a concentrate of twisted, acidic, spiraling and psychedelic madness mixed with fantastic melodies! Arcana a mystery in itself: its music of course, highlighted by the symbolic of each track and the album title itself...on top of it, will be released Friday November 13th! Arcana is more than just a GoaTrance album; it's an initiatic passage to the fabrics of pychedelic music! New project : Neurosect NEWS: OuT Now - E-Mantra- Crop Circles -VA Mainspring Motion-Par2 Rec
[suntriprecords.com]
~ Deko Arts ~
~ Psyfidelity (Berlin) ~ deep psychedelic dekorations by Psyfidelity and also seen on 1st of may here ... ; )
goabase
~ Cosmic Walkers ~
[myspace.com]
Cosmicwalkers is a group of decoartists, based in Germany. we are able to create complete decoconcepts, stage and dancefloor design for parties but also for bigger events. in the last years we created lots of decoration for trancefestivals and parties in and outside of germany, but also on huge technoparties we showed our art. also, the cosmicwalkers organized lots of parties in the last 11 years... over the years we learned how to work with most materials, so we are not only focussed in one direction of decoration... we show - shining 3d objects and sculptures from different materials and sizes - psychedelic constructions and installations - symmetric or neochaotic string art - fluodelic backdrops (also both side painted) - video and slide projections - and many more if you are interested to inviting the cosmics or to build up connections feel free to contact us more info (and photos of our work) you can find if you visit our homepage
[cosmicwalkers.de]
~ Fluorobotanics (CZ) ~
[myspace.com]
The Fluorobotanics is artist Lukas Kavik engaged in fluorescent painting, psychedelic (mind intensifying) backdrops and decoration for parties. The style of the painting went through certain changes and now the diction is fi nishing to be integrated. The whole history of the painting include experiments with echniques and materials when system of the creation is accomplish. Its subject matter allways was the abstraction of natural forms to fully interconnected organic forms. The work of art becomes the means of visual communication. The backdrops create pseudo 3D space where people can move. The work of art expresses feelings, visions and energy which can incite your imagination. These paintings help to make a good atmosphere at the party. They are an integral part of it. Well known space is changed through this paintigs to totally another dimension. To emit fluorescent effect is necessary to illuminate them by ultraviolet light.
Fluorobotanics concept: meet new people and their cultures through our paintings.
~ Visuals ~
~ PsYcOpTiK
[myspace.com]
a very promising artist from italy presents his mindexpanding visuals and goes far beyond usual vj stuff. Please check his myspace !
~
Location
Kesselhaus und Maschinenhaus der Kulturbrauerei
Schönhauser Allee 36 / Knaackstr. 97
~ 10435 Berlin / Prenzlauer Berg ~ Germany ~
Verkehrsverbindung: U Eberswalder Str., Tram N2, Bus M1, M10, 12
[kulturbrauerei-berlin.de]
Zugang zu der Location über den Hof der Kuturbrauerei > follow signs ; )
Entry fee
Entry fee
12 € < 01.00 Uhr > 14 €
Organizer
Organizer
~ buntc0re ~ psypix.org ~ family affair
Hotline
http://twisted-festival.net
Added

10y 5m

· Update

10y 1m

· 4 Parties ·

/ 21