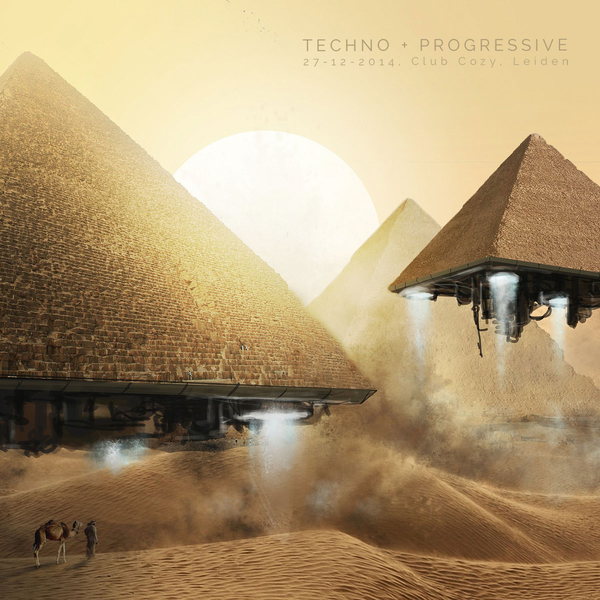 Line Up
- Sonic Sound Freak (live)

- Miss World (global beats, vrijplaats)

- Shaman (twilight, psytech)

- Dago (twilight, psytech)

- Michael Jackson (d.u.c.)

- Velvet (d.u.c.)
Deco
Deco
TM Globaltrance fluo elf will help do the 2-d decorations this night. Maarten is known for his wide variety of huge paintings. Together with PsyTech & Twilight's 3-D arts they will once again create a 'tripping' experience. Worldly theme visuals are provided by Twilight as well. Next to the decoration, the Cozy has nice athmospheric colored (shaded) lights on the sidewalls.
Last but not least there will be a lasers, brought to you by F.U.B.A.R.
Video last event:
youtube
Photo's events Twilight & PsyTech:
[facebook.com]
Info
Saturday the 27th of December the 3rd edition of Twilight will be organised in Club Cozy.
We invite you to come to this event. Once again we balance the styles of deep melodic electronic in the range of Techno & Progressive and mindstimulating visuals & blacklight arts.
This time we also have some global electronical influences, inviting Miss World to the Decks.
Velvet, our other special guest and a well known and respected DJ, will close off the night.
Offcourse our resident DJ's Shaman & Dago will perform as usual as your hosts.
For some easy feel good melodic sounds, to warm up, don't miss Sonic Sound Freak who will start off the event. Mistral Trident will provide us with an additional soundsystem for the night again. Last but not least; the people from D.U.C., F.U.B.A.R. & TM Globaltrance fluo elf, will organise the lasers, visuals & paintings.
Video last event:
youtube
Photo's events Twilight & PsyTech:
[facebook.com]
Teaser set (Dago) this event:
[house-mixes.com]
Line up:
Sonic Sound Freak:
Sonic Sound Freak has been producing music since he was very young. Safe to say that he is probably the first kid in Holland programming with sound engines such as fruity loops.
With a wide variety of styles it is difficult to put him in one specific genre. His tunes are mostly minimal-progressive and even some easy athmospheric drum 'n bass to warm up the night.
[house-mixes.com]
Miss World:
Miss World had her (popular) monthly events in the Vrijplaats (Global Beats) in Leiden untill recent. Unfortunetly this had to stop over there, a few months ago. Miss World has been playing for a long time now and at big festivals & clubs across Holland. 't Paard in De Hague as well as this years 4 day Psi Fi festival. Her music is full of global beats & influences ranging from India to the Balkan. Always surprisingly cheerfull melodies & sounds from the world. Expecially for the event she will make an electronical set. The last part of her set she will be performing together with Shaman, a combination many of us are looking forward to.
Shaman:
A.k.a. Shamatha. Shaman can play a wide variety of tunes, so dont be surprised to hear some of his tribal and latin influences when he's B2B with Miss World. The second part of his set (solo) he will play for what he is more known for: his classics such as secret cinema & speedy j and progressive & deep minimal-progressive. Shaman played at many events & clubs such as at the Koornbeurs in Delft, LVC in Leiden (Lost Galaxy events) & for years Club Bazart in De Hague with the PsyTech events always sticking to his own style. For many he is chosen as one of the best melodic uplifting dj's of Leiden, without playing to cheesy keeping a certain depth & 'trance' in his sets.
soundcloud
Dago:
Dago performed at many festivals in Holland as well as some outside Holland (Champagne Airbase Festival). He is also known for his contribution to the Occupy Movement at the Beurs in A'dam. Mostly he is known for Lost Galaxy events in the LVC & Club Bazart/ He is also a regular DJ for the D.U.C. events in Amsterdam. His music is both melodic as well as it has a nice & pumping beat. Dago will be playing from the work of artists like Vibrasphere, Matador, Joseph Capriati, Robert Schrank & Paul Kalkbrenner. This night he will realease some of his own work as well!
[house-mixes.com]
Michael Jackson:
This is not a joke. This guy actually has been given this name and is he is a fine upcoming talent from Ireland. Lately he's been performing at some of the D.U.C. events in A'dam as he became a fully integrated 'A'dam-man'. The day before this event, he will be performing in the Vrijplaats, Leiden
Velvet:
A well known celebrity DJ from Holland. Velvet used to fly from country to country to play everywhere in the 'civilised' world. He choose to get away from the booking agencies and start for himself. Up to today he is a regular performer/producer in huge clubs such as Tresor in Berlin & the Lost Galaxy events in the LVC. He is also a member of the D.U.C. crew and regular performer at these events. Recent years he has gotten involved in many of the Twilight & PsyTech events as well.
soundcloud
The prices of beers and drink will be affordable , for euro 2,- you get a decent (by dutch standard) glass of beer!
We hope to see you again at this 3rd chapter of the Twilight adventure
Twilight crew in cooperation with D.U.C. & the PsyTech crew, Fluo elf, Global Beats & Mistral Trident
Entrance: euro 5,-/8,- (before/after 23.30). Be in before 02.00!
Public & transport by car:
Station Lammerschans is nearby (10 min. walk) from central station (20 minutes walk), there will busses going: 1,2,13,45 will take turns every 5 minutes till around 01.00 o'clock. Get out at the Zoeterwoudsesingel (exitpoint Herenstraat).
Direction bus 13: Stevenshof
Direction bus 2: Hubrechtplein
Direction bus 1: Rijnland Hospital
Direction bus 45: Den Haag
You can park your car nearby for free, because it is just outside the centre. You can park your car in the Herenstraat itself or in the surrounding neighbourhood
For more info you can visit our website:
[twilightevents.nl]
Location
Location
Herenstraat 43, leiden
Entry fee
Entry fee
euro 5/8,- (before/after 23.30). Be in before 02.00!!
Organizer
Organizer
Main organisers: Twilight, PsyTech & D.U.C.
(supported by: TM Globaltrance fluo elf & F.U.B.A.R.)