Backend
Triphecta - A New Year Alliance by Psyleb, Halo, and The Network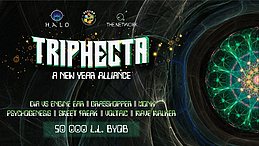 Deco
Deco
☢ Visual mapping and stage design by Burgundy

☢ Artwork by Vanessa Zg
Info
Psyleb, Halo, and The Network have joined forces this New Year's eve to bring you Triphecta, an 18 hour full force dancefloor and art display orchestrated by carefully selected artists.

☢ This is an invitation only party. There will be a list on the door and whoever does not have his name on the door will not have access under any circumstances. Please make sure you submit your names by sending a direct message to any of the hosting pages.
> Management reserves the right of admission.
> This gathering has a limited capacity. We do not want many people to be there, we want the right people to be there.

☢ Doors open at 6:00 PM

☢ JBL Professional audio system are provided by The Network - Audio and Events.

☢ This is a LEAVE NO TRACE gathering. It is essential to leave the venue as clean as we found it. Garbage bags will be distributed on the gates.

☢ Bring your camping gear to secure a resting place. Make sure you include warm blankets.

☢ Bar & food station available on site.

☢ Kindly park in the designated area.

☢ The possession of weapons and consumption of other illegal substances is prohibited, and any individual caught will be escorted out of the venue. Please spare us the embarrassment, as we are not responsible for your bad decisions.
Organizer
Organizer
HALO
Psyleb
The Network