Trip To Goa presents: Younger Brother (Twisted Records)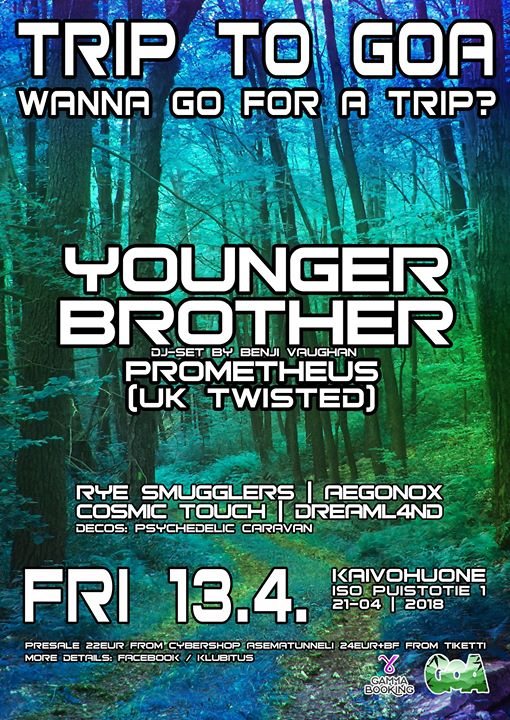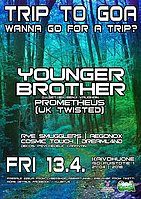 Line Up
EARLY BIRD tickets (18eur) now in Cybershop Asematunneli (limited amount!)
Our fans voted for Younger Brother so we have a pleasure to announce that next Trip to Goa has a Younger Brother performance! It is a special Younger Brother set performed by Benji Vaughan and combined with Benji Vaughan chillout production and perhaps some Prometheus tunes. Last visit of Younger Brother / Prometheus in Finland was almost 5 years ago so this is a rare event, do not miss it!
Line-up:
Younger Brother / Prometheus DJ-set by Benji Vaughan (UK, Twisted Records)
Rye Smugglers Live (Tim Duster, Nebula Meltdown)
Cosmic Touch Live (Visionary Shamanic Rec)
DJ Aegonox (Goa)
Dreaml4nd (Dreamland)
Decorations:
Psychedelic Caravan
More info TBA
Price:
EARLY BIRD 18eur (Cybershop Asematunneli, limited amount!)
presale 22eur (Cybershop Asematunneli), 24eur+bf (Tiketti)
from door 28eur (if any tickets left)
Cybershop asematunnelissa käy vain käteinen, muistakaa myös tasaraha.
Birthday heros +-3 days (those who are born between 10.04. and 16.04.) get a free entrance to the party :) (IMPORTANT! you need to prove your identity with an ID)
Place: Kaivohuone
Address: Iso Puistotie 1, Helsinki
K18
Artistien musiikia voi kuunnella alta:
Younger Brother Soundcloud:
soundcloud
Younger Brother - Vaccine electronic album:
youtube
Younger Brother - The last days of gravity album:
youtube
Younger Brother - Vaccine album:
youtube
Younger Brother - A Flock of Bleeps album:
youtube
Benji Vaughan Bandcamp:
[bandcamp.com]
Benji Vaughan - Even Tundra album:
youtube
Prometheus - Corridor of Mirrors album:
youtube
Prometheus - Spike album:
youtube
Prometheus - Robot O Chan album:
youtube
Rye Smugglers:
soundcloud
Cosmic Touch:
soundcloud
Aegonox:
[click here]
Dreaml4nd:
soundcloud
Partners: Gamma Bookings
Younger Brother, Benji Vaughan, Prometheus introduction:
Younger Brother (YB) is a British electronic band from Twisted Records formed in 2002 by Simon Posford (shpongle, hallucinogen) and Benji Vaughan and later joined by Marc Brownstein and Rupert Campbell. Their debut album A Flock of Bleeps was released in 2003, followed by The Last Days of Gravity in 2007, Vaccine in 2011 and Vaccine Electronic in 2014. YB is its own type of electronic music that has been described as "unclassifiable."
Benji Vaughan has released the following albums in addition to YB albums: Robot.O.Chan (2004), Corridor of Mirrors (2007) and Spike (2010) as Prometheus, Even Tundra (2013) as Benji Vaughan, Big Bang (2008) and Ballonatik EP (2017) with Raja Ram as The Zap!.
His music is characterized by distinct basslines, high production quality, intense thematic development and unique or alternative approaches to the psytrance genre. He frequently combines diatonic melodic content with metallic or "glitchy" percussive polyphonic elements to form thick contrapuntal tapestries of sound.
Although much of his music sounds like it was composed using equipment at the forefront of technology, it is not uncommon for him to use equipment now considered antique, such as the 1971 Korg micro synth that he used for portions of the second album, Corridor of Mirrors.
Younger Brother more details:
Younger Brother is an electronic duo formed in 2003 by Simon Posford and Benji Vaughan. Their debut album A Flock of Bleeps was released in 2003, followed by The Last Days of Gravity in 2007 and Vaccine in 2011. After making a remix for a charity record, Simon Posford (Shpongle, Hallucinogen) and Benji Vaughan (Prometheus) decided to come together in the studio to create their own type of electronic music that has been described as "unclassifiable."
The album A Flock of Bleeps released on Twisted Records became a cult classic in the underground electronica scene and included such tracks as 'Crumblenaut' and 'Finger'. This led to massive demand to see them live and they have played shows from London to Tokyo, New York to Moscow.
Inspired by the live shows Simon and Benji decided to move away from the pure electronic sound of the first album A Flock of Bleeps and create a more organic sound. Having no band, they played the instruments themselves and recruited long-time friend and former Leftfield vocalist Ruu Campbell to perform the vocals. The resulting album was Last Days of Gravity, with artwork made by the legendary Storm Thorgerson, whose work has graced albums by Pink Floyd, Alan Parsons, and Led Zeppelin, among many others. Release in 2007, it narrowly missed a nomination for the 2008 Mercury Music Prize[2] and received masses of positive press.[citation needed] They also returned to play shows with the "Younger Brother Live" band in Boulder and Denver, Colorado and in California, which included Marc Brownstein (The Disco Biscuits, Electron) on bass, Tom Hamilton (Brothers Past, The American Babies, Electron) on guitar, and Joe Russo (The Benevento/Russo Duo, Furthur, Bustle In Your Hedgerow, The American Babies, Electron) on drums in Japan, the US and played a sell out show to 3,000 people at the Brixton Academy, London.
2009 saw Younger Brother produce "Phoenix in Dynamite Sky" for British cult film Heartless, directed by Philip Ridley and due for release in 2010. A successful US tour took place in July, which included a headline set at the Camp Bisco Festival and saw them play to 8,000 people.
Their third album Vaccine, recorded with its U.S. band lineup (Marc Brownstein - the Disco Biscuits, Joe Russo (musician) - Benevento/Russo Duo/Furthur (band) & Tom Hamilton - Brothers Past), became available via iTunes on 4 April 2011 and is available streaming from My Old Kentucky Blog. In 2014 the band developed an app for mobile devices and released an alternate album of remixes titled Vaccine Electronic as a free stream for users who installed it.
Info
Info
This event is not updated, check out latest info in Facebook event.
Location
Location
Kaivohuone
Iso Puistotie 1
00140 Helsinki