Tribe of Underground pres. FULL MOON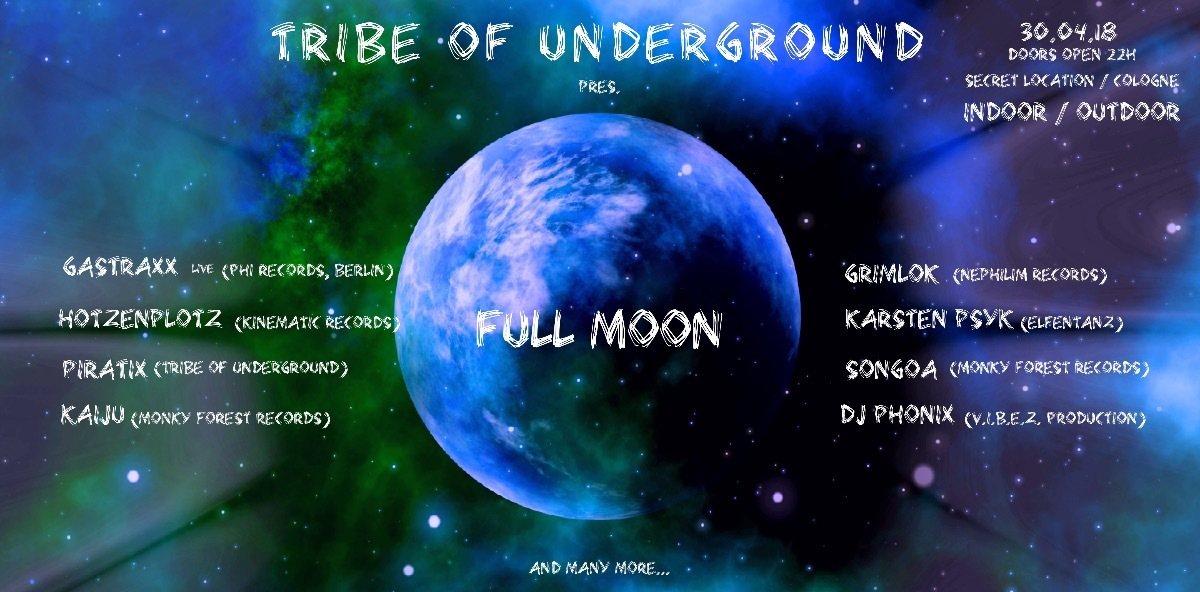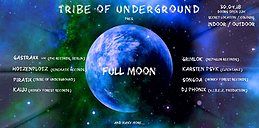 Line Up
GastraxX (Phi Records/ Random Records/ Berlin) LIVE


Grimlock (Nephilim Records)

Hotzenplotz - KinematicRecord (Kinematic Records)

Karsten Psyk (ElfenTanz)

Piratix (Tribe of Underground)

SonGoa Goarillaz (Monkey Forest Records)

DJ Phoenix (Vibez Prod.)

Kaiju (Monkey Forest Records)

DJ Rennix (Waldtherapieevents)
Info
ॐ Tribe of Underground ॐ pres. FULL MOON
Hallo liebe Freunde des Underground,
wir möchten Euch mal kurz unser Konzept vorstellen. Der Name "Tribe of Underground" steht für "private" Underground Party`s in aussergewöhnlichen Locations.
Wir starten mit dem "OPENING" am 30.04.18 in Köln.
Dazu haben wir die Möglichkeit auf 2 Floors "OUTDOOR & INDOOR" zu feiern, dazu kommt noch das wir "FULL MOON" haben, was gibt es da schöneres Outdoor zu feiern ?
Wie kommt Ihr in den Genuss, ein Teil von "Tribe of Underground" zu werden?
Schickt uns eine Privatnachricht auf Facebook an
[facebook.com]
mit Euer Telefonnummer, wir werden Euch mit "unterdrückter" Nummer zurück rufen, checken Euer Profil und wenn alles passt kommt Ihr in die "private underground Gruppe".
Dort erfahrt Ihr dann mehr über die "Tribe of Underground" Partys.
Da wir selber die "NATUR" lieben und schätzen, möchten wir Euch darauf hinweisen, dass auf unsere so kostbare "NATUR" zu achten ist und den Müll in die vorhandene Vorrichtungen zu werfen.
ॐ Privatgelände ॐ
ॐ Outdoor Floor (mit Feuertonnen) ॐ
ॐ Indoor Floor (inkl. Sitzmöglichkeiten) ॐ
ॐ Chill Zelt (Heizpilze) ॐ
18+ NO ID -> NO ENTRY!
Zutritt NUR für geladene Gäste
Wir freuen uns auf Euch!
Euer "Tribe of Underground" Team