Tribe of Frog - Halloween Nightmare Fiesta from Hell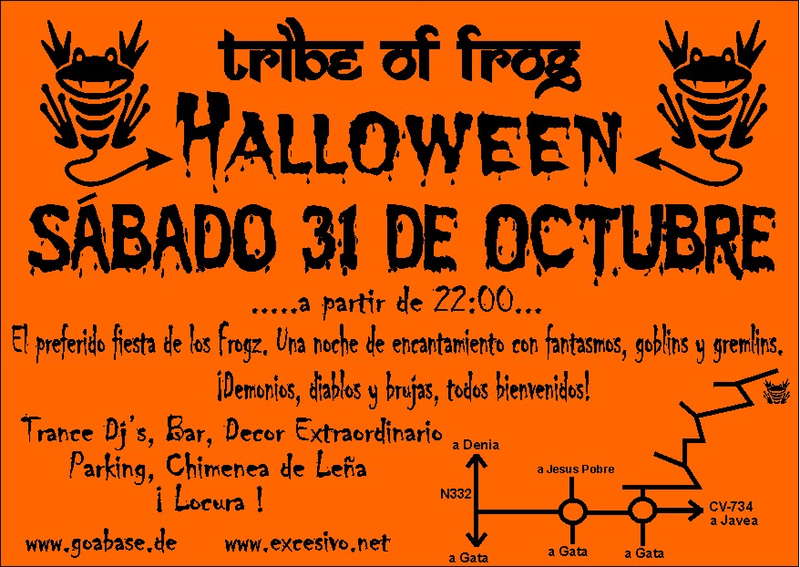 Live
Line Up
Un poco difícil para encontrar un live act en Halloween - como que en cambio vienen los muertos vivientes.
Hard to find a live act on Halloween - so the undead are coming instead.
DJs
Raja Rana (ToF), Zoe (Love Sonico - Valencia), Microbe (GSG), Perran (ToF), Alyen NRG (Valencia) y mas amigos.......
Chill
Looks like the dome is coming with some sweet vibes to relax your mind.
Deco
Deco
Cualquier que no ha visto nuesto decoración de Halloween te vas a flipar.Te encontrarás en mazmorras y criptas de un castillo embrujado lleno de los típicos criaturas que descenden a este lugar oscuro.Permitate una experiéncia fantasmagórico y pasatelo de terror !!!!!
Anyone who hasn't seen our Halloween decor really has missed out. You will find yourself in the dungeons and crypts of a haunted castle full of the usual lowlife & misfits that descend to these places. Trick or treat yourself to a mind-blowing experience and scream your head off !!!!!!!
Info
Info
Saca'd los disfrazes del armario.Esta es la que os vesteis de muerte.
Get your costumes out of the cupboard. This is the one where everyone dress's to kill
Location
Location
Salida AP7 a Denia y toma la N332 hacia Gata de Gorgos, despues la carretera CV-734 a Javea (es la mayor carretera a Javea). En la segunda rotonda (con el pilar de Gata) toma la dirección 'cami' (izquierdo - direcha es para Gata) y sigue los señales.
Exit the AP7 at Denia then take the N332 towards Javea. Take the CV-738/CV-734 towards Javea (the main road into Javea) then take the left at the second roundabout (with the pillar of Gata) indicated 'camino' (the right is to Gata) and then follow the signs.