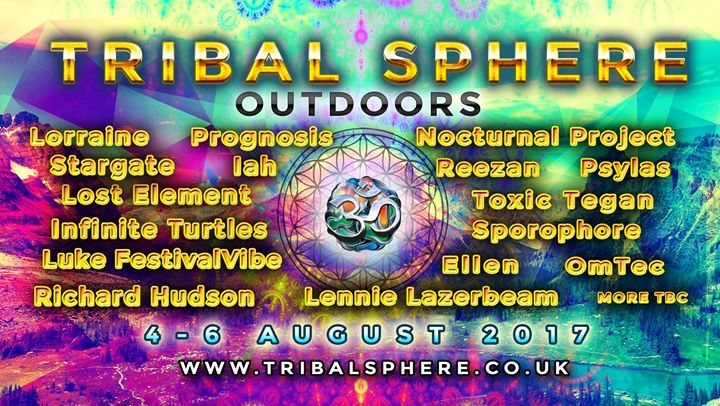 Line Up
So it's that time of year when we get ready to go outdoors alongside the elements for this seasons TS mountain gathering!!!!
We will be starting off on Friday night with a chill-out session, ready for the Psy to start Saturday morning straight through to Sunday evening!!!.
We've got world class Dj's playing the best in PsyTrance, ChillOut and Alternative music, Full Uv Decor coming from Trance Orbital and The Dave Hopkins Deco Crew . Chillout stage. Fire pit, lots more Entertainment, all in the beautiful mountain tops in a secret location not so far away!!!
We will look forward to seeing you all on this next adventure immensely as we all go into the outdoors!!!!! . Om....... (Ts)
ૐૐૐૐૐૐૐૐૐૐૐૐૐૐૐૐૐૐૐૐૐૐૐૐૐૐ
LINE UP:
OmTecૐ
Lorraine
Lost Element
Prognosis
Luke Festival Vibe
Toxic Tegan
Sporophore
Iah
Psylas
Nocturnal Project
Ellen
Infinite Turtles
Stargate
Reezan
Richard Hudson
Lennie Lazerbeam Live
More TBC
ૐૐૐૐૐૐૐૐૐૐૐૐૐૐૐૐૐૐૐૐૐૐૐૐૐૐ
DECOR:
Trance Orbital
Tribal Sphere
ૐૐૐૐૐૐૐૐૐૐૐૐૐૐૐૐૐૐૐૐૐૐૐૐૐૐ
More TBC
ૐૐૐૐૐૐૐૐૐૐૐૐૐૐૐૐૐૐૐૐૐૐૐૐૐૐ
We are holding a ticket only, over 18s only event .
Weekend Ticket price £25 + £1.25 booking fee.
Box office:
[tickettailor.com]
Location
Location
Secret Location Herefordshire