Tribal Connect Mini Festival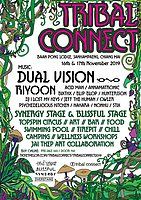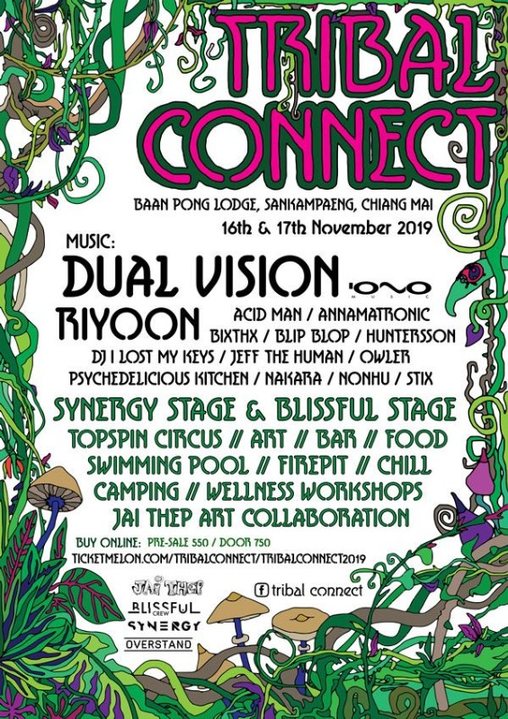 Line Up
Dual Vision (Iono Rec)
Acid Man
Annamatronic
BIXTHX
Blip Blop
DJ I Lost My Keys
Huntersson
Jeff The Human
Nakara
Owler
Psychedelicious Kitchen
Nonhu
Riyoon
Stix
& More TBA
Deco
Synergy
Blissful Sundays
Jai Thep
Info
Tribal Connect will bring you two stages of wonderful psychedelicious music. Expect a Psytrance stage taking you from Psy-dub, to Psybreaks, prog into full on before we blast away with night time sounds into the early hours.
The team at Blissful Sundays will be on board playing funky numbers down in our alternative area where you can chill and get groovy.
FREE Camping / Topspin Circus / Fully Stocked Bar / Cafe / Bar / Swimming Pool / Great veggie & vegan Food / Luxury Lodges / Art Collaborations / Wellness Workshops / Much much more
Hello there Tribe!
Unfortunately all lodges and dorms at Tribal Connect have currently sold out, but don't fear we have some options for you!
First up there is a beautiful campsite directly next to the event, it's free to pitch your tents there. Don't have a tent? Check out Decathalon where you can buy a variety of tents, shelters and hammocks for a very reasonable price:
[co.th]
For those wanting some extra comfort there are a variety of mid to high end resorts around the festivals location. Here are a selection of those nearby:
Huanmaisakngam Resort is a very affordable option and is a fifteen minute drive from Tribal Connect.
[bit.ly]
There's also a selection of villas around this area, most can be found on air bnb, booking.com and agoda etc.
Just use 'Baan Pong Lodge' as a reference part to make sure you don't stay too far away from the action!
Check out Yuan House (
[bit.ly]
) and...
88 Villa (
[bit.ly]
) to get you started, these are around 20 minutes car drive from the site. Some of these are super swanky and would be a fun choice for those coming in a large group.
There are a variety of very high end resorts around this area too for those wanting a special getaway, for something upmarket you can check out Roon Aroong Hot Spring Resort and the Baan Ping Kan resort. Both resorts are only 20-25 minutes away from the festival site.
The site itself has a lot of areas to sun yourself or to just curl up and relax in so there are plenty of options to sleep under the stars if that's more your style.
Getting around... most resorts do offer free bicycle rental however we would only recommend you travel by bicycle in the morning or afternoon and avoid any busy roads. Outside of that all resorts should be able to provide a driver to get you too and from the site. There will be a variety of taxi numbers on the main gate as well and you can also use the Grab App to hail cabs and motorbikes. Transport costs are generally very reasonable.
Location
Baanpong Lodge - Chiang Mai
97 Moo 8, T.Ontai, A.Sankhampeang, Chiang Mai, Thailand 50130
Added

3y 5m

· Update

3y 4m

·