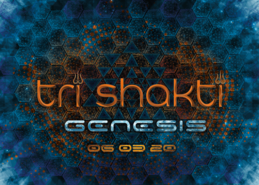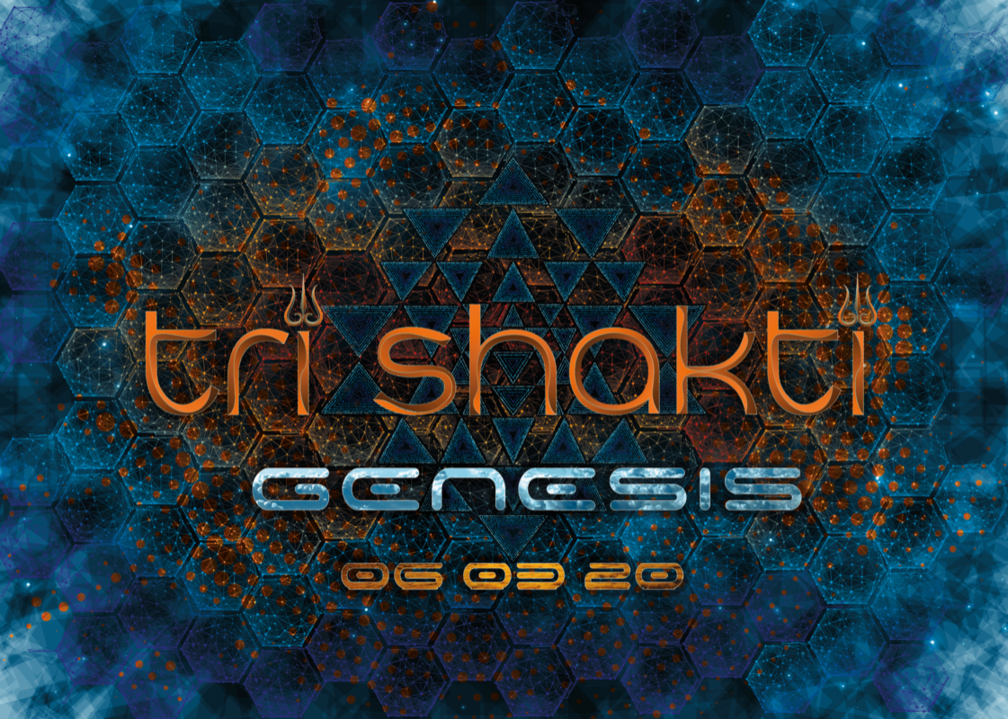 Line Up
.
.: LIVE .:
★ ATRIOHM ★
Parvati Records - North Macedonia
[facebook.com]
[parvati-records.com]
[instagram.com]
In a world of hyper-production and increased commodification of musical experience "Atriohm" stands for eerily seductive and taunting musical expression that helps the audience indulge in deep psychedelic experience.
Looking at its beginnings, "Atriohm" project started in 2003 as a musical adventure of Golcev brothers, Sashe and Leonid. Their musical creativity, existential experiences and individual desires received their ultimate expression in 2009's ground breaking work of psychedelic music: "Ukalen." While looking for modern psychedelic sound that was inspired by their hometown Skopje and dramatic Macedonian landscapes, the real success of their musical enterprise was in pointing toward the horizon to what psychedelic music could evolve. In the aftermath of their release, Sashe's and Leo's ongoing artistic metamorphosis has led brothers to part their musical ways and focus on their individual musical development. Leo meanwhile has a successful psychedelic chill and trance project Tengri, while Sashe remains the driving force behind the Atriohm.
Musically, Atriohm's work is focused on a narrative, on telling a story through sound. It features an eclectic blend of analogue, hybrid acoustic, dark and distorted textures, punchy basslines, expressive leads, colorful pads and soundscapes. It's a brooding, eerie, shadowy, noisy, swarming elegy of sound that not only draws in the audience but slowly subverts their expectations. Pick any among the recent tracks scored by Sashe Golcev and what is heard reflects the work and mindset of a producer who has not only reconciled his imagination with radical fringes of music making, but feeds on the friction between past musical influences and uncharted psychedelic musical territory. 
Through his ability to balance themes both idiosyncratic and heartrending with tonal palettes unlike heard elsewhere in Psychedelic music scene, Atriohm remains one of the truly great embodiment of this genre and its culture. 
★ LYSERGZWERG ★
Banyan Records - Netherlands
[facebook.com]
[facebook.com]
soundcloud
LysergZwerg is the faster project of Manu pHaSenVerScHiEbunGeN.
This music contains a lot of imagination, natural sounds like birds, insects, human voice, Mozart, field recordings and many more. LysergZwerg-Stories are different than other Artists. They tell about the forest, micro- and makro-kosmos, life, death and the experience as a human being in between...
Feel free and take your time to explore the colorful un-boring-music of LysergZwerg.
.: DJ :.
★ NAIMA ★
Sangoma Records - Austria
[facebook.com]
[sangomarecords.com]
soundcloud
Sarah Naima grew up in an old hippi environment and extraordinary musical family, these love and sensitivity for the music came quite early in her life.
Already at the age of 6 she started playing keyboard and since then her passion for music grew steady.
In the year 1996 she came in touch with electronic music for the first time.
Since then she has been following many different styles in the electronic scene with big enthusiasm until she made the experience of a Psychedelic- Trance Party in the year 2003.
She was instantly hooked with this scene and she fell deeply in love with the music, the energy and all these inspiring, magical places and people surrounding her.
Naima started her journey as a DJ seriously 2009, in her sets she symbolize psychedelic sounds, mystical & powerful deep tunes for colourful nights or energetic mornings.
The style and the kind of music she chooses for her Sets depends on the atmosphere and energy around but also on the setting and at which time she plays.
During the last years Naima grew as an international DJ,and she has performed on various international Parties and some of the best Festivals all around the world like Ozora Festival - Hungary,Hadra Trance Festival - France,Experience - Thailand, Midnightsun Festival - Norway, MoDem Festival - Croatia, Psy FI Festival - Netherlands, Antaris, Freqs of Nature, Waldfrieden,VuuV - Festival - Germany, Blackmoon Festival -Italy, Solstice Festival - Netherlands, Transahara - Marocco, One Love - Switzerland, Kosmos Festival - Finnland,Yaga Gathering - Lithuania,, Galaxy Evolution Festival - India,Belantara - Malaysia,Spiritual Ritual Festival- Nepal.
So far she played in:
Australia, Austria,Brazil, Belgium, Canada,Croatia, Czech Republic, Denmark, Finland,France,Germany, Greece, Hungary, India, Italy,Japan,Mexico,Malaysia,Malta,Macedonia,Nepal,UK; Netherlands, Norway, Lithuania Portugal, Poland, Romania, Russia,United Emirates,Spain,Sweden,Switzerland,Slowenia, Slovakia,Thailand, Turkey.
Naima is signed as a Label - DJ for Sangoma Records.
★ BESNIK ★
Weirdsoundz - Germany
[facebook.com]
[facebook.com]
soundcloud
Besnik was born in 1982. The first Steps of his electronic music performance started in the year 1997. His style was affected by the history of the balkan roots. Years of progressiv work in a lot of kinds of techno, house and other electro sounds, and beats in live let him grow up to a great performer of psytrance music. In 2004 he played official on short private parties for friends and is now in his region a Dj in great demand. About years a go he travelled to a lot of festivals and searched new styles for his own show. He started in 2010 a cooperation with Mikari, the "Funktion Grooves". The elementary style is psychedelic trance.
★ IMPULSE ★
Tri Shakti - Germany
[facebook.com]
[tri-shakti.org]
soundcloud
Arne (Dj Impulse) started his engagement in the psychedelic scene in early 2003 as part of different event projects. After switching from techno and vinyl- mixing in earlier years to psychedelic music, he hooked up with friends to bring a project called "Polyeidos" to life. From 2005 to 2014 Polyeidos presented high quality psychedelic trance events such as "Traumfaenger" and others with local as well as many international artists in the western part of Germany. After a nearly five years creative break, he's back on track with plenty of new ideas, ongoing great empathy for psychedelic music & full power to set up a new exciting chapter. You could say: Same same - but different… but that may hit the mark.
Arne´s musical expression is mainly about playing deeply psychedelic nighttime music. Being familiar with the forest- sub genre at around 148 to 152 bpm for many years, his theme is a clear & linear story telling style. Packed with deep & powerful basslines, wide & spacy soundscapes and crispy effects using the entire stereo field, Impulse´s music delivers a mind blowing deep- space- experience which oscillates between a powerful & straight and a deeply warmth, enveloping way.
★ AKI DALA ★
Tri Shakti - Germany
[facebook.com]
[tri-shakti.org]
soundcloud
Aki (Dj Aki Dala / Dj Treibsand) musical exploration began in the late 80´s. After playing an e-organ, he noticed a rising interest for electronic dance music - especially for the techno & house genre. A certain sympathy for psychedelic music and its background increased around 1997. Immersed in a new world of musical possibilities, Aki was impressed by the culture as a whole: arts, music & decor, as well as the mind frame of the scene. Curiosity, fascination & enthusiasm drove him to initiate an event project called "Akitoka" with buddies in 2002. Mainly focused on outdoor events, Akitoka did also organise many indoor parties during the following 10 years. Playing dj- sets at underground events from 2005 on, he was/is known under the name "Dj Treibsand". More than a decade later Aki spinned the decks at countless events in western Germany and beyond.
His definition of sound covered a dynamic & warm, straightforward bassline, in combination with pretty balanced micro- shots of melodic chunks and a vast repertoire of effect- complexity. Influenced by the forest genre for a couple of years, he intended to evolve to that certain kind of musical expression. Catching the audience with an average speed around 148bpm, Aki performs on a more spacious and less melodic, but still straight & forward level nowadays.
★ FEEL X ★
Tri Shakti - Germany
[facebook.com]
[tri-shakti.org]
soundcloud
Felix (Dj Feel X) always had a passion for music. In the early years he played instruments like the euphonium and the trombone; both in an orchestra over a quite long period of time.
Infected by psytrance in 2008, he started mixing seriously. After playing gigs on psychedelic trance events in 2010 he discovered a passion for his certain style of music. inspired by artists like Ajja, Ianuaria, Yab Yum, Shotu and Dust first, Felix later got influenced by more deeper styles of music from Atriohm, Arjuna, Ectogasmics , Nobot and Archaic - just to name a few. After launching an event project called "Bitepsytic" with some local friends in 2013, they organised many smaller and some larger in- and outdoor events such as "Buddha Beatz" or the "Voices of Trees" Festival in western Germany.
Today Felix`s dj- sets describe a journey through the different aspects of the forest- styled sub genres. Originating from psytrance, he moves from twilight stories to forest and back.
Being home at the speed around 150 bpm, Felix´s music unfolds in an energetic & uplifting way. Caused by his ability to switch between different styles, he may manage to adjust his sets to nearly every (day- or night-)time the dance floor asks him for.
.: CHILL :.
★ BAHANA ★
Klang der Essenzen - Germany
[click here]
★ MASO MASO ★
Club Charlotte / Lunatic Circus - Germany
[facebook.com]
soundcloud
★ TSCHAN ★
Germany
[facebook.com]
soundcloud
★ GOAKLAUS ★
Zaubertrank - Germany
[facebook.com]
soundcloud
.
Info
°°° FACEBOOK EVENTPROFILE:
[facebook.com]
°°°
°°° HIGH- END VOID ACOUSTICS SOUND SYSTEM °°°
°°° TRI SHAKTI PROJECT KICK OFF EVENT °°°
°°° CHAI, ENERGYBALLZ & SALADS by VEGGIE BAR °°°
°°° FRACTAL FRUITS FOR FREE °°°
°°° B-DAY- KIDZ DO ENTER THE VENUE FOR FREE. BRING & SHOW YOUR ID/PASSPORT °°°
°°° THE MINIMUM AGE TO PARTICIPATE AT THIS EVENT IS 21. NO EXCEPTIONS °°°
°°° NO RACISM. NO VIOLENCE. RESPECT EACH OTHER. CREATE GREAT MEMORIES :) °°°
line up is closed.
Edit:
We want to inform you today that the Mark (Paranormal Activity) unfortunately can not participate @ Tri Shakti Genesis for private reasons. We hope that we can catch up on this in a timely manner so that we don't have to withhold his crazy and innovative soundz to you folks any longer.
Alternatively, of course, we looked around for an equal replacement. None other than Lars (Dj BAHANA) crossed our path. Anyone who has been in the NRW scene for a few years and maybe even witnessed one or the other "Klang der Essenzen" in the Druckluft- club in Oberhausen knows how Lars enchants his audience;)
Thank you for your understanding.
.
Location
.




809 Club Lounge

Kopstadtplatz 24-25
45127 Essen

Northrhine- Westphalia
Germany




.
Entry fee
.




25,00 EUR


...at the gate. No presale.


.
Added

3y 2m

· Update

3y 18d

·