TREEBAL: IMAGINARIUM • SONIC ENTITY • ACIDWAVE • OBRI & ZEN at SPACEHALL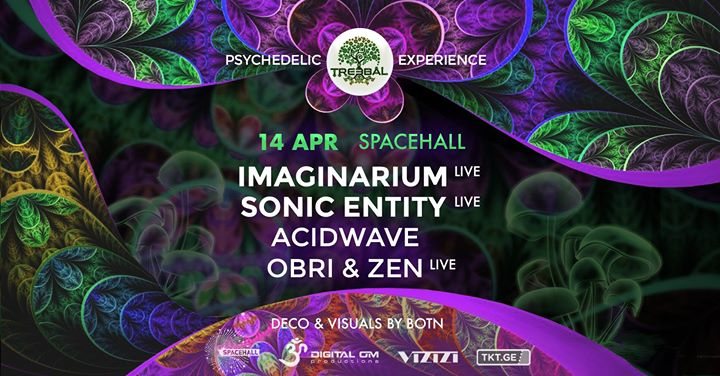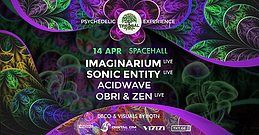 Line Up
Sonic Entity - Nikola Gasic from Belgrade, Serbia. After a decade of involvement within Progressive and Psychedelic scene, Nikola started music production in 2008 and after few years of hard work, he released his first EP's in 2011. His debut album "Twister" was released in summer 2012 on Yellow Sunshine Explosion and brought a lot of attention to Nikola, who continued his hard work and released several EP's in next 2 years on labels such as Iono Music, TesseracTstudio, Echoes Records and others. As he had a long history with psytrance and as he very quickly adopted new techniques in music production, Nikola has released his 2nd studio album in February 2015 under the name "Altered Fiction" on renowned psy-progressive label TesseracTstudio, which recognized his high-quality sound and became his home label soon after. Wtih this album, Nikola already established his recognizable psy-progressive sound which consists of strong bass-line, multicolored melodies and rich atmospheres, being great at any time of the day or night, either in open air or club. His 3rd studio album called "Primal Visions", was released in December 2017 at the same label. For the last few years, Nikola has became a standard part of some largest festivals.
[facebook.com]
soundcloud
[facebook.com]
soundcloud
Imaginarium Live - New born allias of Nikola Gasic. Imaginarium is here to take you on a new journey into more deeper realms of Psychedelic Trance, filled with a mix of lot of old school sounds mixed together with new cutting edge production technique full of hypnotic atmospheres which will make them very explosive dance floor material. He is member of the label Digital Om Productions.
[facebook.com]
soundcloud
[facebook.com]
soundcloud
Acidwave - Psychedelic Trance Project of two Georgian artists MARCUSS & ADDITIVV, created in 2016. Their sets are mostly filled with Progressive Psytrance and Full-On styles. At the same time they are founders and residents of TREEBAL.
[facebook.com]
soundcloud
soundcloud
soundcloud
Obri & Never Thesame aka Zen - Psychedelic live act duo, consisting of two members of GeoPsy team. Their live act summarizes their long personal journey into sound & synthesis, experimenting with different elements of psychedelia, from deep ambient techno soundscapes to raw & hypnotic analogue acid roughness, their sound vision will guide you through sonic trip.
soundcloud
[facebook.com]
[bandcamp.com]
[click here]
Deco
Deco
BOTN Decoration+Visuals team (Thessaloniki, Greece)
Location
Location
SPACEHALL
#2 A. Tsereteli ave
Tbilisi