TREEBAL: E-CLIP • ACIDWAVE • ELLARGE • OOGWAY at SPACEHALL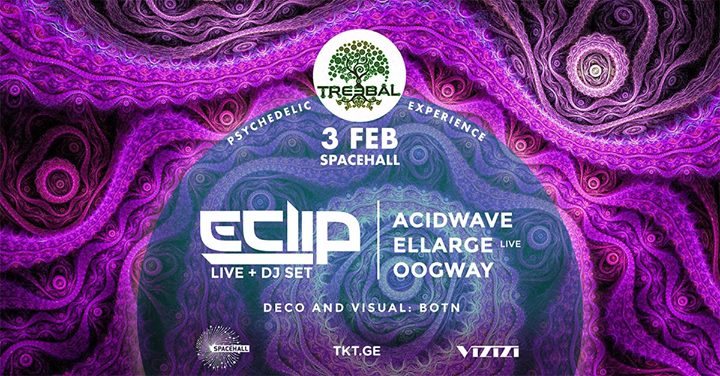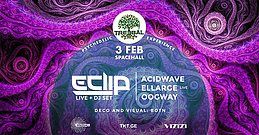 Line Up
3 FEBRUARY
TREEBAL PRESENTS PSYCHEDELIC EXPERIENCE #2 at SPACEHALL: E-CLIP (LIVE + DJ SET) • ACIDWAVE • ELLARGE (LIVE) • OOGWAY
ONLINE TICKETS:
[tkt.ge]
Presale I: 20 GEL
Presale II : 30 GEL
Presale III / Door: 40 GEL
Age Control: 18+
E-Clip - Marko Radovanovic, from Belgrade, Serbia, took the essence of the Solar Eclipse and transformed it into a musical phenomenon that mixes the sun and night aka his alter ego - E-Clip. Along the way, he polished his precision and beat skills while he was playing as a drummer in Hardcore and New Age bands. And as a new star in the celestial sphere of Progressive Trance he absorbed a lot of inspiration from artists such as Jean Michel Jarre, Pink Floyd, Klaus Shultze and Astral Projection. The big change for Marko was similar to the process of Solar Eclipse; where the moon decides he wants to follow the sun's fire and hot atmosphere. He fell in love with the heat and energy of the other side of the decks of the Psychedelic Trance parties, and made his move. Thus, soon after he entered the psychedelic world in 2002, he started to produce music as well. His first experiment was under a different more Full-Onish alter ego, named Beyondecliptica, and with it he released his debut album in 2008, 'Groove technologies', in the Greek label Medusa. Then Marko realized it was time to undermine nature's course and bring E-Clip to the world in 2009. Since that moment of creating his unique manifestation, he released music in various labels including: Blue Tunes, Spin Twist, Oxygen, Prog On Syndicate, Yellow Sunshine Explosion. Of course Iono-Music spotted his magical influences and joined him to the family. Under this alias, Marko has released 3 albums. E-Clip often appears in headliner lists of Psytrance festivals and events all over the world.
►
[facebook.com]
►
soundcloud
►
[eclipmusic.com]
►
[ionomusic.com]
Acidwave - Psychedelic Trance Project of two Georgian artists MARCUSS & ADDITIVV, created in 2016. Their sets are mostly filled with Progressive Psytrance and Full-On genres. At the same time they are founders and residents of TREEBAL.
►
[facebook.com]
►
soundcloud
►
soundcloud
►
soundcloud
Ellarge - Collaboration of two Georgian producers, Irakli Menagarishvili & Nika Tsereteli. Project is fully based on improvisation of live electronic music, which makes sound more organic and conveys proper emotion of this two artists. Their sound can be easily called Psychedelic Dance Music.
►
soundcloud
►
[facebook.com]
Oogway - Project of Gigi Gabadze from Tbilisi, Georgia. His career as a DJ started in 2015. After visiting India, Gigi fell in love with psychedelic music and chose to work and develop in that direction. In 2017 Gigi started his music career as OOGWAY. His sets are filled with Darkpsy, Twilight and Forest and many various genres.
►
soundcloud
►
[facebook.com]
DECORATIONS & VISUAL:
BOTN Decoration+Visuals team (Thessaloniki, Greece)
Location
Location
SPACEHALL
#2 A. Tsereteli ave
Tbilisi