Transition Festival Teaser Party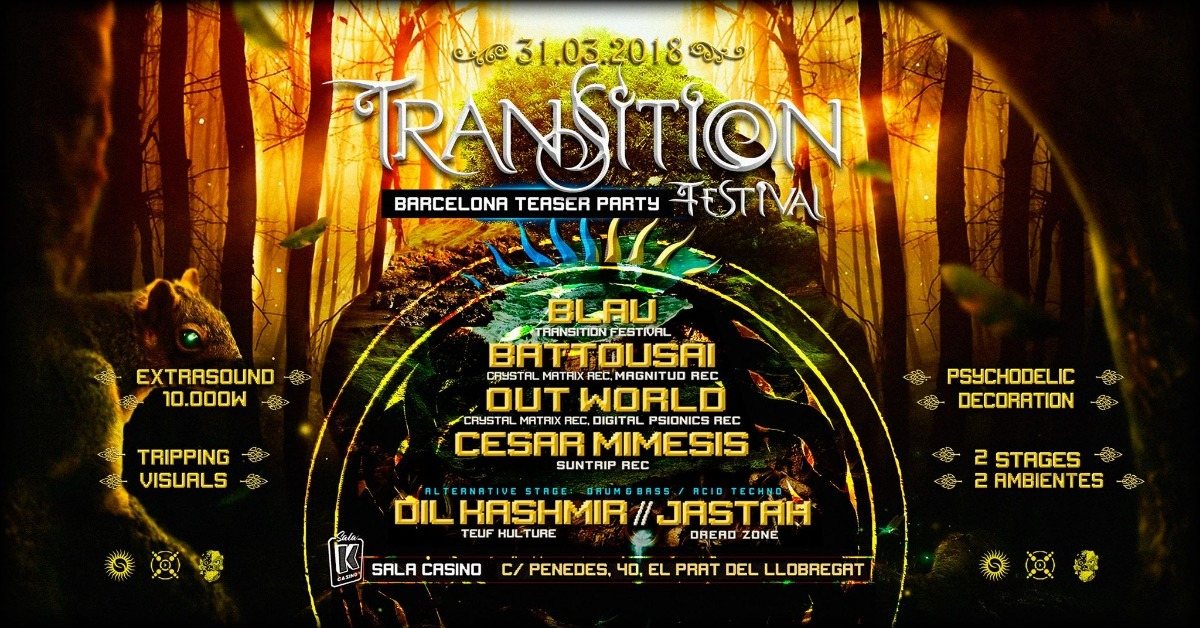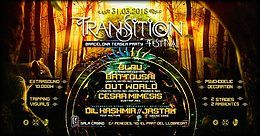 Line Up
Transition Floor >
BLAU
(Transition Festival) es.
soundcloud
Born in December 1980, he starts experiencing electronic culture in Scotland around 2004. Once in Spain, he starts his Transition project in Andalucia, a unique concept of electronic music.
In 2006 he moves to Germany, where he connects with the essence of Goa Trance party. He starts his professional career in 2009 managing Transition Festival [transitionfestival.org], Templo Transition [templotransition.es], and Transition Records (his own label), where he transmits his message.
Blau refers to the modern manifestation of the dark knight of ancient tales, making reference to the bearer of light and the warrior on earth. He is obsessed with improving the dj concept beyond its limits, inspired by a magic energy bringing the listener to a higher state of consciousness.
////////////////////////////////////////////////////////////////////////////////////////
BATTOUSAI
(Magnitud rec, FFM Bookings) pt.
soundcloud
Ricardo Marques is BATTOUSAI who was born in the early 80's, began his djing career in 2004 with a strong and traveling groove.
Founded Magnitud Records label in 2009. Since then, transformed his sets on a departure ticket warranted for one cosmic psychedelic trip therapy.
Thus, throughout is career as resident in the major trance scene production, in Portugal, as in many places around the world where played gave him an extensive experience at dance floor and catapulted him start producing his own tracks, since 2006.
Currently, 100%, focus on production deeply plugged with the same major principal for each track.
Accurated sound wave design for total connection with "the" collective mind and body background.
Able of reaching unknown planets made of melting forms and matters, harmonically, synchronized within the source. Blending boundaries between an electronic technological energy field flowing through multidimensional and twisted universes in each unique stage experiment interaction.
Some of his tracks have featured some VA's and released some EP's in labels, besides Magnitud, such as Womb Records, Transition Records and Maharetta Records. Nowadays, Ricardo is shaken between upcoming EP's and VA's participations with some of his favorite artist
////////////////////////////////////////////////////////////////////////////////////////
OUT WORLD
(Digital Psionics rec , Magnitud rec) pt.
soundcloud
Out World is Rodri Andrade from Portugal but living in Bcn . After finishing his degree in Electronic Music Production and 2 years after in Audio Engineering he decided to stay. His musical journey started with guitar classes and music theory at 12 creating even a rock band with some friends.
After a while he discovered electronic music and its potential so started to go to parties with different styles of music and in 1998 he found himself in a big open air party in the forest..the music was psytrance and with only 15 years old a true passion started..Bought some equipment and 2 years later Rodri was already djing, taking the step of making and producing is own music was just a matter of time.
2017 was a busy year to Out World project having played in some great national and international gatherings like Freedom Festival in Portugal and Transition Festival in Spain. A new e.p was also released on the end of 2017 with a track featuring Neuromotor (one of his all-time favorite psytrance artists) and another single with his project Supernatural (with Clean Trip).
The year of 2018 is already starting in full power for Rodri with new parties on the calendar to perform ,new releases to come and some very interesting collaborations.
////////////////////////////////////////////////////////////////////////////////////////
Cesar Mimesis
(Suntrip rec.) cat.
[facebook.com]
César, born in Barcelona in 1988, starts studying music when was 6 years old, and playing saxo since 12. Always understood the music as a conductive thread to transmit feelings and ideas, so played in diverse bands the Tenor Sax, focusing mainly in a Catalan rock band called "Igitaia", and in a street band called "Banda Patilla".
In 2007 discovers the PsyTrance and is immediately fascinated by his deepness and atmosphere. By the hand of Dj Obit (Then DJ of Muskaria, actually of Red Dust) learns to mix and starts experiencing the elaboration of sessions from diverse styles. Some years after, in 2011, decides to focus exclusively on the styles that feels deeper; Goa Trance and Ambient.
Since then, he become pretty active and, by the hand of his decoration project, start having some international repercussion, until at 2014 see how his dream become true, joining which is probably the most known NewSchool Goa Trance Label nowadays; Suntrip Records
////////////////////////////////////////////////////////////////////////////////////////
DIL KASHMIR
(Teuf Kulture) sp.
Alternative Floor >
Jungle, Drum n Bass, Acid Techno, Raggatek
JASTAH
(Dread Zone) amst.
soundcloud
With attitude of Amsterdam's music school from teenage times, involved in many bands and later on with sound systems, playing on parties and festivals around the world. This artist is a true music lover of different styles and belives that music has no borders and can be mixed all. Always looking for new inspirations from jungle, drum'n'bass, dub, dubstep, roots, hardtek, raggatek, psytrance, progressive, acid tekno, minimal techno, balkan, hip hop,…
From 2014 in Barcelona, starting with Dread Zone Club project focusing on the spirit of underground and alternative concept.
Deco
Deco
Psychedelic Fluor Deco
Info
Info
► + 10 000W extra Soundsystem!
► Specail deco Pychodelic!
► More news & Surprises coming very soon!
Location
Location
Sala CASINO
PENEDES 40, 08820 El Prat de Llobregat
Entry
Entry
10 euros after 01h30

8 euros before 01h30 (with name on the list)
Organizer
Organizer
Dimension X & Teuf Kulture