Backend
Transition Festival teaser Party in Barcelona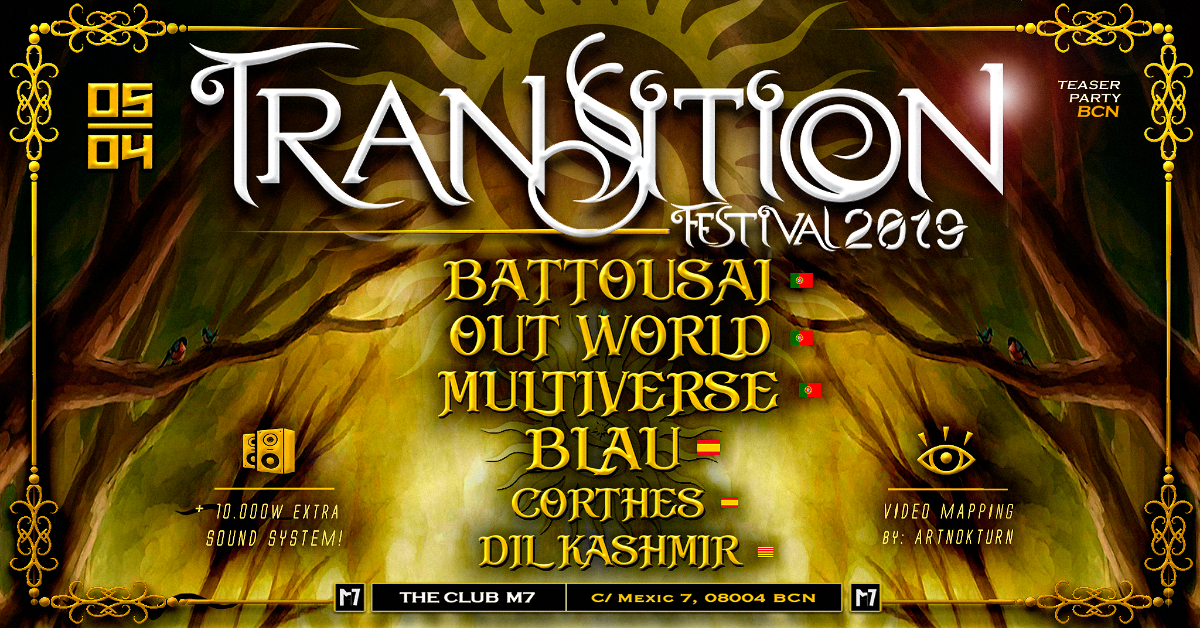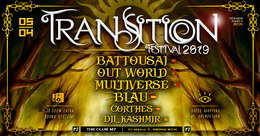 Line Up
BATTOUSAI
(Crystal Matrix rec) pt.
soundcloud
Ricardo Marques is BATTOUSAI who was born in the early 80's, began his djing career in 2004 with a strong and traveling groove.
Founded Magnitud Records label in 2009. Since then, transformed his sets on a departure ticket warranted for one cosmic psychedelic trip therapy.
Thus, throughout is career as resident in the major trance scene production, in Portugal, as in many places around the world where played gave him an extensive experience at dance floor and catapulted him start producing his own tracks, since 2006.
Currently, 100%, focus on production deeply plugged with the same major principal for each track.
Accurated sound wave design for total connection with "the" collective mind and body background.
Able of reaching unknown planets made of melting forms and matters, harmonically, synchronized within the source. Blending boundaries between an electronic technological energy field flowing through multidimensional and twisted universes in each unique stage experiment interaction.
Some of his tracks have featured some VA's and released some EP's in labels, besides Magnitud, such as Womb Records, Transition Records and Maharetta Records. Nowadays, Ricardo is shaken between upcoming EP's and VA's participations with some of his favorite artists.
///////////////////////////////////////////////////////////////////////////////////////
OUT WORLD
(Crystal Matrix rec) pt.
soundcloud
Out World is Rodri Andrade from Portugal but living in Bcn . After finishing his degree in Electronic Music Production and 2 years after in Audio Engineering he decided to stay. His musical journey started with guitar classes and music theory at 12 creating even a rock band with some friends.
After a while he discovered electronic music and its potential so started to go to parties with different styles of music and in 1998 he found himself in a big open air party in the forest..the music was psytrance and with only 15 years old a true passion started..Bought some equipment and 2 years later Rodri was already djing, taking the step of making and producing is own music was just a matter of time.
2017 was a busy year to Out World project having played in some great national and international gatherings like Freedom Festival in Portugal and Transition Festival in Spain. A new e.p was also released on the end of 2017 on the famous Australian label Digital Psionics , and another single with his project Supernatural on the new Mind Frequency records (with Clean Trip).
The year of 2018 is already starting in full power for Rodri with new parties on the calendar to perform ,new releases to come and some very interesting collaborations.
/////////////////////////////////////////////////////////////////////////////////////////
MULTIVERSE
(Magnitud rec) pt.
Expect the unexpected and prepare yourself for an extra sensorial experience of audio delights and mind pleasure.
/////////////////////////////////////////////////////////////////////////////////////////
BLAU
(Transition Festival) es.
soundcloud
Born in December 1980, he starts experiencing electronic culture in Scotland around 2004. Once in Spain, he starts his Transition project in Andalucia, a unique concept of electronic music.
In 2006 he moves to Germany, where he connects with the essence of Goa Trance party. He starts his professional career in 2009 managing Transition Festival [transitionfestival.org], Templo Transition [templotransition.es], and Transition Records (his own label), where he transmits his message.
Blau refers to the modern manifestation of the dark knight of ancient tales, making reference to the bearer of light and the warrior on earth. He is obsessed with improving the dj concept beyond its limits, inspired by a magic energy bringing the listener to a higher state of consciousness.
/////////////////////////////////////////////////////////////////////////////////////////
CORTHES
(Transition Fest , Psyvilla) es.
soundcloud
Corthes, born in 1986 in Seville (SPAIN). Since he was very young he felt attracted by Techno and Minimal sounds and under Pilas influencesShaddock Records, Madrid). Resident DJ at sala Mondo (famous disco in the Spanish Capital). So, he starts to djing with vynils as amaetur, when he was 15. Two years later, he had his firs act as DJ in "Casas Viejas", famous alternative center and an important meeting point for sevilians younth. That was the first time he was acclaimed in some others alternative centers as DJ. When he was 20, found the unbelievable Psytrance's sound, for his forcefulness and the atmosphere he decided take this way as DJ. This style which it is not still consecrated in Spain and he started to research until made his own style. Influenced by artist like Ital, Burn in Noise, Headroom, Endeavour, Aphid Moon, Earthling, between some others...
/////////////////////////////////////////////////////////////////////////////////////////
DIL KASHMIR
(Teuf Kulture) cat.
Nacido en Barcelona en 1992 y con raíces francesas, Nil Marty mostró desde pequeño una curiosidad por la música fuera de lo normal, que se despertó gracias a la afición de su padre por grupos musicales como The Beatles o Pink Floyd.
​
En su adolescencia empieza a interesarse por la música electrónica y a los 15 años compra su primera controladora. A los 19 años empieza su carrera profesional como DJ en Barcelona, bajo el nombre de Dil Kashmir.
​
En sólo cinco años este DJ barcelonés ha llegado a los festivales más importantes de música electrónica de Cataluña; The End of the World, Montagood, Montacore, Tramunfest y ADM Festival.
​
También ha participado en el festival internacional Balkan Station de Bulgaria.
​
Pero, Dil Kashmir, en su afán por hacer que su ciudad baile al ritmo del Drum&Bass, su género favorito, organiza fiestas con artistas internacionales en algunas de las discotecas más importantes de Barcelona y alrededores, como la Sala Plataforma o Mama Mandawa.
/////////////////////////////////////////////////////////////////////////////////////////
Info
Info
► + 10 000W extra surprise Soundsystem!
► Video Mapping by ArtNoktun
► More news & Surprises coming very soon!

Fluor Deco by Fluor Deco by QuetzalbWattio
Location
Location
The club M7
C/ Mexic, 7, 08004 Barcelona, Spain
Entry
► if you write your name on the event...

• before 1:00 - 8 €

• before 1:30 - 10 €

► without your name on the event

- 12 €

Teuf Kulture Barcelona & Dimension X
Organizer
Organizer
Dimension X & Teuf Kulture Bcn