Backend
TRANSITION FESTIVAL TEASER PARTY @ BARCELONA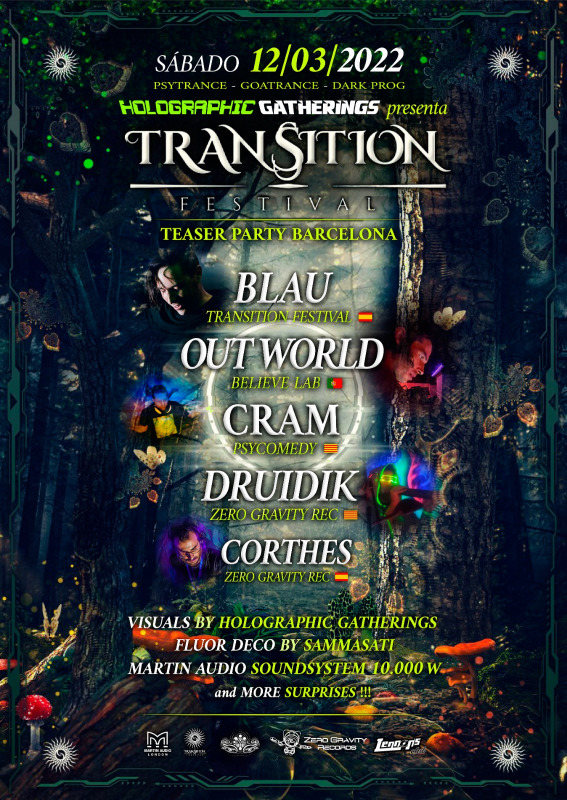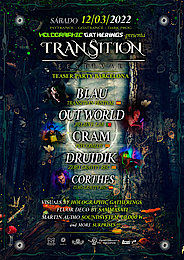 Line Up
BLAU
(Transition festival) es.
soundcloud
[facebook.com]
[quadrabooking.com]
Born in December 1980, he starts experiencing electronic culture in Scotland around 2004. Once in Spain, he starts his Transition project in Andalucia, a unique concept of electronic music.
In 2006 he moves to Germany, where he connects with the essence of Goa Trance party. He starts his professional career in 2009 managing Transition Festival [transitionfestival.org], Templo Transition [templotransition.es], and Transition Records (his own label), where he transmits his message.
Blau refers to the modern manifestation of the dark knight of ancient tales, making reference to the bearer of light and the warrior on earth. He is obsessed with improving the dj concept beyond its limits, inspired by a magic energy bringing the listener to a higher state of consciousness.
/////////////////////////////////////////////////////////////////////////////////////////////
OUT WORLD
(Believe Lab) pt.
soundcloud
[believelab.org]
[facebook.com]
Out World is Rodri Andrade from Portugal but living in Bcn . After finishing his degree in Electronic Music Production and 2 years after in Audio Engineering he decided to stay. His musical journey started with guitar classes and music theory at 12 creating even a rock band with some friends.
After a while he discovered electronic music and its potential so started to go to parties with different styles of music and in 1998 he found himself in a big open air party in the forest..the music was psytrance and with only 15 years old a true passion started..Bought some equipment and 2 years later Rodri was already djing, taking the step of making and producing is own music was just a matter of time.
Now signed to the awesome label Believe Lab, were he released his last e.p called The Far Side, the year of 2022 is already starting in full power for Rodri with new parties on the calendar to perform ,new releases to come and some very interesting collaborations.
/////////////////////////////////////////////////////////////////////////////////////////////
CRAM
(Psycomedy) cat.
[click here]
[click here]
/////////////////////////////////////////////////////////////////////////////////////////////
Druidik
( Zero Gravity ) Cat.
[click here]
soundcloud
[beatport.com]
Desde su más tierna infancia y guiado por el cantar de su madre, y a la mística maya, por parte de padre, e
hipnotizado por el girar de los discos, sus preferencias fueron siempre las musicales. Ya en la adolescencia tras los pasos de sus hermanos y amigos mayores, entra en la cabina 6mic que más tarde sería Codig, por donde pasaron los grandes nombres del Underground del Sur de Francia, J Rob, Fredd Tassy, Cybersoinc... Que le pusieron la semilla definitivamente sobre el sonido que a partir de ahí, le definiría ( 1997 ) Desde ahí.... Hasta el 2005...freeparties...y raves fueron su habitat natural con la Re6Trans. Desde lanzarote hasta Catalunya junto con los colectivos más reputados como Tasmaniac. Pero el punto de inflexión vino de un set que hizo de 60 h's en la Isla de Lanzarote, centrado en los sonidos más psichedelicos, del Goa y el trance.... A partir de ahí incorpora el didgeridoo y paso por las salas más representativas de la escena Ciberyan, la Cova, Nan, Ciclic, Sugar, Syndicate....
En el 2000 inaugura un espacio multidisciplinari, Sammasati junto.a su hermano PsyMushrooms... Y por allí desfila lo mejor y más selecto de la escena psychedelica, dando la alternativa a algunos de los que hoy son protagonistas en muchos festivales...Lupin, Hypnoxhok, Toxic, Cram...
Pasada esta época en 2012 retoma el camino de las freeparties y participa de preciosos festivales, OwnSpirit, Connection, MahaDeva, Aura, Soltice de Mimesis, mediante sesiones & lives instrumentales, siempre dentro de las sonoridades más psichedelicas y místicas.
Hoy por hoy a creado junto a OutWorld el colectivo Holographic Gatherings, y recién ha lanzado su primer trabajo " Ethernity Caves " con el sello ZeroGravity Records, con un amplio registro de estilos, desde el organic psychill a los ritmos más freneticos.
/////////////////////////////////////////////////////////////////////////////////////////////
Corthes
(Transition Festival , Zero Gravity) es.
soundcloud
Born in 1986 in Seville (SPAIN). Since he was very young he felt attracted by Techno and Minimal sounds and under Pilas influencesShaddock Records, Madrid). Resident DJ at sala Mondo (famous disco in the Spanish Capital). So, he starts to djing with vynils as amaetur, when he was 15. Two years later, he had his firs act as DJ in "Casas Viejas", famous alternative center and an important meeting point for sevilians younth. That was the first time he was acclaimed in some others alternative centers as DJ. When he was 20, found the unbelievable Psytrance's sound, for his forcefulness and the atmosphere he decided take this way as DJ. This style which it is not still consecrated in Spain and he started to research until made his own style. Influenced by artist like Ital, Burn in Noise, Headroom, Endeavour, Aphid Moon, Earthling, between some others...
Info
Info
// Visuals by Holographic Gatherings //
====================================
// Fluor deco by Sammasati //
===================================
// Martin Audio Soundsystem 10.000 W //
On the party we will offer 3 free entrances for the Transition Festival witch will happen in the incredible natural park of Doñana, Spain on May 10-17 2022
For more info, please visit>
[transitionfestival.org]
Location
Location
Lennon's Club

Av. Fabregada, 91, 08901 L'Hospitalet de Llobregat, Barcelona
Tickets
[click here] buy tickets please contact us here thru private message
Organizer
Organizer
HOLOGRAPHIC GATHERINGS